Even while I enjoy discussing Samsung's flagship products, including the Galaxy S and Z Fold/Flip lines, it's difficult to ignore what the manufacturer is doing in the mid-range market. Samsung has been hard at work producing a ton of fresh devices under the Galaxy A brand.
Samsung introduced the Galaxy A52 in March 2021, and a few months later, as a mid-cycle refresh, it introduced the Galaxy A52s. In 2022, a few months later, Samsung unveiled the new Galaxy A53 5G, which feels like just another S upgrade.
However, to determine if Samsung has made any significant improvements between the Samsung Galaxy A53 and the A52s, it is still important to compare the two phones. So, in this article, I'll compare the Samsung Galaxy A53 5G to the Samsung A52s 5G.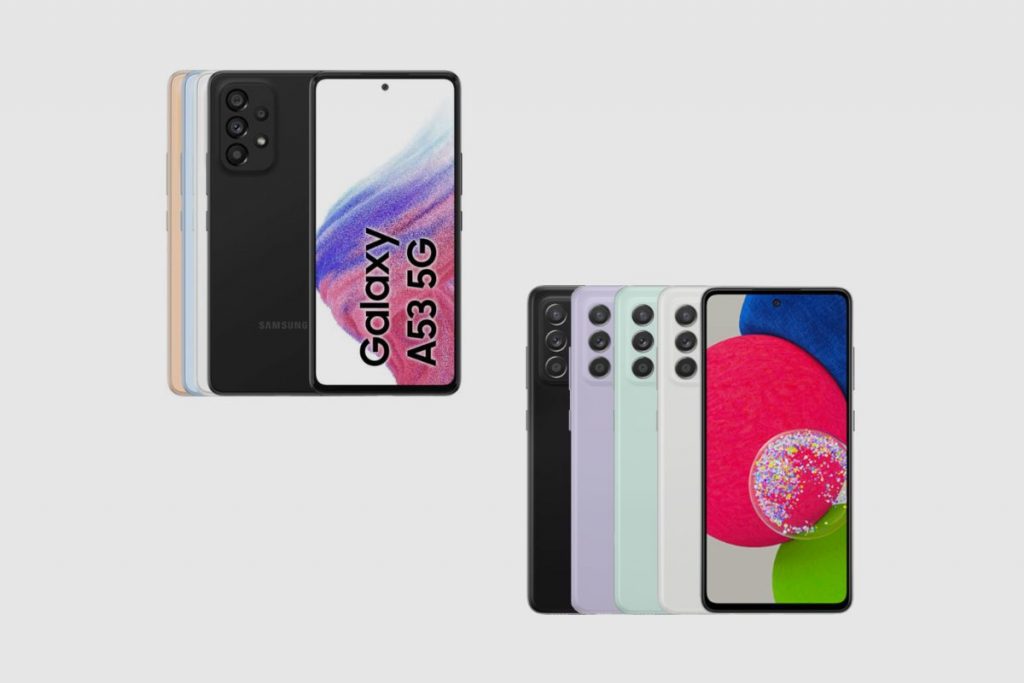 An In-Depth Comparison Between The Samsung Galaxy A53 And The A52s
The best place to start when comparing two phones is with a summary of the specs that are side-by-side displayed to give you a fast idea of how both phones compare and to give us a quick overview of the phones.
Phone Specifications
| | | |
| --- | --- | --- |
| Category | Samsung A52s | Samsung A53 |
| Display | 6.5-inch FHD+ Super AMOLED (1080 x 2400) | 6.5-inch AMOLED (2400 x 1080) |
| Rear Camera: | 64MP main (f/1.8), 12MP ultrawide (f/2.2), 5MP macro (f/2.4), 5MP depth (f/2.4) | 64MP main (f/1.8), 12MP ultrawide (f/2.2), 5MP macro (f/2.4), 5MP depth (f/2.4) |
| Front camera: | 32MP (f/2.2) | 32MP (f/2.2) |
| Battery | 4500mAh | 5000mAh |
| Processor | Qualcomm Snapdragon 778G | Exynos 1280 |
| RAM/Storage; | 6GB, 8GB,/128GB, 256GB | 6GB, 4GB, 8GB,/128GB, 256GB |
| MicroSD card | Yes up to 1TB | Yes up to 1TB |
As you can see, the two phones in this comparison are not substantially different. Even the latest Galaxy A53 5G appears to be more or less the same on paper, implying that it is only a marginal upgrade at best, a side-grade, and possibly a downgrade when viewed more closely. Let's take a closer look at each section to see how they stack up.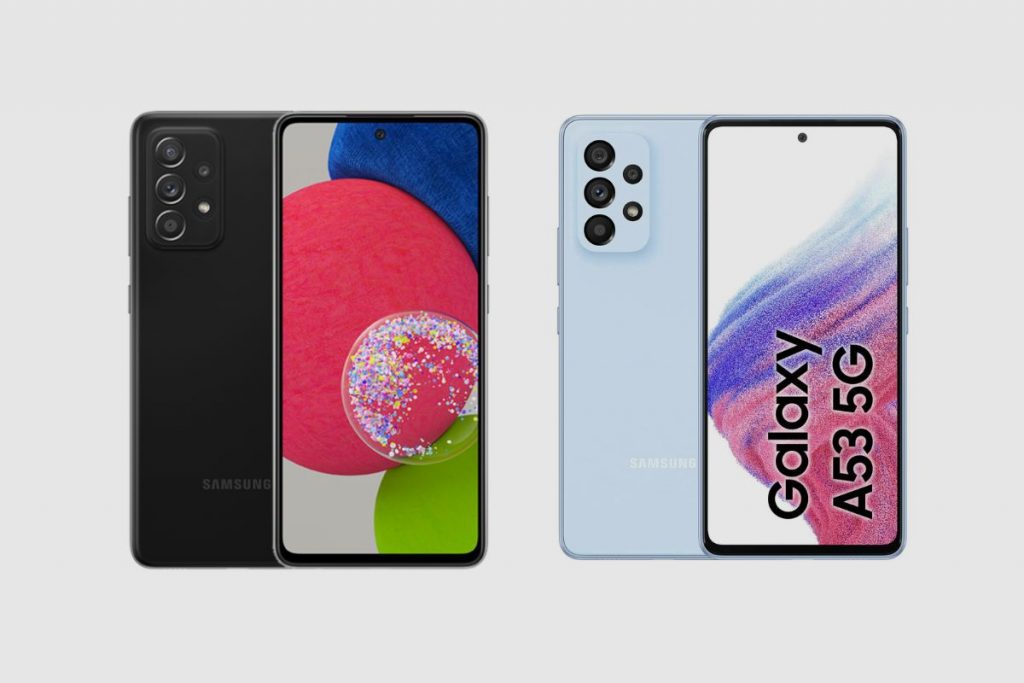 Display
When it comes to the display, the Samsung Galaxy A53 5G and A52 5G are nearly identical. You're looking at a 6.5-inch Super AMOLED FHD+ panel with a refresh rate of up to 120 Hz and HDR10+ certification. It is also shielded by Gorilla Glass 5. The Galaxy A52s has the same display as the Galaxy A52. Only the 4G variant of the Galaxy A52 has a lower 90 Hz refresh rate panel than a 120 Hz panel. 
However, they all have the same peak brightness of up to 800 nits and a maximum resolution of 2400 x 1080. Samsung is well-known for providing high-quality displays on its devices. For the most part, the A53 panel appears to be good enough. The colours are vibrant, and the bezels around the display are thin enough to make the phone look modern.
Camera
You can tell that the Samsung Galaxy A53 is a mid-range phone because of its acceptable but not outstanding camera system. However, the requirements, abilities, or characteristics themselves have not undergone any significant updates or modifications. Because the hardware is the same as the A52s, you get the same 64MP primary lens, 12MP ultrawide, two 5MP macro and depth lenses, and a 32MP selfie camera.
The camera setup is the same whether you purchase a Galaxy A53 5G or an older Galaxy A52 device. A 64MP f/1.8 shooter with OIS, a 12MP ultra-wide, and 5MP depth and macro cameras make up the quad-camera system found on all of these gadgets. Notably, you also get the identical 32MP f/2.2 selfie camera that sits on the display's centre punch hole.
You may anticipate them to provide a dependable camera experience even though we're not looking at a hardware-level boost in the camera department. Although they may not match the optics found in flagship models, Samsung's mid-range cameras are nonetheless quite impressive.
Although the camera software has not been changed or improved in any way, Samsung continues to offer a plethora of features and capabilities that set this phone apart from the competition.
The main camera takes some Instagram-worthy photos, and the ultra-wide camera is also quite good. The Samsung Galaxy A53 can record video in 4K/30 resolution. It is worth noting, however, that there is no stabilisation, so you may want to invest in a tripod.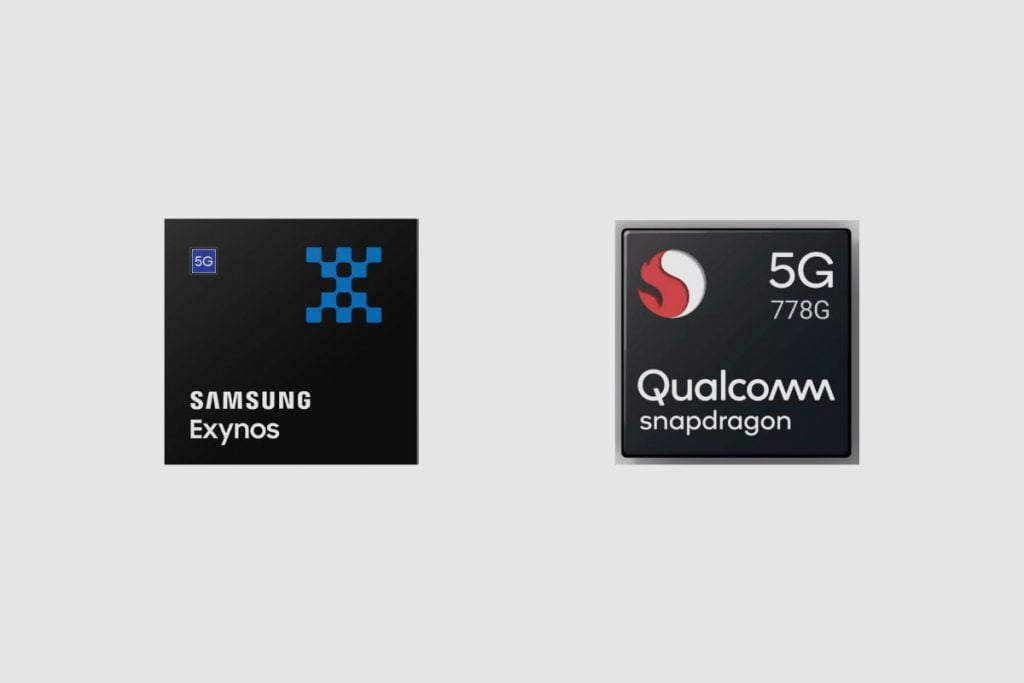 Processor
One of the most noticeable differences between the new Galaxy A53 5G and the older Galaxy A52s is the chipset found inside these phones. The Galaxy A53 5G is powered by Samsung's Exynos 1280 processor. This is the company's mid-tier octa-core chipset, built on the 5nm node. For those who are interested, it has two performance-oriented Cortex-A78 cores clocked at 2.4 GHz and two power-efficient Cortex-A55 cores clocked at 2 GHz. The graphics are handled by the Mali-G68 MP4 GPU.
The Snapdragon 778G processor, which powers the Galaxy A52s, easily outperforms any other chip in many resource-intensive tasks, especially gaming.
Additionally, I've observed that the Snapdragon 778G outperforms the Exynos 1280 in a variety of benchmarking software programs, including Geekbench 5, Antutu, and others. Although the Exynos 1280 has a slight edge over the Snapdragon 778G in terms of power economy, I believe the A52s is a better option if you routinely push your phone to its performance limits. This is simply because the Snapdragon 778G is a great CPU.
Given all of the above, it is safe to assume that the Galaxy A52s, which is powered by the Snapdragon 778G, performs better overall. Given that the Galaxy A53 5G is the more recent device, it has the highest-performing processor of any phone in this comparison.
The Samsung Galaxy A53 5G, however, starts to appear to be a step backwards from the Galaxy A52s that debuted before it when you look at this comparison from the perspective of performance. In this market, the Snapdragon 778G is a reliable processor, and even in 2022, you can't go wrong with it.
Storage
The Samsung Galaxy A53 5G, A52 5G, and A52s 5G all include 6GB of RAM and 128GB of storage as part of their base configurations. The Galaxy A52 4G has 128GB of storage but only 4GB of RAM, as opposed to 6GB in the base model. 
There are no distinctions between all of these devices in that they may be configured with a maximum of 8GB RAM and 256GB storage. It's also important to note that all of the Galaxy A-series phones in our comparison allow microSD cards for additional capacity. The amount of storage you can increase is up to 1TB, which is good. The same holds true for the 4G version.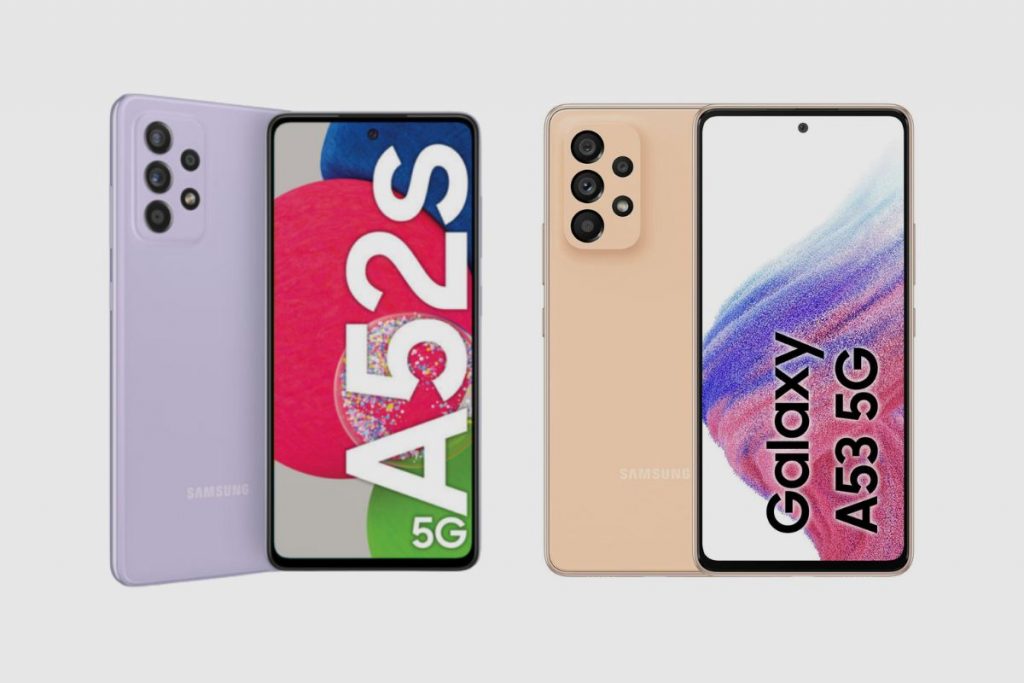 Battery
The battery capacity for the Samsung Galaxy A52s is 4500 mAh. The phone's battery life was supposed to increase with the increased processor, but the stats didn't support this. The A52 lasted 11 hours and 3 minutes, as opposed to the A52s, which made it through 9 hours and 6 minutes.
Even though the A52 outperformed it in my PCMark battery test, it was still able to hold up decently in daily use. This phone lasted more than a day and a half, even though I used it to listen to audiobooks, watch Twitch streams, tweet, and take pictures.
But charging proceeds very slowly. With the provided 15-watt charger, it only managed a pitiful 34% in 30 minutes, starting from zero. The phone can charge up to 25W, but you'll need to buy a separate higher-power charger.
Even though not all mid-range smartphones offer rapid charging capabilities, manufacturers like Realme and OnePlus are well ahead of Samsung in this regard. The flagship S series no longer includes a charger, so at least one is included here.
However, the Samsung Galaxy A53 makes for better reading, and with a 5000mAh battery, the Galaxy A53 can easily provide you with up to 12 hours of screen time without requiring you to disable the 120Hz option or use any other energy-saving techniques. Clearly, the A53 will last a lot longer than the A52s, so I will give the A53 the points here.
Design
The new Samsung Galaxy A53 5G and the older Galaxy A52s only differ in a small number of minor ways, beginning with the design. You will have a difficult time identifying the distinctions between the designs of these phones because they are similar. But if you pay close attention, you can see that the Samsung Galaxy A53 5G has a slightly modified camera housing. 
Instead of sticking out sharply like on many phones, the camera bump is recessed into the back of the phone with a small curve. The Galaxy A53 5G's curve is less pronounced than what OPPO used in its Find X3 Pro and the X5 Pro.
The Samsung Galaxy A53 5G is also somewhat shorter and thinner, but other than that, there aren't many physical distinctions in the designs. The Galaxy A53 5G has a thickness of 8.1mm, while the A52 variants have an 8.4mm thickness. However, they all have the same weight. All of the phones included in this comparison also have a plastic back and a 6.5-inch AMOLED display covered by Gorilla Glass 5.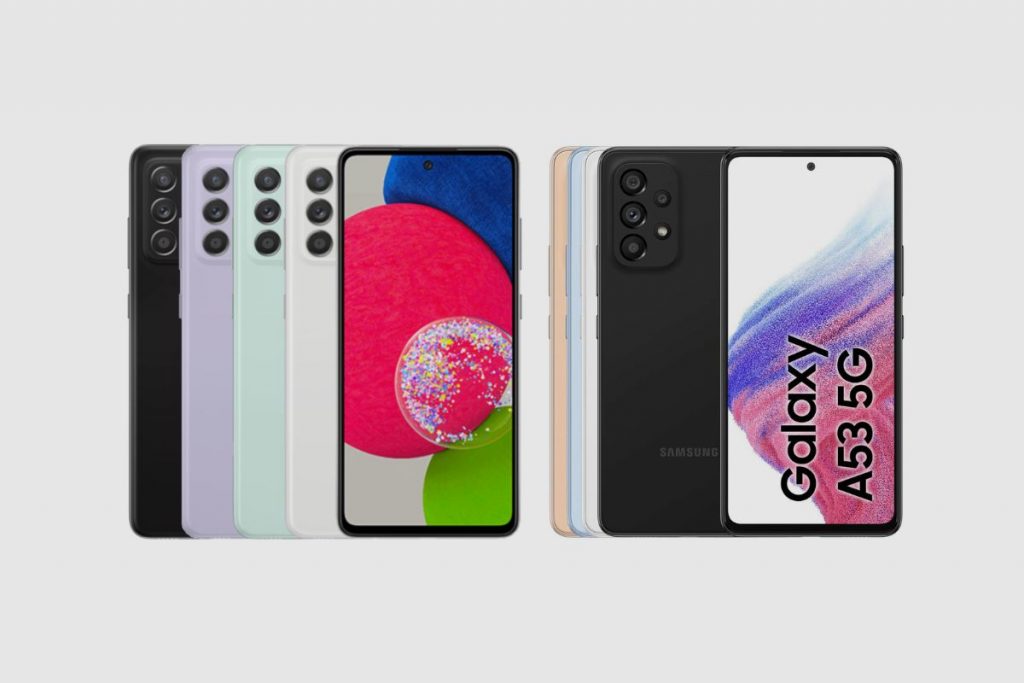 Colours
They're all available in a variety of colours, including black, white, and blue, but there are some exclusives, such as "Awesome Mint" for the Galaxy A52s 5G and "Awesome Orange" for the Samsung Galaxy A53 5G. 
The Galaxy A52s is available in three different colour options: black, light violet, and white. When it comes to the Samsung Galaxy A53 5G, Samsung offers a wide range of colours. If you prefer classic colours, you can choose white or black, depending on your tastes. If you prefer something more vibrant, you can always go with the light blue or orange variant.
Connectivity
In terms of connectivity, both phones share the same 5G, LTE, Wi-Fi 802.11 a/b/g/n/ac (2.4G+5GHz), but the Galaxy A53 has Bluetooth 5.1 while the Galaxy A52s has Bluetooth 5.0
Pricing and Availability
The cost of the Samsung Galaxy A52s is $450 (£409). In the UK, Box, Samsung, Amazon, and John Lewis are now selling it. Although US carriers do not offer the A52s, you may get a region-unlocked model from Amazon or AliExpress. As is customary with Samsung phones, several merchants provide discounts off the RRP. At the time of writing, Box was taking £60 off the A52s' original price, bringing it down to just £320, or just £280 if you're satisfied with the phone in white.
The Samsung Galaxy A53, on the other hand, is widely available at a variety of retail outlets and shops. It costs around $349 on Amazon, which I think is a fair price. It also costs around $340 on eBay. Samsung also sells the A53 directly through its retail locations, where it costs around $330.
If you want the best price, you should buy the Samsung Galaxy A53 from a network provider. If you don't mind being limited to a single network provider, they sell a locked version for incredibly low prices. To be honest, a Verizon sale for around $259 is an excellent example and an excellent value.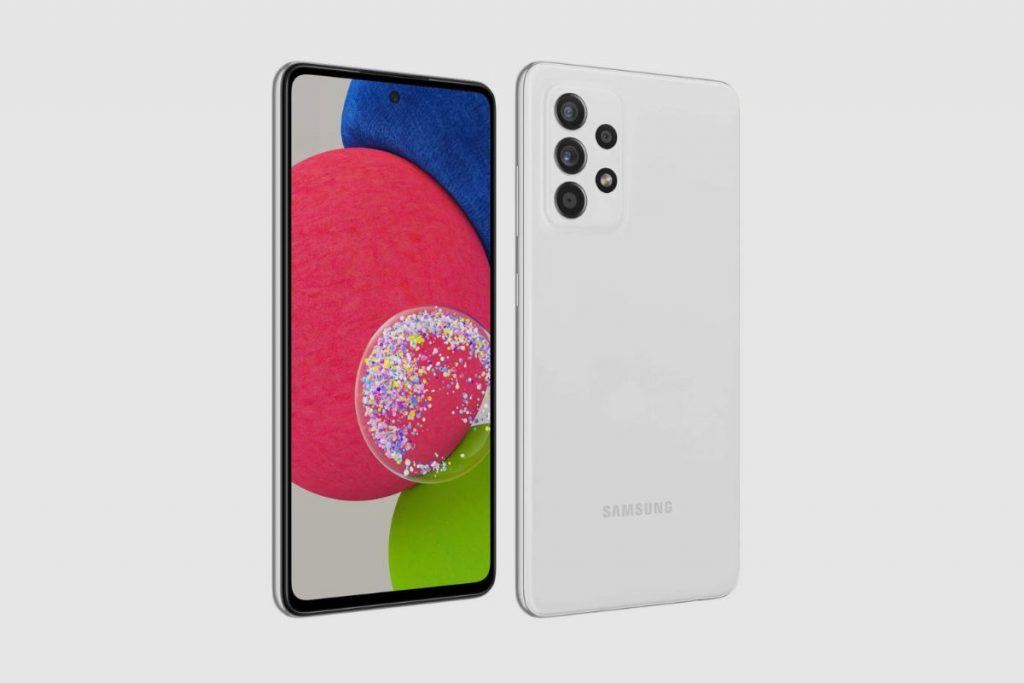 Pros and Cons of the A52s
Pros:
Stunning 120Hz display
Capable cameras
Solid performance
Cons:
The build is unimpressive.
Slow charge
A better chip does not improve battery life.
The Samsung Galaxy A53's Pros and Cons
Pros:
A good display with a refresh rate of 120Hz.
Up to 1TB of expandable storage
Excellent design and build quality
Up to 4 years of software updates.
Cons:
Average performance
Macro and depth cameras are useless.
Summary
There are numerous mid-range Samsung Galaxy A-series phones; however, it's reasonable to assume that they are all closely related to one another. There are a few reasons, though, that we believe you should choose one device over the other. 
When it comes to the design and build quality of both phones, you won't really notice a difference. It'll probably be difficult for you to tell them apart, which only goes to illustrate how similar these phones appear.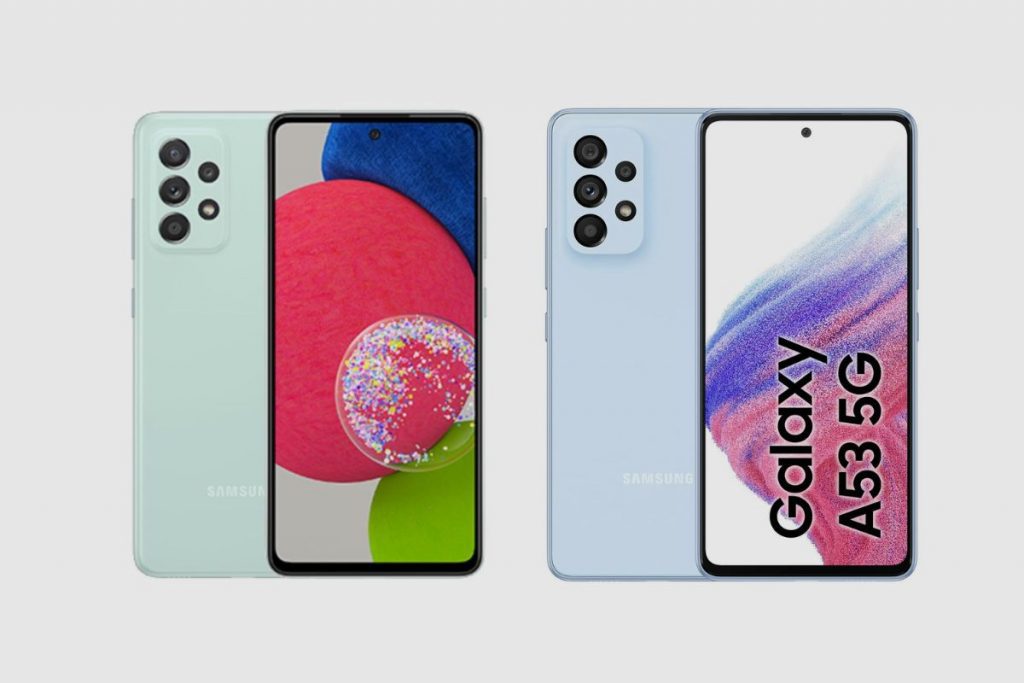 Comparative Overview
Due to the Snapdragon 778G CPU, I believe the Galaxy A52s is a better overall choice if you're comparing these phones from a performance standpoint. In this comparison, the Galaxy A52s not only outperforms the other Galaxy A52 models that came before it, but it also outperforms the Samsung Galaxy A53 5G, which is powered by Exynos 1280. 
Due to a slightly larger battery, the A52s may not last as long as the Galaxy A53 5G would go on a single charge, but the A52s make up for it with a charger included in the box. That and the 3.5mm headphone jack are both absent on Samsung's new Galaxy A53 5G, which is yet another downgrade in comparison to earlier models.
Purchasing the Galaxy A53 5G would only have the software as a real benefit. One UI 4.1, based on Android 12, was preinstalled on the Galaxy A53 5G when it was first released. Being a year old, the Galaxy A52 came pre-installed with One UI 3.1 based on Android 11. The Galaxy A53 5G will undoubtedly receive more upgrades than the Galaxy A52s because Samsung has committed to providing an additional year's worth of OS updates and security fixes for it. Therefore, the A53 5G is a very strong contender if you consider software support when making a buying decision.
Recommendations
The cost also has a significant impact on whatever phone is chosen, as we have highlighted in all of our comparisons. Currently, Samsung is selling the Galaxy A53 5G in the US for $350. That is less expensive than the Galaxy A52 5G's $450 starting price. Even though Samsung is no longer officially offering the A52 5G on its website, you can still purchase one for $400 or significantly less.
Contrarily, the Galaxy A52s 5G is currently the most cost-effective alternative in this comparison, selling for roughly $340 in the US. Even though it isn't the most recent Galaxy A-series device available, there are several reasons to choose it over the Galaxy A53 5G. The Galaxy A52s comes with a more potent chipset that supports 5G, a 3.5mm headphone jack, and a conventional charger.
All of this for a significantly lower price makes the Samsung Galaxy A52s 5G the better choice. For those who do not require 5G connectivity on their phone, the Galaxy A52 4G is a viable option. It comes close to matching the overall performance of the Samsung Galaxy A53 5G, and it also retains the headphone jack and includes a standard charger.
Conclusion
Given the vast array of alternatives now available, choosing the ideal Galaxy A-series phone may be a little overwhelming. But now, maybe, it's a little less startling with this comparison.
I believe that the Galaxy A52s 5G or even the Galaxy A52 5G/4G would be preferable purchases given that the new Galaxy A53 5G isn't really an advance over the earlier models, and you're more likely to find an incredible deal on the older models. I'd like to thank you for taking the time to read this article.
I hope you enjoyed it as much as I did writing it. If you have any questions, please leave them in the comments section below.
FAQs – Samsung Galaxy A53 vs A52s
Q: Are Samsung's A53 and A52s identical?
A: The upgrades in the chipset, battery life, and design characteristics distinguish the Samsung Galaxy A53 smartphone from the Galaxy A52 and A52s. With these improvements, the Galaxy A53 is an excellent choice for anyone searching for a superb phone that is still reasonably priced.
Q: Is A52s 5G a good investment?
A: The SD 778G chipset in the A52s is also substantially better in terms of next-generation capabilities and performance, whether in Camera ISPs, AI, Modem, or GPU. This phone is excellent and meets all of my needs.
Q: Is the Samsung A52s worth purchasing in 2022?
A: The Samsung Galaxy A52s 5G is compatible with proprietary fast charging. Yes, it is worth every penny because you will not find a smartphone like this, especially with Samsung's UI and optimization, in any other smartphone in this price range.
Q: Is the Samsung A53 a worthwhile option?
A: For many years to come, the Galaxy A53 is expected to be a mid-range workhorse. It's a terrific device for folks who don't want to spend a fortune but still need a phone that can do it all because long-lasting software updates are promised, a screen that looks the part and a battery that can last the distance.
Q: How long will a Samsung A52s Last?
A: It's nothing new for Samsung these days, which is refreshing, as is the company's update promise of three years of major Android updates and four years of security patches for the A52s.
Image Gallery – Samsung Galaxy A53 vs A52s