There are some technology companies that have become well-known for producing high-quality mobile devices, from mid-range to flagship models; Samsung and Google are among them. The two companies produce great devices with amazing specifications that provide a nice user experience.
They both produce mid-range devices, which are considered affordable, and also high-end flagship devices, which are more on the premium side.
If you are looking for a mid-range mobile device and on a budget, you should look at these brands because they have great quality and features.
In this article, I will compare the Google Pixel 6a and Samsung Galaxy A53 mobile phones to provide insights that will guide you in making an informed decision if you intend to buy any of these phones.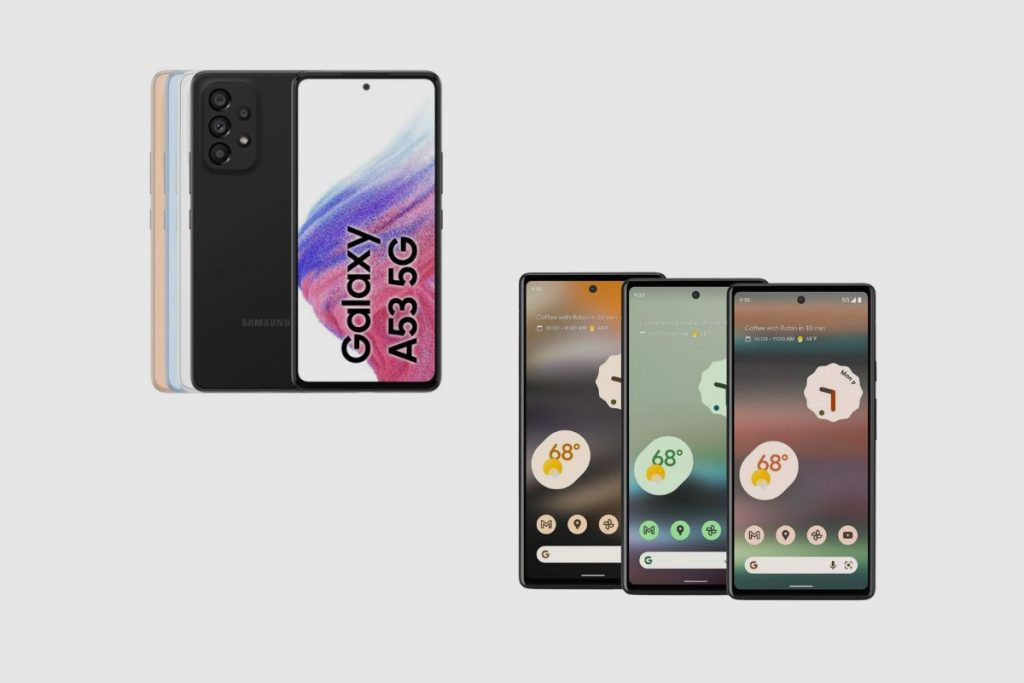 Specifications
Samsung Galaxy A53
Google Pixel 6a
Display Type
Size



Resolution



Super AMOLED, 120Hz, 800 nits (HBM)
6.5 inches, 102.0 cm2 (85.4% screen-to-body ratio)

1080 x 2400 pixels, 20:9 ratio (405 PPI density)
OLED, HDR


6.1 inches, 90.7 cm2 (83.0% screen-to-body ratio)

1080 x 2400 pixels, 20:9 ratio (429 PPI density)
Camera
Back






Selfie

Quad Back Camera64 MP, f/1.8, 26 mm (wide), 1/1.7X", 0.8 µm, PDAF, OIS12 MP, f/2.2, 123˚ (ultrawide), 1.12µm mm5 MP, f/2.4, (macro)5 MP, f/2.4, (depth)

32 MP, f/2.2, 26 mm (wide), 1/2.8″, 0.8 µm

Dual Back Camera12.2 MP, f/1.7, 27 mm, (wide), 1/2.55″, 1.4 µm, dual pixel PDAF, OIS12 MP, f/2.2, 17 mm, 114˚ (ultrawide), 1.25µm m



8 MP, f/2.0, 24 mm (wide), 1.12 µm
Battery
Type

Charging


Li-Po 5000 mAh, non-removable
25W wired


Li-Po 4410 mAh, non-removable

18W wired, PD3.0
Internal Storage
128gb; 4gb RAM128gb; 6gb RAM128gb; 8gb RAM256gb; 6gb RAM256gb; 8gb RAM
128gb; 6gb RAM
Processor
Exynos 1280 (5 nm)
Google Tensor (5 nm)
Design
Samsung Galaxy A53
Google Pixel 6a
Weight
189 g (6.67 oz)
178 g (6.28 oz)
Dimension
159.6 x 74.8 x 8.1 mm (6.28 x 2.94 x 0.32 in)
152.2 x 71.8 x 8.9 mm (5.99 x 2.83 x 0.35 in)
Colors
Black, White, Blue, Peach
Chalk, Charcoal, Sage
Connectivity
Wi-Fi

Bluetooth
USB


Wi-Fi 802.11 a/b/g/n/ac, dual-band, Wi-Fi Direct
5.1, A2DP, LE

USB Type-C 2.0, OTG


Wi-Fi 802.11 a/b/g/n/ac/6e, dual-band, Wi-Fi Direct
5.2, A2DP, LE

USB Type-C 3.1
Price
| | | |
| --- | --- | --- |
| | Samsung Galaxy A53 | Google Pixel 6a |
| Range | $450 $330, $385 | £275, $300, $320 |
| Availability | SM-A536B, SM-A536B/DS, SM-A536U, SM-A536U1, SM-A5360, SM-A536E, SM-A536E/DS, SM-A536V, SM-A536W | GX7AS, GB62Z, G1AZG |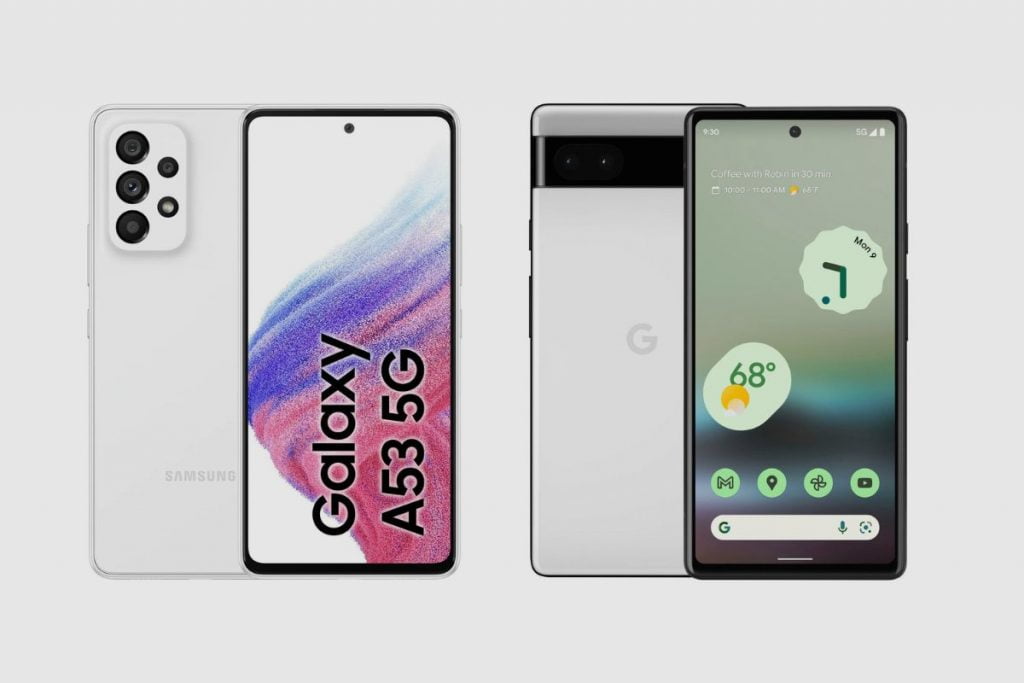 Pros and Cons
Pros
| | |
| --- | --- |
| Samsung Galaxy A53 | Google Pixel 6a |
| The design is equally elegant as it maintains the same design as the Galaxy A53. | It has a modern-looking design which is great |
| It comes in beautiful colours. | The colours are very sleek, making it look quite elegant. |
| It has an IP67 rating against water and dust. | It is IP67 rated against water and dust. |
| It has a fast 120Hz refresh rate. | It has a 90Hz refresh rate. |
| It has a super AMOLED screen in a full HD display. | It comes with a nice OLED display with a full HDR. |
| Long-lasting 4500 milliamp-hour battery | It has a capable 4410 mAh battery. |
| It maintains the external SD card slot. | Flagship level chipset |
| It uses capable stereo speakers. | Great performance |
| It has an amazing camera set-up. | Excellent camera |
| Comes with years of upgrades | Lots of great features on the OS |
Cons
| | |
| --- | --- |
| Samsung Galaxy A53 | Google Pixel 6a |
| No headphone jack | No headphone jack |
| It cannot perform well with intense gaming. | No extra battery features like wireless charging |
| Incapable of streaming HDR content on Netflix | No extra SD card slot |
| | Only 128 GB storage option |
| | Fingerprint sensor can be slow at times |
Summary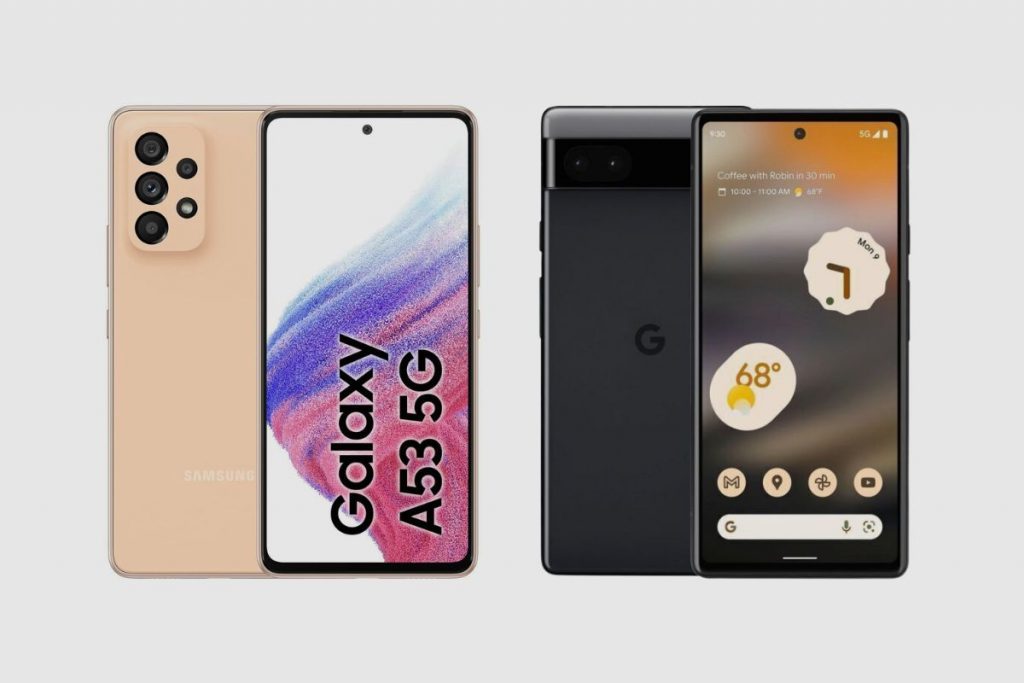 Comparative Overview
In this section, I'll go over some of the features that make each of the mid-range mobile devices great choices. Then based on the features, you can decide for yourself which phone is better.
The display of the Samsung Galaxy A53 smartphone is a good-sized 6.5-inch super AMOLED screen coming in full HD resolution of 2400 by 1080 for about 405 pixels per inch. This gives room for the phone to deliver that bold, bright and colourful look.
The 1080p resolution offers no issues with clarity. On top of all that is a 120hz high refresh rate. This phone feels super responsive and silky smooth with every top-end touch altogether. 
The Google Pixel 6a features a 6.1-inch OLED HDR display with a screen resolution of 1080 x 2400 pixels. The core quality of the OLED screen is excellent. The contrast is superb; there is no weird colour shift in different viewing angles. The brightness levels are sufficient, and you'll have no problems using this phone under direct sunlight.
It has a 90hz refresh rate which is good enough for a nice user experience when doing things like scrolling, swiping or seeing how fast a page comes up. All in all, this phone has a pretty decent display.
In light of performance, the Galaxy A53 performs just fine. This phone is powered by Exynos 1280, which is one of Samsung's newest mid-tier chipsets. The performances do not have outright issues, but the choice of processor limits you in certain instances.
If your intentions are, for example, playing really graphic-heavy games at their highest settings. This phone just doesn't support that. You'll get maxed out 40 to 60fps settings with noticeable frame drops from time to time. Aside from this, the phone's performance is amazing for a mid-range device.
The Google Pixel 6a uses a flagship Google Tensor chipset which is the same one featured on more expensive models. The performance is absolutely incredible, fast, and everything you will expect from a flagship-grade chipset. You can perform tasks ranging from minimal to heavy and still get a seamless performance experience from this device.
This is one of the best chipsets you can get for a phone of this price currently on the market. This is because it is a mid-range device containing the same chipset as a flagship device.
The size of the battery of the Galaxy A53 is 4500 milliamp hour which can easily give you around 12 hours of usage without having to disable the 120Hz or use any other battery-saving techniques. It lacks extra features like industry-leading fast charging or wireless charging. It just supports the same 25-watt charging, and you'll have to get a 25-watt power brick, as Samsung does not provide you with one from the box.
The Google Pixel 6a has a very strong performing battery that can get you a day's use with adaptive settings turned on. It uses a 4410 mAh battery that charges at 18 watts fast charging. It only comes with a cable, so you'll have to purchase a power adapter separately if you do not already have one.
The sound on the Samsung Galaxy A53 is very clear and loud. It uses dual speakers, which enhance the volume and clarity that, automatically provides for a better listening experience.
The sound system on the Google Pixel 6a, on the other hand, is just satisfactory, nothing spectacular. The reception is great, especially during audio and video calls. The overall audio experience is standard for a mid-range device. There is nothing necessarily wrong with it.
As expected, the camera on the Samsung Galaxy A53 is very capable. The shots from the back camera give a very colourful and saturated look which is very pleasing but not necessarily true to life.
There is a ton of detail in every shot, and that's something that is particularly important. Although sometimes, the shots taken at night time do not come out as excellent as the ones taken during the day. Nevertheless, the outcome is still satisfactory. The dynamic range isn't as great as it could be, which gives away the fact that it is a budget device, but the pictures are still impressive. 
For videos, it captures in 4k with pretty decent pro controls, extra stabilization and high-megapixel shooting.
The selfie camera is a 32 mp lens that produces great shots for its mobile device grade. Overall, this is a phone that gives you a lot to work with when it has to do with the camera setup.
The Google Pixel 6a captures very good images. Daytime shots have ample details; the exposure is very balanced, and a very noticeable contrast which comes out great. The dynamic range is a class above mid-range devices you'll find in its price range. The close-up shots come out so great, and it feels almost as though they were taken by a flagship device.
Nighttime shots, on the other hand, are not as impressive. It has good colours and contrast, but it struggles to preserve details.
In terms of videography, the primary lens records up to 4k at 60 frames per second, while the ultrawide records 4k at 30 frames per second. The footage has the same contrast colour scheme as the one in the photos, which is really nice.
The selfie camera is okay for a mid-range device. It is also not as impressive as the back camera, but it does the work of taking nice shots. Don't expect too much from the outcome, as the shots would have a clear difference from the ones taken by the Google Pixel 6 Pro, for example, which is a flagship-grade device.
Recommendation
The most important thing to consider before deciding on which phone is better is the purpose it will particularly serve you. If you are looking for a phone to perform heavy tasks such as intense gaming, the Google Pixel 6a will serve you better. This is because of its larger flagship-grade chipset that enables it to conveniently accommodate heavy tasks without lagging.
If you want a device to perform regular day-to-day activities, you can get either of the two devices. If things like a faster refresh rate are very important, you can go for the Samsung Galaxy A53, as it has a higher refresh rate of 120Hz.
They both have very capable batteries that can give you at least 12 hours of usage. However, if you want extra battery features like fast charging, the Google Pixel 6a is more suitable. The Samsung Galaxy A53 does not have those extra features like fast charging or wireless charging.
There are other specific features that may resonate with your personal preferences that can ultimately help you decide which of the devices is best suited for you.
Overall, the Samsung Galaxy A53 and the Google Pixel 6a are very capable mid-range devices that provide you with excellent value for your money.
Conclusion
The Samsung A53 and Google Pixel 6a are both good devices with more than enough features to provide a satisfying user experience. They both use very great technology, which includes an AMOLED HD display and a good refresh rate that allows for seamless performance.
They have a capable camera setup for their price mobile grade (mid-range) and many features that make both devices great choices to purchase. As mentioned earlier, if you have specific features that you are looking for in a device, this article will help make your decision-making a lot easier.
Image Gallery – Samsung Galaxy A53 vs Google Pixel 6a