Samsung's Galaxy A-series includes many smartphones in the mid-range price bracket. And if there's one thing I've learned from contrasting a few of these phones against one another, it's that they all provide an extremely comparable package.
Samsung's 2022 A-series trio currently features the Galaxy A73 5G as its top model. It uses a different chipset than the ones used in the Samsung Galaxy A53 5G and Galaxy A33 5G. Among other things, it has better cameras.
Is that, however, enough to set it apart from the Samsung Galaxy A53 5G? I'm here to learn the answer to that, so yeah, let's compare the Samsung Galaxy A53 5G and Samsung Galaxy A73 5G to see how they will do against each other. I'm going to compare the Samsung Galaxy A53 5G and Samsung Galaxy A73 5G in this article to see which is superior.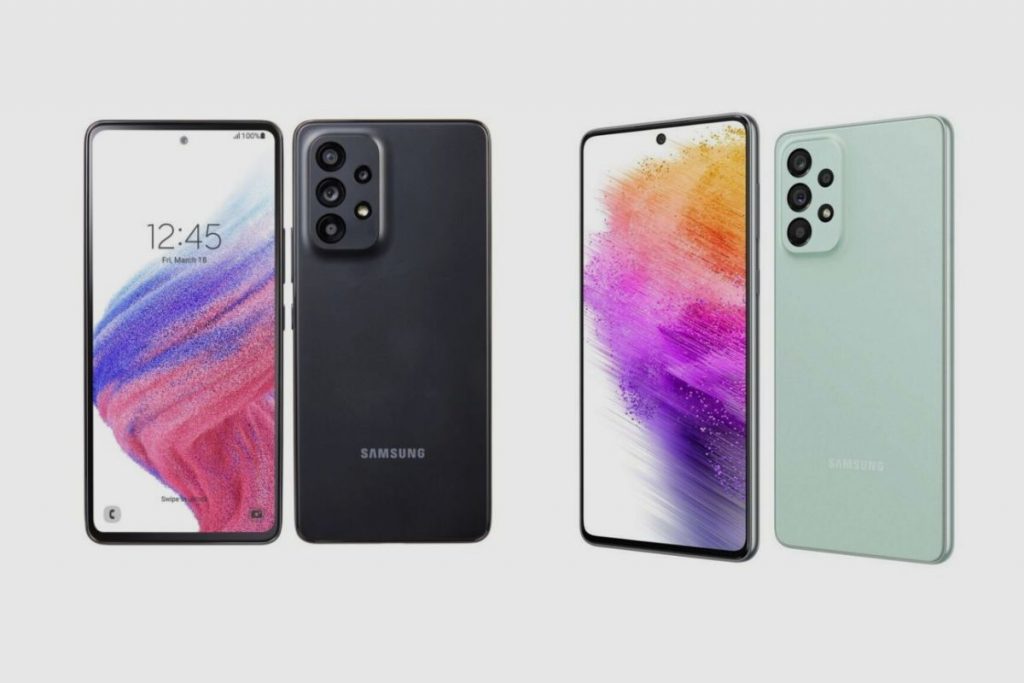 An In-Depth Comparison Between The Samsung Galaxy A53 And The A73
When comparing two phones, the best place to start is with a quick rundown of the specs being displayed side-by-side so that you can get a brief idea of how both phones compare and allow us to have a quick overview of the phones.
Specifications
| | | |
| --- | --- | --- |
| Category | Galaxy A53 5G | Galaxy A73 5G |
| Dimensions | 159.6 x 74.8 x 8.1 mm | 163.7 x 76.1 x 7.6 mm |
| Weight | 189 g | 181 g |
| Display | 6.5-inch 120Hz SuperAMOLED FHD+ | 6.7-inch 120Hz SuperAMOLED FHD+ |
| RAM and Storage | 6GB – 8GB RAM, 128 – 256GB storage | 6GB – 8GB RAM, 128 – 256GB storage |
| Micro SD | Yes | Yes |
| Processor | Samsung Exynos 1280 | Qualcomm Snapdragon 778G |
| Camera 1 | 64 MP, f/1.8 OIS | 108 MP, f/1.8 OIS |
| Camera 2 | 12 MP, f/2.2 Ultrawide | 12 MP, f/2.2 Ultrawide |
| Camera 3 | 5 MP, f/2.4 macro | 5 MP, f/2.4 macro |
| Camera 4 | 5 MP, f/2.4 depth | 5 MP, f/2.4 depth |
| Front Camera | 32 MP, f/2.2 | 32 MP, f/2.2 |
| Battery | 5,000mAh | 5,000mAh |
There is a 5,000 mAh battery, which, in my investigation of the A53, comfortably delivered more than a full day's worth of juice. The rest of the specification list is essentially the same across both variants. Early assessments indicate that the A73 will deliver similar longevity despite having a larger display. Neither model supports wireless charging, but both the Galaxy A53 and A73 offer the same 25 watts of wired charging, which is also what Samsung offers in its premium Galaxy S22 and S22+ models.
Both models benefit from features like optical in-screen fingerprint recognition and IP67 water and dust protection. Both the Galaxy A73 and A53 will receive four years of Android updates starting at the time of introduction, keeping with Samsung's outstanding software update guarantee. That means both are compatible with Android versions 16 and beyond.
Display
The Super AMOLED Infinity-O display from Samsung is featured on every new Galaxy A-series phone. The same applies to these phones as well, but there is a minor variation in the actual size. In comparison to the Galaxy A73 5G's 6.7-inch screen, the Galaxy A53 5G's 6.5-inch FHD display is smaller.
However, aside from that, these panels, which have a maximum resolution of up to 1080 x 2400 pixels, are essentially the same. Although the Galaxy A53 5G is likely to offer slightly more pixels per inch (PPI), their sharpness is essentially the same. Both phones offer refresh rates of up to 120 Hz, as opposed to the Galaxy A33 5G's maximum of 90 Hz.
These phones' displays are shielded by Corning Gorilla Glass 5 on the front, thanks to Samsung. They have the same number of bezels surrounding the display as well. Although they are not as thin as the ones on the flagship phones, they are nevertheless sufficiently thin to give them a contemporary aesthetic.
A centre-aligned punch-hole cutout for the selfie camera is also included. You may anticipate seeing a good panel on both of these phones because Samsung is known for using high-quality displays on its smartphones. Most of the time, the A53's display appears nice, with vibrant and lively colours. There is no other physical scanner on the body because both phones include an in-display fingerprint scanner for authentication.
Camera System
Another area where the two phones differ from one another is the camera. The Samsung Galaxy A53 5G has a camera system on the back that consists of a 64MP main camera, a 12MP ultra-wide, and two 5MP sensors for depth and macro. Although the Galaxy A73 5G has a different main camera with a 108MP f/1.8 primary sensor and OIS, it still offers the same adaptability. It comes down to the main sensor being different because the rest of the optics are the same.
The 108MP camera on the A73 5G produces better-looking pictures with more details and less noise. Even with OIS, the 108MP sensor will perform better in low-light situations than the Samsung Galaxy A53 5G does. Both phones feature a 32MP front-facing camera for taking selfies, which takes very similar pictures, but the processor on the A73 clearly shows its power boost by being able to capture selfies with slightly better picture quality.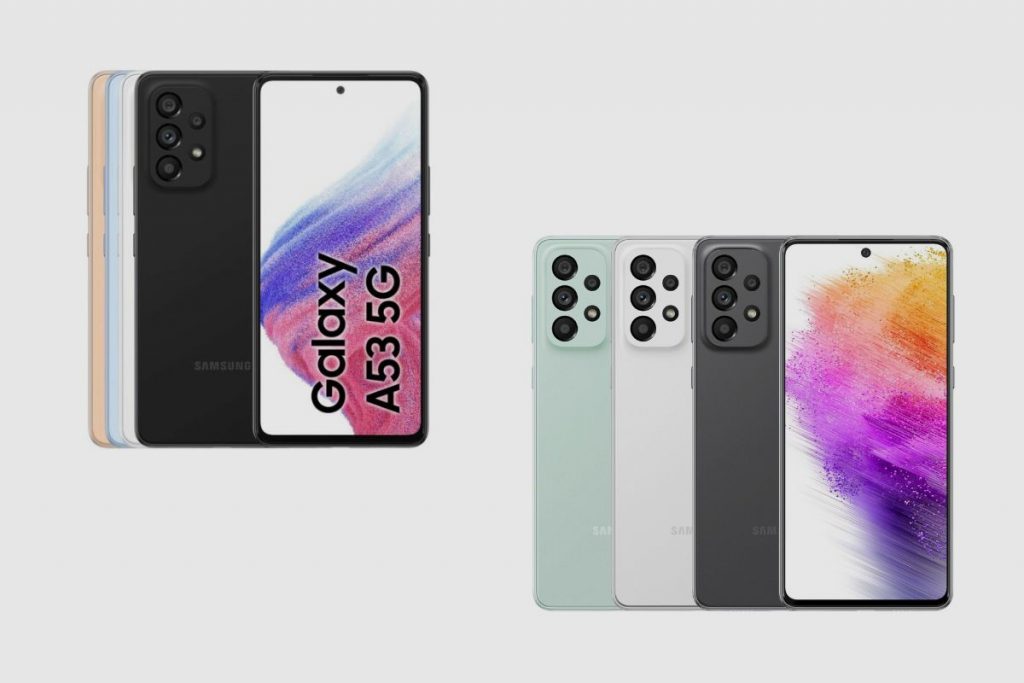 Internal Storage
The Samsung Galaxy A53 5G and Galaxy A73 5G's base models both have 6GB of RAM and 128GB of internal storage. For more RAM and storage, you can choose the 8GB + 256GB combination. It's comforting to know that both devices allow for microSD card-based storage expansion. You can add up to a 1 TB microSD card to both phones, but keep in mind that because it's a hybrid slot, you can't use the slot for a backup SIM card.
Processor
The processors of the two phones in this comparison are one of their key differences. The Samsung Galaxy A53 5G is powered by Samsung's own Exynos 1280 chipset, while the Galaxy A73 5G uses the Snapdragon 778G processor. Two Cortex-A78 cores with a focus on performance and two Cortex-A55 cores with a focus on power efficiency make up the Exynos 1280.
Some of the Snapdragon 778G's cores operate at 2.4 GHz, while others operate at 1.8 GHz. Since the Snapdragon 778G is the more powerful of the two chips, you may anticipate that the A73 5G will perform better in benchmarking software. By no means, however, does this imply that the Exynos 1280 is a subpar chipset. In terms of daily use, you probably won't notice much of a difference between the two.
Power efficiency is one area where the Exynos 1280 outperforms the Snapdragon 778G. This is because the Exynos chip powering the Samsung Galaxy A53 5G was produced on the 5nm node as opposed to the SD 778G's 6nm node. Again, it probably won't have a big impact on everyone, but it's still important to be aware of. 
Since both phones contain 5,000 mAh batteries, it is especially crucial. Because of the more power-efficient chip and the slightly smaller display, I anticipate that the A53 5G will have a longer battery life. Both phones enable 25W fast charging, although neither one includes a charger when it is first unboxed.
Battery Life
As I previously mentioned, both phones share the same 5000 mAh battery, so there wouldn't be much of a difference between them in terms of their daily usage numbers. However, it is important to note that the Samsung Galaxy A53 5G has a smaller screen and a smaller chip, which is less power efficient but doesn't drain the battery as fast. This should allow the Galaxy A53 to shade the A73, which has a larger screen and a more powerful chip. However, both phones should easily give you over a full day's worth of usage, so don't sweat the minor differences in screen size and chip processing power.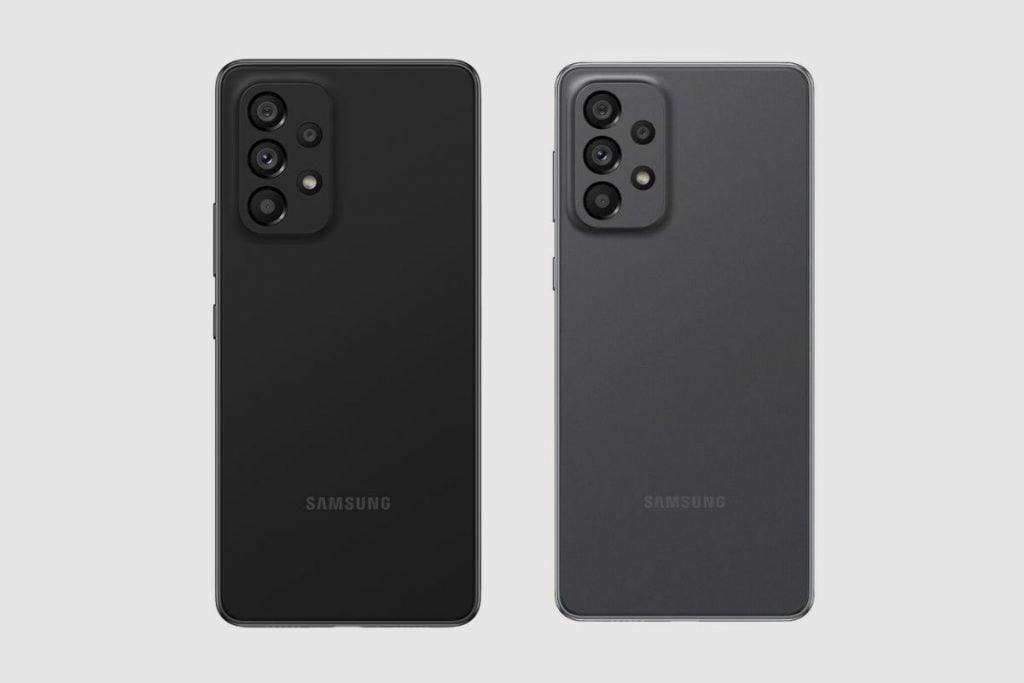 Design
In terms of design, it's safe to say that both the Samsung Galaxy A53 5G and the Galaxy A73 5G seem like they're cut from the same cloth. Only slightly different sizes and colour schemes are being considered. They are both polycarbonate devices with Corning Gorilla Glass 5 covering the front to safeguard the displays.
From both the front and the back, they essentially have the same appearance. Even their camera bumps are identical, easing and blending into the rest of the phone's back like how OPPO handles it for the Find X5 Pro. When seeing the two from behind, it will undoubtedly be difficult to tell them apart.
Dimensions and Weight
The Galaxy A73 5G is marginally broader and taller than the Galaxy A53 5G in terms of dimensions. However, it is also somewhat lighter and slimmer than the Galaxy A53 5G, which contributes to a particularly nice feel in the hand. The Samsung Galaxy A53 5G weighs 189 grams and is 8.1 mm thick, while the Galaxy A73 5G is 7.6 mm thick and weighs 181 grams. However, there are only slight differences in their dimensions, 159.6 x 74.8 x 8.1 mm (A53). 163.7 x 76.1 x 7.6 mm (A73). 
Colours
Additionally, Samsung offers both phones in a variety of colours. The Samsung Galaxy A53 5G comes in awesome Black, White, Blue, and Orange colour options, while the Galaxy A73 5G is sold in awesome mint, awesome grey, and awesome white hues.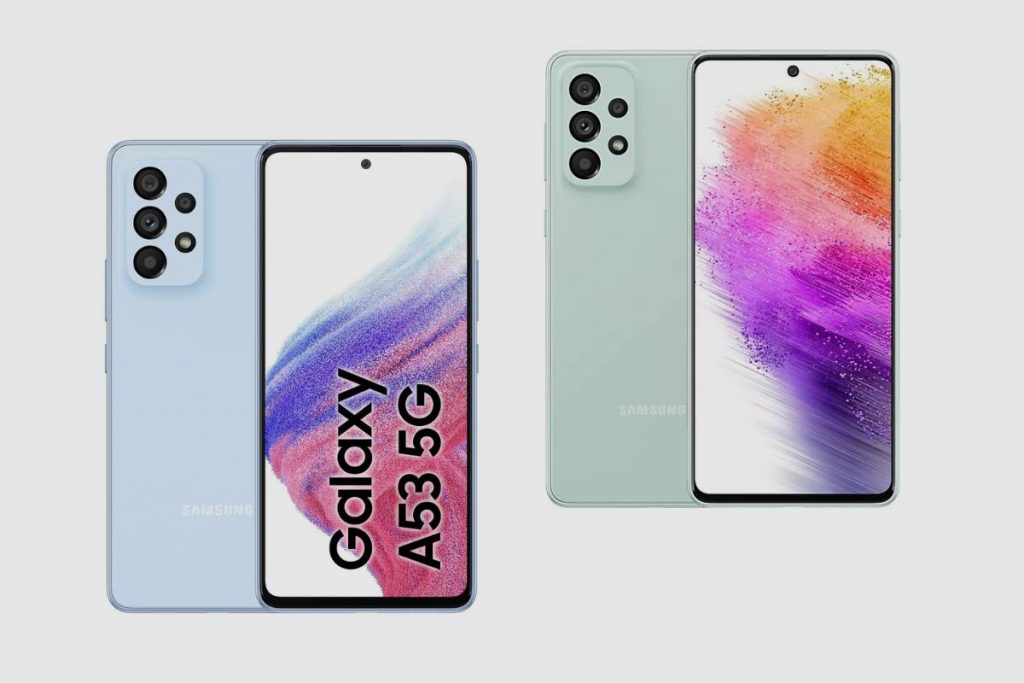 Pricing and Availability
The Samsung Galaxy A53 5G is conveniently available at several retail establishments and stores. On Amazon, it sells for about $349, which, in my opinion, is a reasonable price. Furthermore, it costs about $340 on eBay. You can also buy the A53 directly from Samsung at one of its retail sites for about $330. However, if you want the best price, you might consider getting the A53 from a network provider. They sell a locked version for ridiculously low prices if you don't mind being limited to a single network provider.
On the other hand, the Samsung Galaxy A73 is also widely available in several storefronts, and it retails for about $450 on Amazon and Walmart. I think this is a solid choice of phone for anyone looking for an upgrade and a little bit more of their money's worth from buying a mid-range phone; by all means, go for the A73.
However, I continue to believe that the A73 offers the best value for money. There are also locked versions that would be tied to a single network provider, which makes the phones a lot cheaper, but that would also mean you are tied to a single network provider like AT&T or Version. All of these provide extremely good value for money, but that also means you can't move from one carrier to another without trying to get another phone.
Pros and Cons of the Samsung A73
Pros:
AMOLED display with 120Hz refresh rate; high-end 108MP camera;
massive battery
Four Android OS updates are promised.
IP67's resistance to water and dust
powerful Snapdragon processor.
Cons: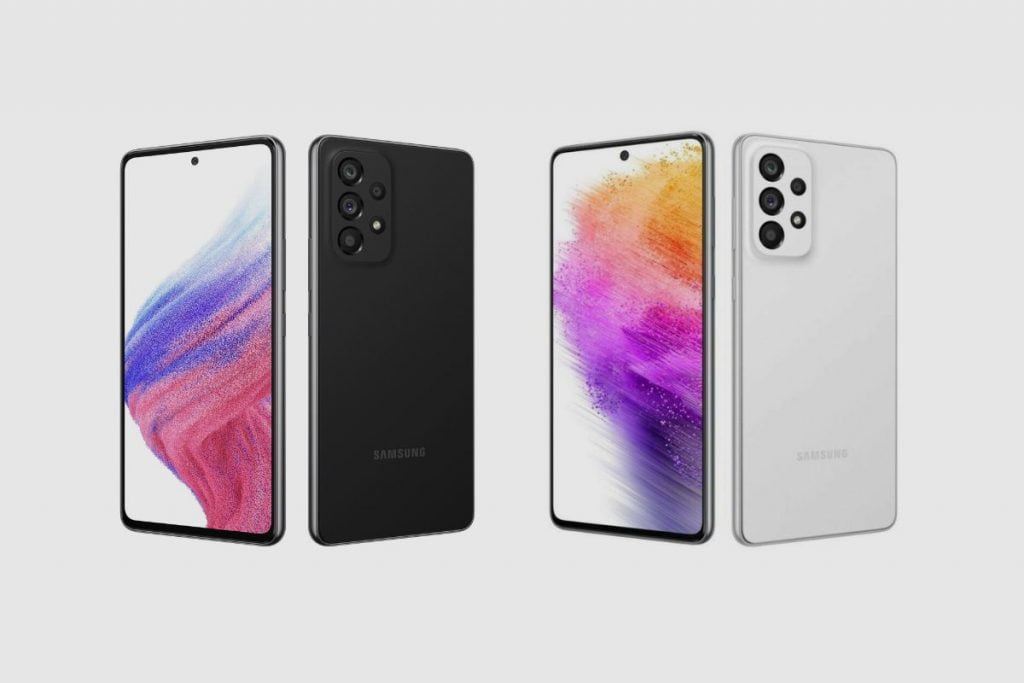 Pros and Cons of the Samsung Galaxy A53
Pros:
64MP camera with a vibrant 120Hz AMOLED display
Additional days per fee
IP67 dust and water resistance
Four guaranteed Android OS updates.
Cons:
No 3.5mm jack;
Exynos SoC benchmarks are worse than those of a similar Snapdragon
Summary
Even though both phones share identical battery packs and design aesthetics, they nevertheless have a few significant distinctions. The camera modules may be similar, but the camera systems offer significantly varying levels of picture clarity and detail. Additionally, the chips inside the cameras are very different, giving each phone a range of processing performance and speed.
Their displays, storage capabilities, and battery life are remarkably comparable. This demonstrates how Samsung is attempting to standardize its phones to streamline the design process and provide customers with a sense of continuity and consistency across its "A" series, making their phones simple to buy and simple to recommend, increasing consumption and their market share.
Comparative Overview
Samsung delivers two very similar phones as it expands its mid-range offering. Both phones share a common chassis with a soft raised region that houses the camera module and a plastic-backed rear. Both variants have a striking 120Hz SuperAMOLED display across the front, which matches the smoothness of much more costly smartphones and has a generous Full HD+ display quality.
The key distinction is that the A53 has a 6.5-inch display, while the A73 has a larger 6.7-inch diagonal screen. Both fit nicely into the category of large phones; however, the A73 might be worth taking into account if you prefer a bigger screen for watching videos and playing games.
The processor is yet another significant distinction for hardware experts. The Exynos 1280 CPU that powers the Samsung Galaxy A53 5G is a respectable mid-range chip that, except for lengthy gaming sessions, we found to be more than powerful enough for everyday app use. The A73, however, improves upon it with a Qualcomm Snapdragon 778G. 
This processor, which was initially introduced in mid-2021, performs better on benchmarks than the Exynos 1280, especially for workloads requiring advanced graphics. (App developers also frequently optimise for Qualcomm's platforms due to the chip maker's dominance of the Android operating system.)
For daily chores, either CPU should, however, have more than enough power. Your memory requirements are easily met because both phones can be configured with up to 8GB of RAM and 256GB of storage, plus microSD expansion.
The Galaxy A73 5G's primary camera sensor is the other significant modification. The A73 ups the ante with a massive 108MP resolution for its primary shooter, while the A53's 64MP main sensor is adequate. This means that the increased sensor size will let you take crisper low-light pictures.
Additionally, since neither the Samsung Galaxy A53 5G nor the A73 has a specialized telephoto camera, there should be more area for clear, digitally zoomed pictures as well. (Both variants share the same secondary cameras, including the front-facing 32-megapixel camera.) Samsung is very intentional with everything they plan on doing with their new phones, and they have shown a clear direction in which they plan to go concerning their "A" series phones. 
Recommendation
Both the Samsung Galaxy A53 5G and Galaxy A73 5G are excellent smartphones at their price points. While there are some similarities between the two in terms of performance and camera quality, there are not many differences between them in terms of design and aesthetics. The software for all of these A-series mid-range phones has also been fairly well done by the company.
The Galaxy A73 5G will receive the same length of software support as the Galaxy A53 5G and comes pre-installed with One UI 4.1 based on Android 12. But before I offer my final judgement, it's important to note that the Galaxy A73 5G isn't sold in the US. So, if you're looking to buy a phone in the United States, your options are restricted to the Samsung Galaxy A53 5G.
However, if you want to buy these phones outside of the US, where they are sold, or if you're just curious about which one is better, we'd suggest the Galaxy A73 5G, which delivers a superior overall experience. Although it is a little bit taller than the A53 5G, it is also lighter and thinner, which should make it much more comfortable to hold and use. Not to mention that, despite being less power efficient, the SD778G provides superior overall performance.
With the Galaxy A73 5G, you could conceivably get a better camera system, which is fantastic. When everything is taken into account, it is easy to claim that the Galaxy A73 5G provides a more complete experience. Therefore, if you don't mind spending a little extra on the items I just listed, the Galaxy A73 5G is the only option.
Conclusion
The Samsung Galaxy A53 5G and A73 5G are both excellent mid-range phones that are priced appropriately. I believe the A73 is probably worthwhile if it's offered where you live and you have the extra cash to burn. Both devices have excellent technical foundations, but the A73 will provide a better overall experience due to its quicker processor, higher-resolution camera, and a larger screen.
If you want to save a little money, the Samsung Galaxy A53 5G is still a great option, even if you live in a region where the A73 is offered. Because the secondary cameras in the more expensive model are the same, you might want to think about it if you don't play a lot of mobile games or if the slight photographic boost isn't a huge deal for you. I'd like to thank you for taking the time to read this article. I hope you enjoyed it as much as I did writing it. If you have any questions, please leave them in the comments section below.
FAQs
Q: Is the Samsung Galaxy A53 5G a worthwhile option?
A: The Galaxy A53 is expected to be a mid-range workhorse for many years to come. It's a fantastic device for people who don't want to spend a fortune but still need a phone that can do everything because long-lasting software updates, a screen that looks the part, and a battery that can last the distance are all promised.
Q: Is it worthwhile to purchase the A73?
A: The A73 5G is, at best, a minor upgrade for current Galaxy A Series owners. If you're looking for value or specifications at this price, there are better options. However, those who value OS support and features such as Always-on-Display and an IP67 rating will find the A73 5G to be a good fit.
Q: How long does the Samsung A73 last?
A: The Samsung Galaxy A73 has an exceptional battery life of about 2 days.
Q: Is A73 too expensive?
A: I'm quite impressed by how quickly and well it completes all of the jobs. The display quality, battery life, and camera are all well-rounded and balanced. Even though it is more expensive, it performs like a flagship product. I can without a doubt suggest this phone.
Q: What makes the Samsung A53 unique?
A: The Samsung Galaxy A53 5G has a 120Hz refresh rate, 2400 x 1080 resolution, and 800 nits of maximum brightness Infinity-O Super AMOLED display, which Samsung refers to as its punch-hole design panels. It is 6.5 inches in size, the same as the A52 5G. The A53 5G's 120Hz mode is excellent, just as you would expect.
Image Gallery – Samsung Galaxy A53 5G vs A73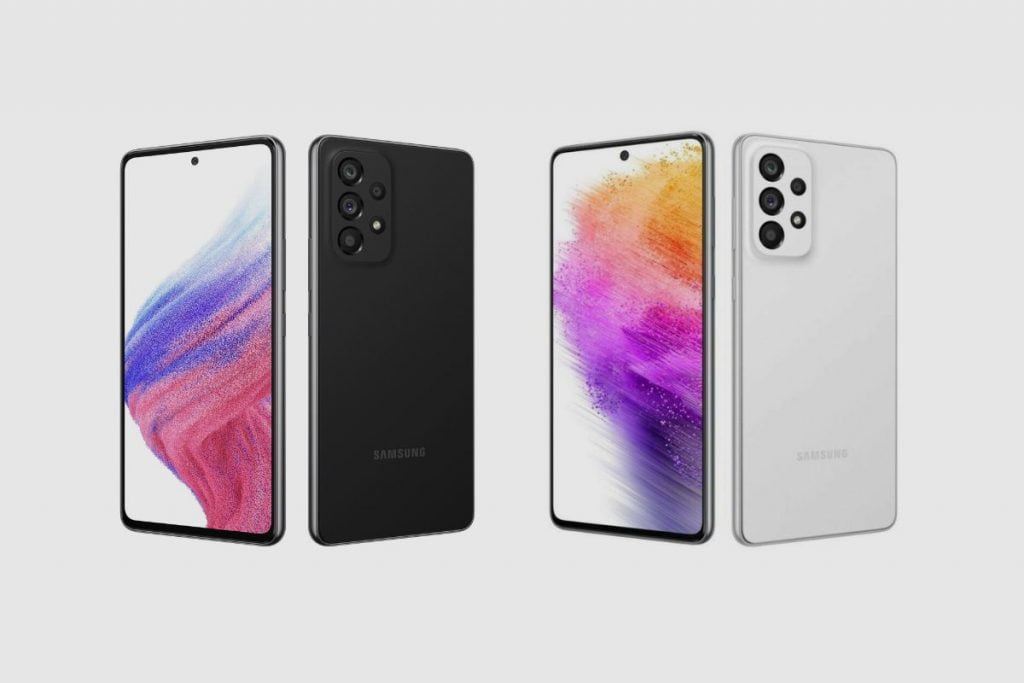 References: