Something that has become very common with Samsung is that there will always be a mid-range phone available for purchase. Whether it's with their extremely popular "A" series phones or their equally popular "M" series phones.
However, there is something very confusing going on with Samsung's naming system because there is a Samsung Galaxy A53 5G and a Samsung Galaxy M53, and to anyone, they may seem like two different phones, which they are, but knowing the differences between the two phones is very important because you may like something about the Galaxy M53 and think it is also on the Galaxy A53, and then buy the Galaxy A53 and find out that it is not on the Galaxy A53 or vice versa.  
However, these phones do share some similarities, so it will also be interesting to see how these similarities affect how consumers see these phones and, in response, make a choice about which to buy. So is there enough to set both of these phones apart from each other, or is Samsung playing a quick game with us?
Well, there's only one way to find out; we have to compare both phones, and in this article, that is exactly what I plan on doing.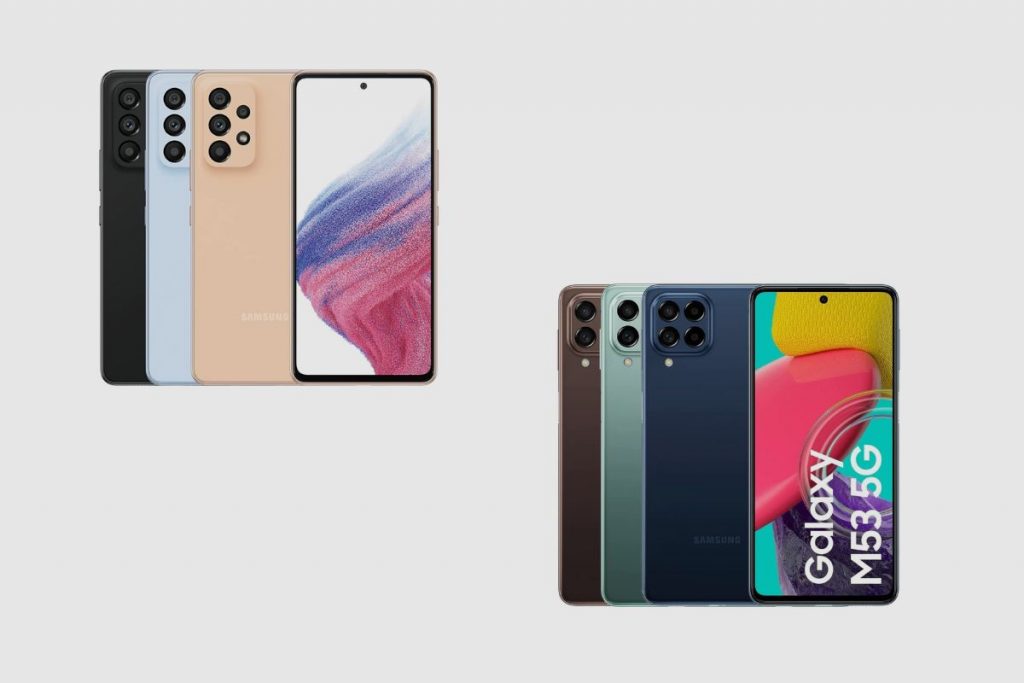 An in-depth comparison between the Samsung Galaxy M53 and Samsung Galaxy A53 5G
When comparing two phones, the best place to start is with a quick rundown of the specs being displayed side-by-side so that you can get a brief idea of how both phones compare and allow us to have a quick overview of the phones.
Specifications
Category
Samsung M53
Samsung A53
Dimension
164.7 x 77 x 7.4 mm (6.48 x 3.03 x 0.29 in)
159.6 x 74.8 x 8.1 mm (6.28 x 2.94 x 0.32 in)
Weight
176 g (6.21 oz)
189 g (6.67 oz)
Display
6.7-inch Super AMOLED+1080 x 2408 pixels, 20:9 ratio (~394 ppi density)
6.5-inch AMOLED (2400 x 1080)
Rear Camera:
108 MP, f/1.8, (wide), PDAF8 MP, f/2.2, (ultrawide), 1/4″, 1.12µm2 MP, f/2.4, (depth)2 MP, f/2.4, (macro)
64MP main (f/1.8), 12MP ultrawide (f/2.2), 5MP macro (f/2.4), 5MP depth (f/2.4)
Front camera:
32MP (f/2.2)
32MP (f/2.2)
Battery
5000mAh
5000mAh
Processor
MediaTek MT6877 Dimensity 900 (6 nm)
Exynos 1280
RAM/Storage;
6GB,
128GB, 256GB
6GB,
128GB, 256GB
MicroSD card
Yes, up to 1TB 
Yes, up to 1TB 
The rest of the specification list is nearly identical for both phones. Early indications suggest that the M53, despite having a larger display, will have a similar battery life to the Samsung Galaxy A53 5G mobile phone. Neither model supports wireless charging, but both the A53 and M53 provide the same 25 watts of wired charging as Samsung's premium S22 and S22+ models.
However, the M53 does not have an in-display fingerprint reader like the A53, and its fingerprint reader is side-mounted, while the A53 is IPX7 water- and dust-resistant. However, I still find it very strange that Samsung did not release the M53's water and dust resistance level.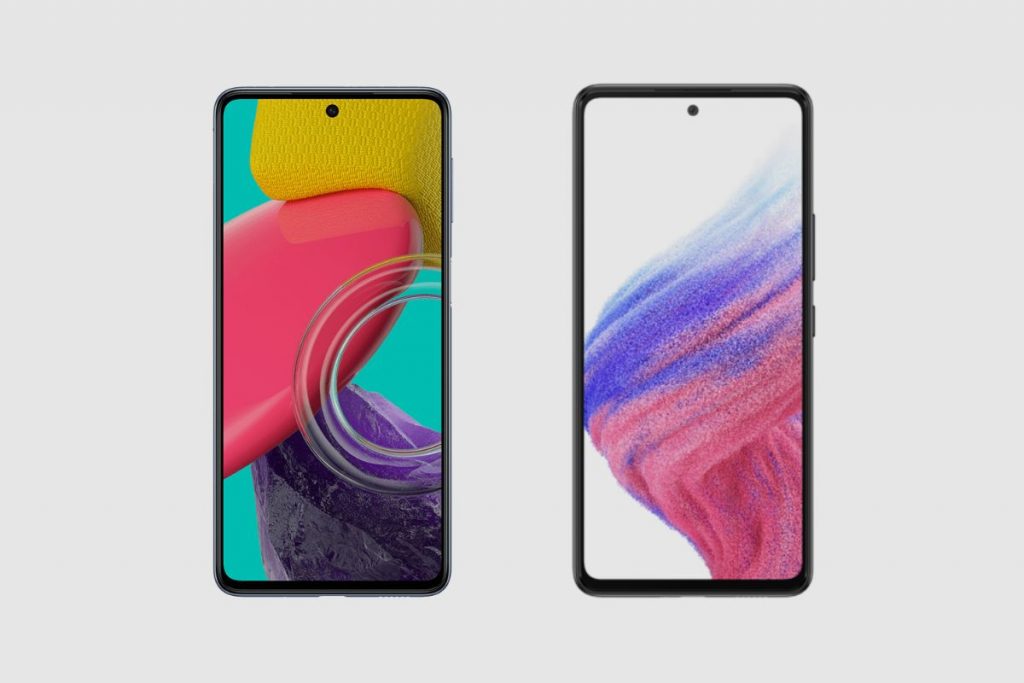 Display
Samsung's Super AMOLED Infinity-O display is standard on all new Galaxy A-series phones. The same is true for these phones, but there is a minor difference in size. The Galaxy A53 5G's 6.5-inch FHD display is smaller than the 6.7-inch screen of the Galaxy M53 5G.
Although the Galaxy A53 5G is likely to have slightly more pixels per inch (PPI), their sharpness is nearly identical. Both phones have refresh rates of up to 120 Hz, as opposed to the maximum of 90 Hz on the Galaxy A33 5G.
Thanks to Samsung, the front displays of these phones are protected by Corning Gorilla Glass 5. They also have the same number of bezels around the display. Although they are not as thin as those on flagship phones, the M53 appears to have slightly larger bezels, giving it a dated appearance. Nonetheless, the bezels on the A53 are thin enough to give it a modern appearance.
A punch-hole cutout in the centre for the selfie camera is also included. Because Samsung is known for using high-quality displays on its smartphones, you can expect a good panel on both of these phones.
The A53's display looks good most of the time, with vibrant and lively colours. However, as I had previously stated, the M53 has a physical, side-mounted fingerprint reader, so while the A53 has an in-display one, the M53 will have to make do with its own on the side.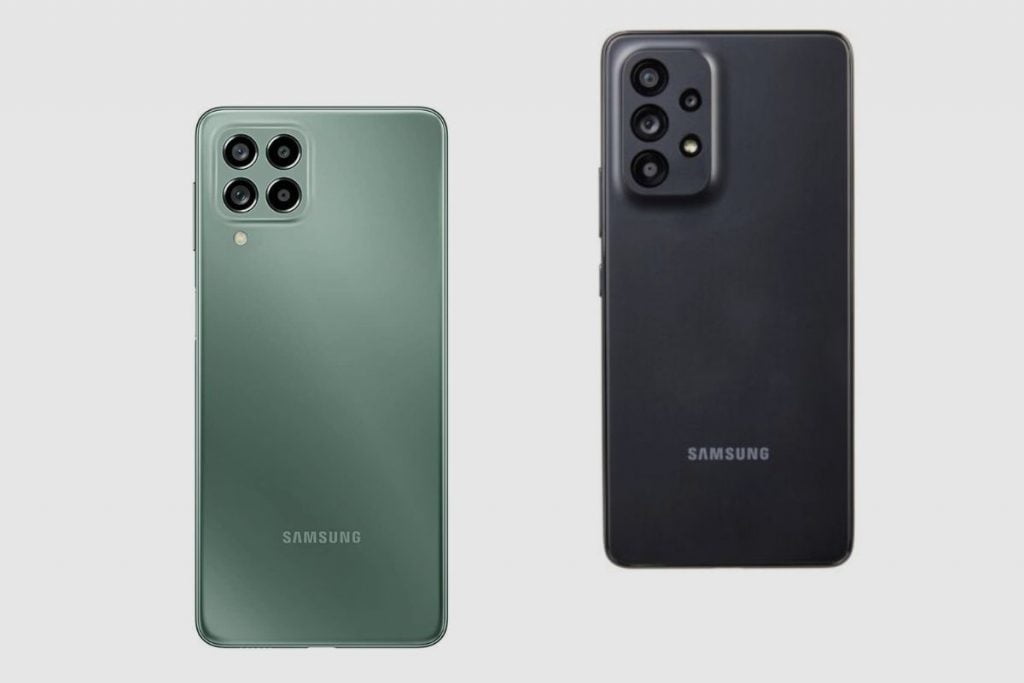 Camera System
The first major difference between both phones would be in their camera systems. While the M53 has a larger 108MP main camera, the rest of its camera system pales in comparison to the A53.
A 108-megapixel primary camera, an 8-megapixel ultra-wide-angle camera, a 2-megapixel macro camera, and a 2-megapixel depth camera make up the Samsung Galaxy M53 5G's quad-camera configuration on the back. As for the A53, you're getting a 64MP main lens, a 12MP ultrawide, a pair of 5MP macro and depth lenses, and a 32MP selfie camera. Now, while the A53 has a much better overall camera system, the main camera on the M53 is slightly better.
The Samsung Galaxy M53 5G quickly locked focus and made no mistakes when setting the proper exposure. Close-up images were also handled quite well, but I had to exercise a little patience while using the portrait mode because it takes some time and lets you know when it's finished. Images taken in daylight were clear and reasonably detailed.
Though the photographs it took weren't as detailed, the ultra-wide camera's colour palette was fairly comparable to that of the main camera, which was a benefit. Near the frame's margins, ultra-wide images exhibited very minimal barrel distortion.
I was able to approach the subject up close and still get good shots with the macro camera. The camera's low-light performance was respectable, and surrounding objects were discernible in landscape photos.
However, the darker portions of the frame in these pictures lacked good details. This was slightly improved by night mode, but it took the phone around 3–4 seconds to shoot the photo. Some of the pictures I took in night mode came out soft.
However, the A53 was much better on more fronts. Although the camera software hasn't changed or been added to in any way, Samsung still offers a ton of features and capabilities that set this phone apart from the competitors.
A 4K video camera, respectable pro controls for images and videos, additional stabilisation, and high-megapixel photography are a few examples. There is more information here than I personally use daily, which is advantageous because it gives most camera fans a means to maximise all of their pictures and shoots. Both phones feature a 32MP front-facing camera for taking selfies, which takes very similar pictures too. I still think the A53 has the better overall camera setup.
Internal Storage
The base models of the Galaxy A53 and Galaxy M53 both have 6GB of RAM and 128GB of internal storage. You can choose the 8GB + 256GB combination for more RAM and storage. It's reassuring to know that both devices support microSD card storage expansion. Both phones support up to a 1 TB microSD card.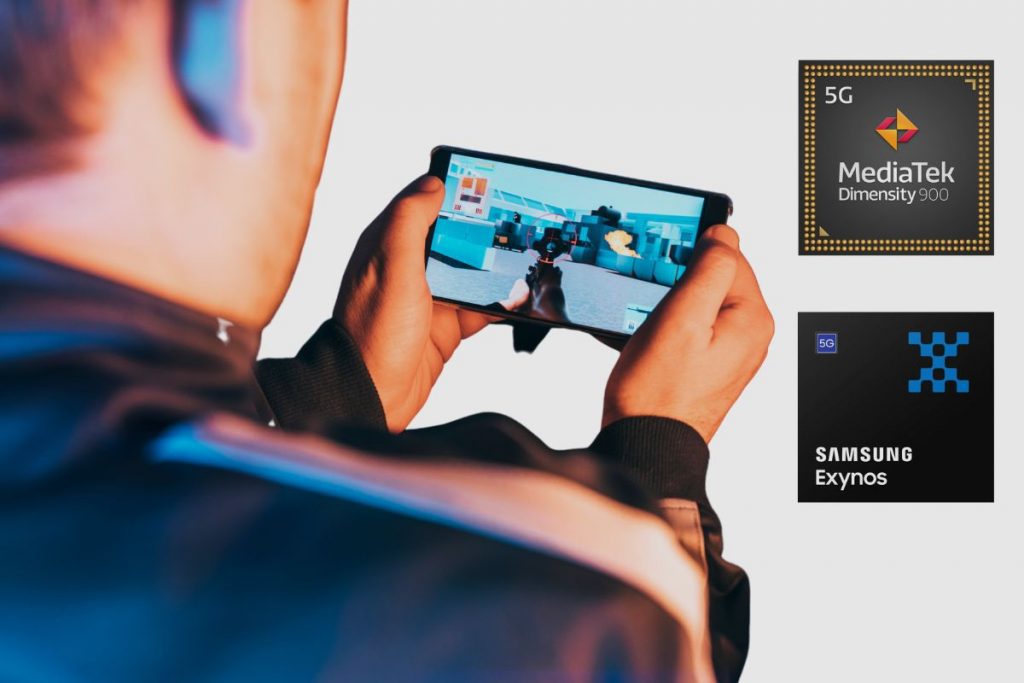 Processors and Performance
For a casual user, the Samsung Galaxy M53 5G performs admirably. There are enough settings on the clear Super AMOLED display to adjust the colour profile to your preferences, and it has outstanding viewing angles. Without any issues, the Samsung Galaxy M53 5G was able to handle my regular use. The loading of apps and games was fairly speedy, and multitasking was simple. The side-mounted fingerprint scanner on the smartphone worked well and rarely required a second try to open it. The UI felt incredibly smooth to use, thanks to the 120 Hz refresh rate.
On the Samsung Galaxy M53 5G, gaming performance was excellent. Asphalt 9: Legends played flawlessly at 60 Hz on the phone, and there was no stuttering. I saw a three per cent loss in battery life after playing for around 15 minutes, which was okay.
Neither was the phone warm to the touch. In terms of artificial benchmarks, the Samsung Galaxy M53 5G received a score of 424,426 on AnTuTu. It received 731 and 2,264 points in the single-core and multi-core tests of Geekbench 5. These results weren't as good as the Realme GT Master Editions.
I believe the A53 is underwhelming in terms of performance, and this is not due to any problems. The phone functions perfectly. It truly depends on the CPU you choose and how it stacks up against other products in a similar price range. The Exynos 1280, one of Samsung's most recent mid-range chipsets, powers the model I'm evaluating, although the A33 also has the same CPU and RAM choices as the A53.
That is the issue; the A33's internals appears to be configured slightly differently or perhaps underutilised in some way. The result was still comparable in speed and performance to the A53, which is strange because the two phones shouldn't be comparable.
Like I said before, I thought this phone worked great every day. You'll have that well-optimised and familiar Samsung One UI setup and many years of software updates to come if you're like the great majority of consumers who use their phones mostly for online surfing, social media scrolling, YouTube, and texting.
The A53 is a well-equipped, fast gadget with lots of ability to handle everything you throw at it, but it's not the only phone on the market or in its price range that provides comparable features and performance.
Both the Samsung Galaxy A53 5G and Samsung Galaxy M53 5G support 5G. The Mediatek Dimensity 900 5G processor, along with 6 GB of RAM and 128 GB of storage, powers the Galaxy M53 5G, while the Exynos 1280 5G chip is paired with the Galaxy A53 5G. The Samsung Galaxy M53 5G performs better overall.
Battery Life
As previously stated, both phones have the same 5000 mAh battery, so there won't be much of a difference in their daily usage numbers. However, the A53 has a smaller screen and a smaller chip, which is more power efficient but does not drain the battery as quickly.
As a result, the A53 should be able to shade the M53, which has a larger screen and a more powerful chip. However, both phones should easily last a full day, so don't be concerned about the minor differences in screen size and chip processing power.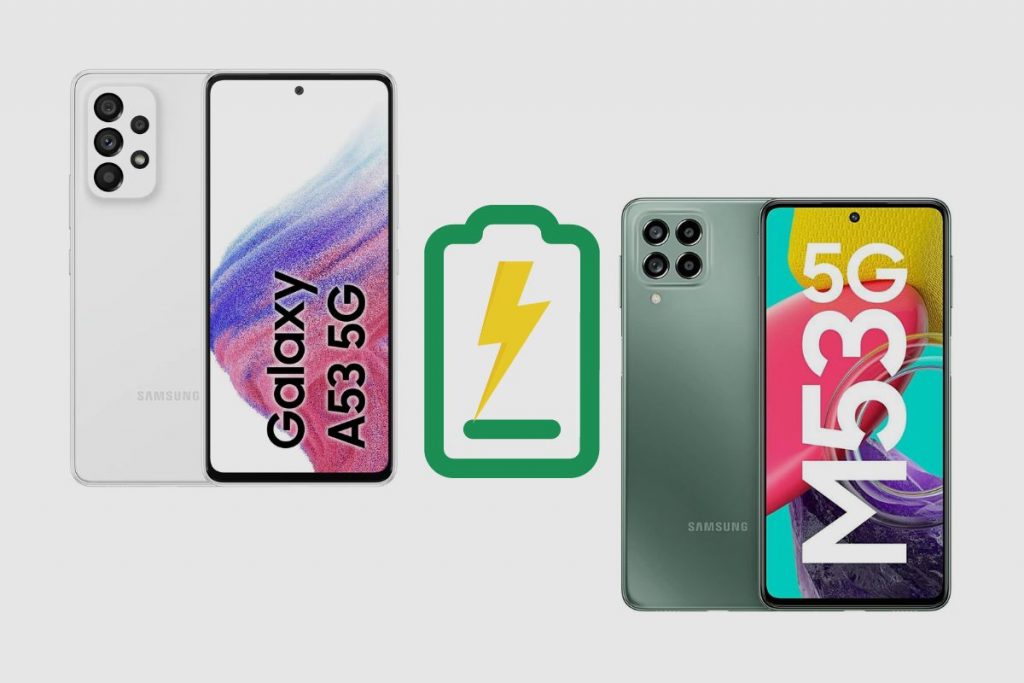 Design
In terms of design, it's safe to say that the Galaxy A53 5G and Galaxy M53 5G appear to be cut from the same cloth. Only minor differences in size, colour schemes, and camera bumps are being taken into account. Both are polycarbonate devices with Corning Gorilla Glass 5 on the front to protect the displays. They have the same appearance from both the front and the back.
Dimensions and Weight
In terms of dimensions, the Galaxy M53 5G is slightly wider and taller than the Galaxy A53 5G, and they are as follows: The M53 measures 164.7 x 77 x 7.4 mm (6.48 x 3.03 x 0.29 in), while the A53 measures 159.6 x 74.8 x 8.1 mm (6.28 x 2.94 x 0.32 in). On the other hand, the M53 is slightly lighter and slimmer than the Galaxy A53 5G, which contributes to a particularly pleasant feel in the hand. The Galaxy A53 5G is 189 grams in weight, while the Galaxy M53 5G is 176 grams.
Colours
Additionally, Samsung offers both phones in a variety of colours. The Galaxy A53 5G comes in awesome black, white, blue, and orange colour options, while the Galaxy M53 5G is sold in green, blue, and brown colours.
Pricing and Availability
The Samsung Galaxy A53 is easily accessible at a variety of retail outlets and stores. It sells for around $349 on Amazon, which is a reasonable price, in my opinion. It also costs around $340 on eBay. The A53 is also available directly from Samsung for around $330 at one of its retail locations.
The Samsung Galaxy M53, on the other hand, is widely available in several storefronts and costs around $350 on Amazon. I believe this is a solid choice of phone for anyone looking for an upgrade and a little more value from a mid-range phone; by all means, go for the M53.
Pros and Cons of the Samsung M53
Pros:
120Hz Super AMOLED display is nice
Capable 5G SoC
Guaranteed software updates
Good battery life.
Cons:
Lots of preinstalled bloatware
Weak low-light camera performance
Average video recording capability
No bundled charger.
Pros and Cons of the Samsung Galaxy A53 5G
Pros:
64MP camera with a vibrant 120Hz AMOLED display
Additional days per fee
IP67 dust and water resistance,
Four Android OS updates are guaranteed.
Cons:
No 3.5mm jack;
Exynos SoC benchmarks are worse than those of a similar Snapdragon.
Summary
Although the camera modules are similar, the camera systems provide significantly different levels of picture clarity and detail. Furthermore, the chips inside the cameras vary greatly, giving each phone a unique range of processing performance and speed. Their displays, storage capacities, and battery life are strikingly similar.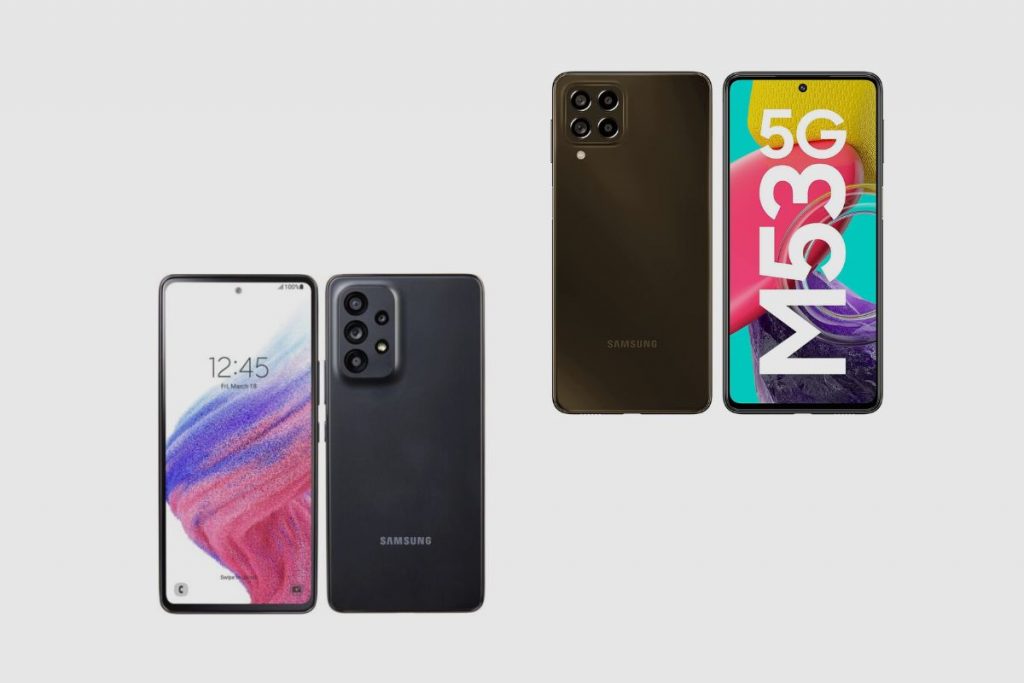 Comparative Overview
Samsung expands its mid-range offering with two very similar phones. Both phones have the same chassis, which includes a soft raised region that houses the camera module and a plastic-backed back. Both models feature a striking 120Hz SuperAMOLED display across the front that rivals the smoothness of much more expensive smartphones and has a generous Full HD+ display quality.
The main difference is that the A53 has a 6.5-inch diagonal screen, whereas the M53 has a larger 6.7-inch diagonal screen. Both fall into the large phone category; however, the M53 may be worth considering if you prefer a larger screen for watching videos and playing games.
Another significant distinction for hardware experts is the processor. The Exynos 1280 CPU that powers the Samsung Galaxy A53 is a respectable mid-range chip that, aside from extended gaming sessions, we found to be more than adequate for everyday app use. The M53's Mediatek Dimensity 900 chip is also very good.
Recommendation
These two devices are a perfect match for one another. Both have excellent software plans, but the Galaxy A53 5G is more durable.
The Galaxy M53 5G has it in terms of performance, though. As a result, if I were to rate these two phones using a percentage, I'd give the Samsung Galaxy M53 5G a 50% rating and the Galaxy A53 5G a 50% rating.
Conclusion
Both the Galaxy A53 5G and M53 5G are fantastic mid-range smartphones with fair prices. If you can get the M53 where you live, I think it's probably worth it.
Although the technical foundations of both devices are strong, the M53 will offer a superior overall experience because of its faster CPU, higher-resolution main camera, and bigger screen.
The Galaxy M53 5G from Samsung is a little better than the Galaxy M52 5G. It has capable hardware and a luxurious appearance. The promise of Android OS and security upgrades is one of the primary factors working in the Galaxy M53's favour; this should keep it relevant longer than some of its immediate competitors. I believe that the 8GB RAM variant is significantly more expensive than the 6GB RAM variant. Given the cost of the phone, I also believe Samsung should have included a 25-watt charger.
FAQs – Is the Samsung Galaxy A53 5G Better than the Samsung Galaxy M53?
Q: The Samsung A53 is how old?
A: Samsung Electronics created and produced the Samsung Galaxy A53 5G, a mid-range Android smartphone, as a member of its Galaxy A series. The device was unveiled alongside the Galaxy A33 5G and Galaxy A73 5G on March 17, 2022, at the Samsung Galaxy Unpacked event.
Q: Is the Galaxy A53 Waterproof?
A: The Galaxy A53 5G has an IP67 rating, meaning it can withstand 1 metre of water for up to 30 minutes. Therefore, if it rains or you place your phone close to a bathtub or shower, it should be fine if it gets wet.
Q: How long is the A53 battery good for?
A: Even though Samsung included a massive 5,000 mAh battery, the A53 5G only had a 36.5-hour battery life in our testing, demonstrating that larger batteries don't always have greater power. The previous model's 4,500 mAh battery lasted an amazing 45 hours.
Q. Is the Samsung M53 a good smartphone?
A: I'm very pleased with this phone; the camera is excellent, far superior to that of my previous phone. Battery life could have been better at first, but I received a stability update yesterday that significantly improved battery life. Great phone!
Q. How long will Samsung M53 support be available?
A: Samsung has also promised two years of Android OS updates and four years of Android security patch updates.
Image Gallery – Is the Samsung Galaxy A53 5G Better than the Samsung Galaxy M53?