Over the past few years, Samsung has cemented its position as a leader in both the flagship and mid-range phone markets. The Galaxy "S" series, in particular, has garnered global acclaim and is often compared to the latest iPhone release. Similarly, Samsung's Galaxy "A" series of phones have also made a significant impact in the mid-range market, making them a dominant force in the industry.
Among the most important Samsung phones are the Galaxy S22, which dominates the flagship market, and the Samsung Galaxy A53 5G, a mid-range phone that has garnered immense popularity.
Recent projections from GSM Arena indicate that the Galaxy S22 may fall short of its goal of selling 30 million units worldwide. However, Samsung's "A" series continues to drive a significant portion of the company's sales and remain a dominating force in the global market.
Despite the S22's sales numbers, Samsung remains a key player in the industry and shows no signs of slowing down. Perhaps the newly released Samsung Galaxy S23 will help bolster the trend even further.
In this article, we'll take a comprehensive look at how the Samsung Galaxy A53 5G stacks up against the Galaxy S22. We'll assess their primary differences and offer our expert opinion on which phone reigns supreme.
An In-Depth Comparison Between The Samsung Galaxy A53 and the Galaxy S22
When comparing two phones, the best place to start is with a quick rundown of the specs being displayed side-by-side so that you can get a brief idea of how both phones compare and allow us to have a quick overview of the phones.
Specifications
Category
Samsung S22
Samsung A53
Display
6.8-inch Dynamic AMOLED – 2340 x 1080 (FHD+)
6.5-inch Super AMOLED – 1080×2400 (FHD+)
Rear Camera:
50 MP, f/1.8, 24 mm, 1/1.56″, Dual Pixel PDAF, OIS Wide (main), 12 MP (f/2.2) 13 mm Ultrawide, and 10 MP (f/2.4) 70 mm, 1/3.94″, PDAF, OIS Telephoto 
64MP main (f/1.8), 12MP ultrawide (f/2.2), 5MP macro (f/2.4), 5MP depth (f/2.4)
Front camera:
10MP (f/2.2), 26 mm,
32MP (f/2.2)
Battery
3700mAh
5000mAh
Processor
CPU Speed: 2.8GHz, 2.5GHz, 1.8GHz. CPU Type: Octa-Core.
CPU Speed: 2.4GHz, 2GHz. CPU Type: Octa-Core.
RAM/Storage;
8GB,
128GB, 256GB
6GB,
128GB, 256GB
MicroSD card
No
Yes, up to 1TB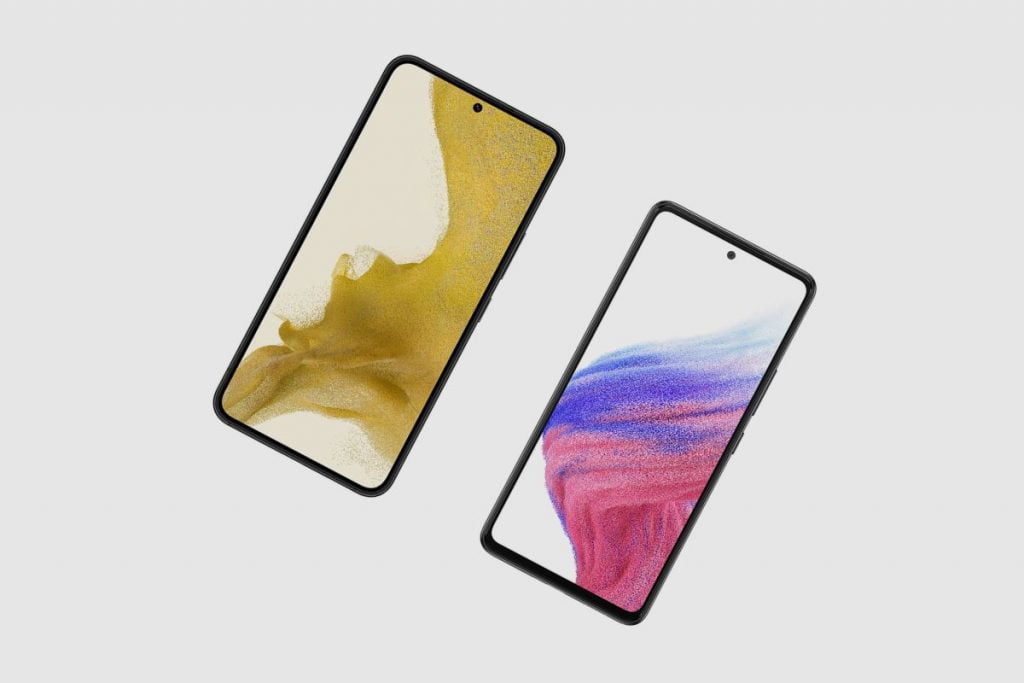 Display
The Samsung Galaxy S22 has a 6.1-inch display with a flat 1080p, 120Hz adaptive AMOLED panel. It also has a peak brightness of 1300 nits, making it ideal for use outdoors and highly visible in direct sunlight. However, one significant omission I am very disappointed not to see included in the display is the phone's lack of an LTPO modulator.
To conserve battery power, an LTPO allows you to reduce your display's refresh rate to 10 Hz. The phone's display can only go down to about 48 Hz, which isn't bad, but I wish it could go down to 10 Hz. I did notice that the display in some apps, such as Google Maps, will lock in at 60 Hz.
The Samsung Galaxy A53, on the other hand, has a super AMOLED display with a full HD resolution of 2400 x 1080p, which equates to about 405 pixels per inch. It also has a high refresh rate panel at 120 Hz. The Samsung Galaxy A53 5G has that bold, bright, and colourful look that I know many people like. In comparison, this OLED display does not get as dark with its blacks or as bright for outdoor viewing as some other devices on the market today. I still believe it is very valuable.
With a screen this size, you have to go 1080p, and with 120Hz enabled, this phone feels exceptionally responsive and silky smooth with every tap and touch. Overall, these are the same general features and specifications as Samsung's "S" series phones. There may be minor variations in the quality of the OLED panel or the touch sampling rate. Still, for the vast majority of people, this is a viewing experience on par with their flagship models.
On the whole, the only thing I think the Samsung Galaxy A53 5G is lacking in comparison to the S22 would be the lack of a variable refresh rate panel. Both phones have a 120Hz panel, but only the S22 can drop to 60 Hz when higher speeds are not required. 
In the sections that follow, we'll go into greater depth about how it affects battery life. Given that they are both HDR10+-compatible AMOLED screens, you may anticipate that their performances will be comparable. I anticipate nothing less from these devices, given that Samsung is known for using high-quality displays in its smartphones. Keep in mind that both of the phones in my comparison also have a flat display and a respectably trustworthy in-display fingerprint scanner.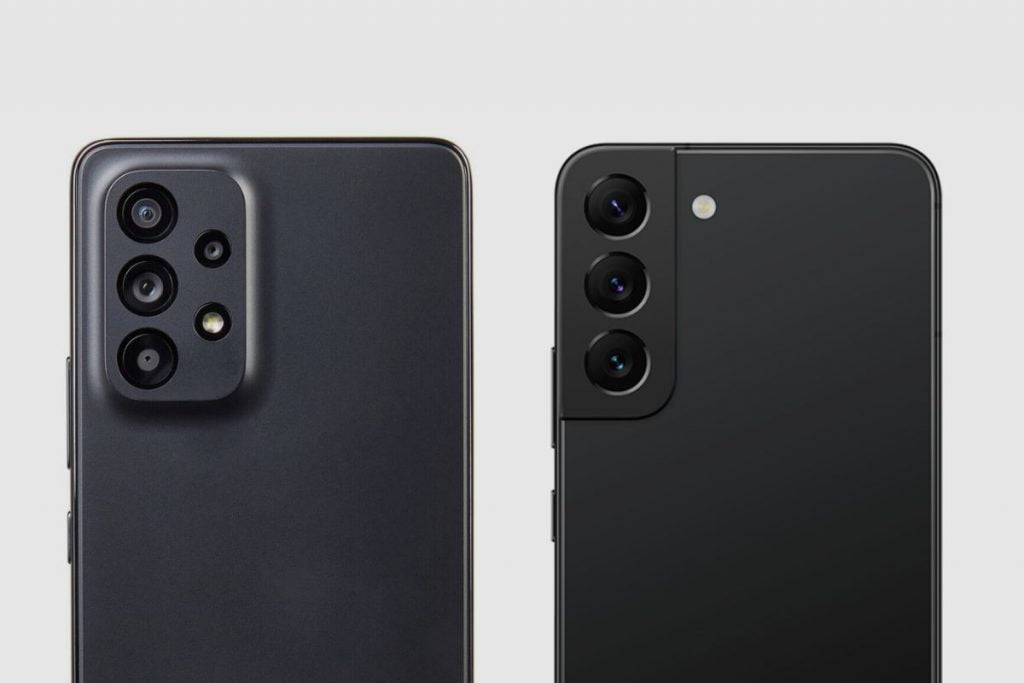 Camera
The first major difference between the S22 and the Samsung Galaxy A53 5G would be in the camera system, and that is where the S22 really shines because Samsung outdid itself with the camera system they put on the S22. There have been some significant camera upgrades, and it shows. A new 50 MP main camera, a 10 MP ultrawide camera, and a 10 MP 3x telephoto camera are available. I find it amusing how we take such incredible photos with our smartphones for granted.
The main camera performs admirably in low-light situations, with nicely balanced colours that aren't overly sharp or saturated. The ultrawide camera is softer than the main camera, but it still performs well in low light, and the telephoto camera is excellent.
It has no strange HDR haloing issues in photos, no white balance inconsistency issues, no auto-focusing issues, and very little shutter lag. Every camera on the S22 is excellent, but that's all there is to it. Because there is nothing special going on, but it's amazing; it appears to be very boring to use due to the lack of flash or magic. It's simply a good, solid camera system.
Additionally, its night photography feature has had a significant upgrade and now has better detail and focus. Additionally, it includes improved AI stereo portrait mode for better cuts, space zoom stability locking, and auto framing that can track up to ten faces across a frame. There is also a new standalone expert RAW photography app that, while intended to be its pro mode, actually functions more like a semi-pro mode.
As for the Samsung Galaxy A53 5G mobile phone, the camera system is good but not spectacular, and that is where you begin to notice that this is a mid-range phone. However, there haven't actually been any notable upgrades or adjustments to the specifications, skills, or features themselves. You get the same 64MP primary lens, 12MP ultrawide, two 5MP macro and depth lenses, and a 32MP selfie camera because the hardware is the same as the A52s.
Although the camera software has not been changed or improved in any way, Samsung continues to offer a plethora of features and capabilities that set this phone apart from the competition.
A 4K video camera, respectable pro controls for images and videos, additional stabilization, and high-megapixel photography are a few examples. There is more information here than I personally utilize daily, which is advantageous because it gives most camera fans a means to maximize all of their pictures and shoots.
I believe Samsung's "A" series camera setups have gradually evolved from being primarily focused on affordability to being pleasantly feature-packed. Despite this, you can still tell that this "A" series phone is inferior to Samsung's flagship models because of how constantly unreliable they are under less-than-ideal circumstances.
The A53, like the majority of Samsung phones, presents you with an extremely vibrant and saturated appearance that is very appealing but may not be true to reality. Every photo contains a ton of detail, but the phone frequently struggles when conditions or subjects have stark contrasts, such as dark shadows and bright spots. The phone's dynamic range is what reveals that it's a low-end phone because it's not as good as it probably could be.
In general, I believe both phones have a fairly adaptable selection of cameras, although the S22 has what we might refer to as a slightly more sophisticated system. Comparing the telephoto camera to the macro and the depth sensors, it is also practically more helpful for everyday use. For selfies, the Samsung Galaxy A53 5G has a 32 MP front camera, while the S22 has a 10MP camera. The Galaxy S22's primary camera can capture films in both 4K @ 60 fps and 8K @ 24 fps resolutions. Remember that the Galaxy A53 5G can only capture videos in 4K resolution at 30 frames per second.
Battery
It is really disheartening to learn that the S22's battery has decreased to 3700 mAH from the S21's 4000 mAH battery. I wasn't really sure why the battery would lose 300 mAH with a decrease of around 1 inch. When I was reviewing the phone, this was one of the main factors that gave me cause for concern.
After a full day of testing, I was pleasantly delighted to discover that the phone's battery life was unaffected by the loss of power. As a result, I had between 10% and 20% of the battery left after a typical day of use.
The phone may lose a lot of juice, though, if I do a lot of high-brightness navigation and gaming on it. As a result, despite having a four-nanometer processing chip, the Snapdragon Gen 8 CPU is not the most efficient.
However, the Samsung Galaxy A53 5G makes for better reading, and with a 5000mAh battery, the Samsung Galaxy A53 can easily provide you with up to 18 hours of screen time without requiring you to disable the 120Hz option or use any other energy-saving techniques. Clearly, the A53 will last a lot longer than the S22, so I will give the A53 the points here.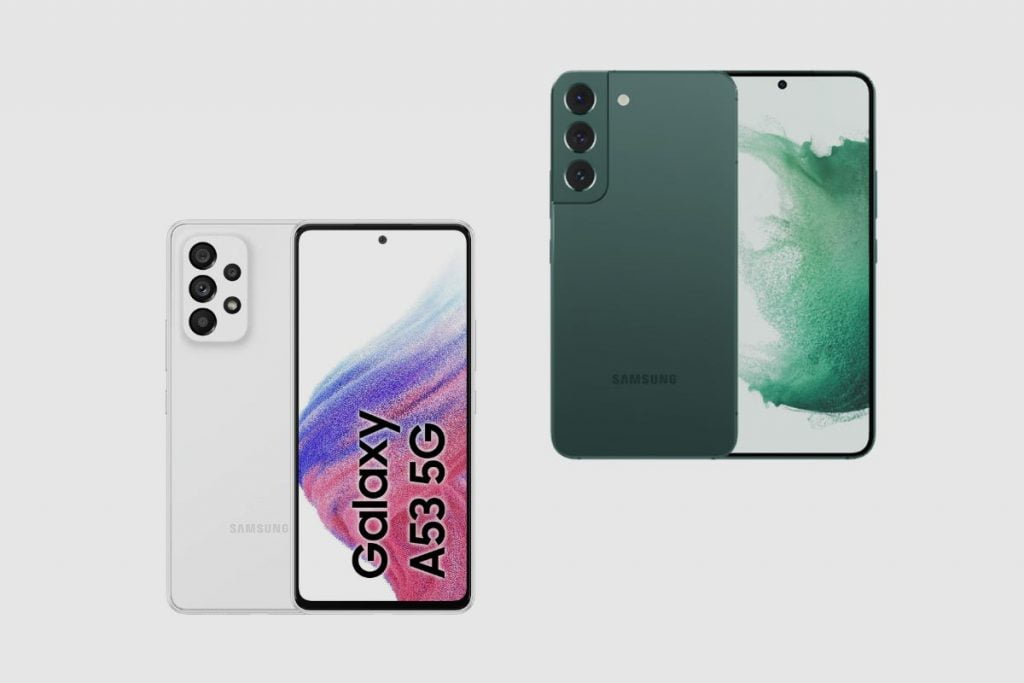 Storage
In terms of storage, the S22 has the larger options with 512GB and 1TB models, and it also has more RAM with an 8GB and 12GB model. While the Samsung Galaxy A53 5G may not have 512GB and 1TB variants, it can be expanded with an external microSD card, something the S22 lacks, and with SD cards being as large as 128GB, you will have more than enough storage to handle anything you would want to save on your phone. 
As for RAM options, the Samsung Galaxy A53 5G has 4GB, 6GB, and 8GB versions, while the S22 has 8GB and 12GB options. In this case, I don't think you can go wrong with either phone because their storage and RAM options are very good.
Processor
Although it shouldn't be a surprise given that it's a flagship phone, the Galaxy S22 has better internal hardware. Depending on the location, it is powered by either the Exynos 2200 or Snapdragon 8 Gen 1 chipset from Qualcomm. There aren't many differences between the two processors. If benchmark scores are important to you, the Galaxy A53 5G is probably not the right choice. This is due to the Exynos 1280, a mid-range chipset manufactured by Samsung.
Although it may not be the quickest chipset available, the Exynos 1280 will more than suffice to provide a fluid experience for your daily usage. If you aren't pushing the Galaxy A53 5G to its limits, the user experience will be equally fluid and fast as the Galaxy S22. This is because both devices have 120 Hz displays. But if you prefer a performance experience without any compromises, we believe you should go with the pricy flagship.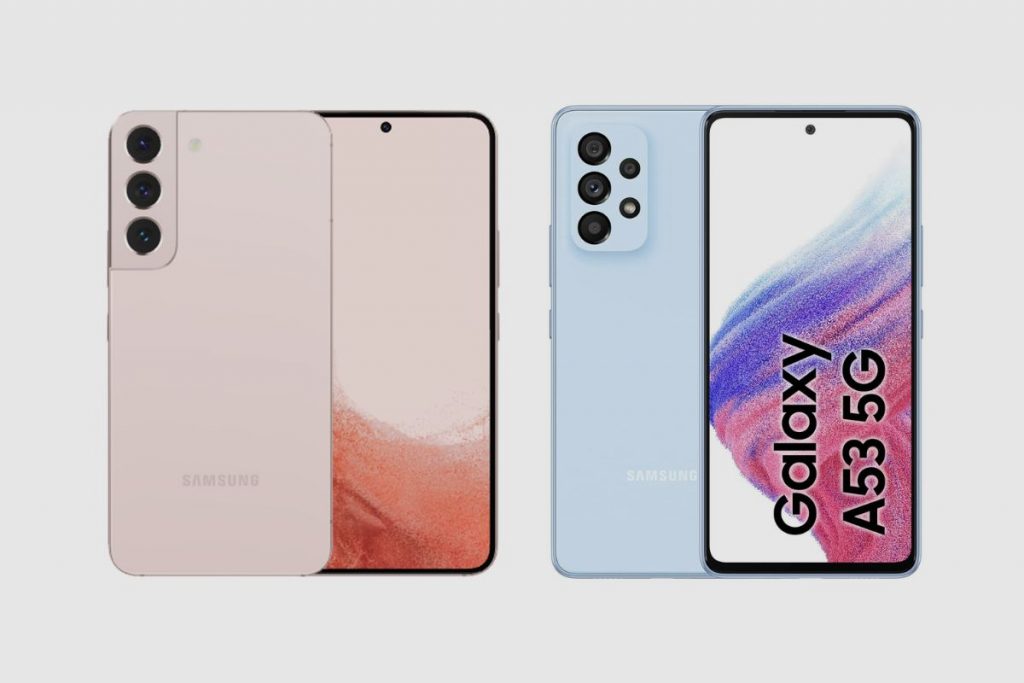 Design
The Galaxy S22 receives premium building materials for a more upscale build because it is the current flagship product from Samsung. After the Galaxy S21's "glasstic" rear panel appearance, the glass panel has returned, and the entire device now feels more sturdy. Samsung's rear panel is constructed of Gorilla Glass Victus Plus and a metal frame. In case you were wondering, the camera bump no longer neatly merges into the rails. The Galaxy S22 is still lighter than the Galaxy A53 5G despite having a glass back panel. On the other hand, the Samsung Galaxy A53 5G is primarily built of plastic. The phone's chassis and back panel are both made of plastic. To safeguard the display, Samsung uses Gorilla Glass 5 on the front.
Thankfully, the design and build quality of phones that cost as much as the Samsung Galaxy A53 5G doesn't suffer from the normal practice of being an afterthought. The majority of the time, the Galaxy A53 5G feels and looks wonderful in the hand. With its toned-down approach, it is subtle and a little less fanciful, but its design and build quality still have a lot to recommend them. The phone has a unique appearance compared to many other devices since the camera modules at the back blend into the body of the phone.
It's safe to assume that the Galaxy A53 5G and the Galaxy S22 both have stylish, high-quality designs. But if we had to choose just one, we'd choose the Galaxy S22 because of its superior build quality. Many people find it more appealing because of its small size, but you can have a different perspective because many people prefer using larger phones with plastic backs. Therefore, depending on the aforementioned considerations, I'll let you decide which one you prefer best.
Dimensions and Weights,
However, if you are thinking about getting a phone that is lighter and thinner, you must choose the Galaxy S22. It weighs 168g and has a thickness of 7.6mm. Contrarily, the Samsung Galaxy A53 5G has a thickness of 8.1mm and a weight of 189g. Notably, the Galaxy S22 has a reduced overall footprint. It's actually one of the few "small" Android phones available right now.
Colours
In terms of colours, the Galaxy S22 has more stylish and colourful options than the Samsung Galaxy A53. The S22 comes in phantom black, phantom white, green, pink gold, and bora purple, while the A53 comes in black, white, blue, and peach. My favourite colours are Phantom Black and Pink Gold because they make the S22 pop.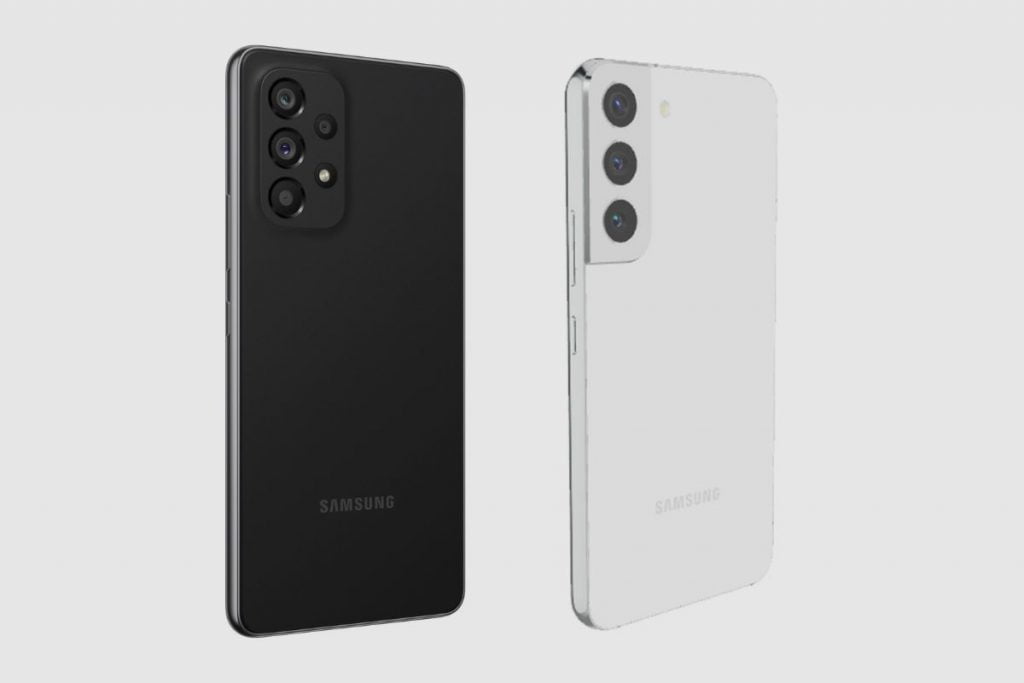 Pricing and Availability
The Samsung Galaxy A53 is easily accessible in a variety of retail locations and shops. It costs around $349 on Amazon, which, in my opinion, makes it a reasonable price. Additionally, it costs roughly $340 on eBay. Samsung also offers direct sales from its retail locations, where you can get the A53 for around $330. However, you should think about purchasing the A53 from a network provider if you want the best prices. If you don't mind being limited to a single network provider, they sell a locked version for incredibly low prices. To be honest, a Verizon sale for roughly $259 is a terrific illustration and a great value.
If you want to buy the Samsung Galaxy S22, you can find it in almost every retail outlet and store on the market. On Amazon, it is now selling for roughly $699, but with the year coming to an end, you should be able to find an incredible discount on it. You should also be aware of the pricing differences that coincide with variations in storage size.
For example, you can get the 128GB model for $499, the 256GB model for $699, and the 500GB variant for $799, all of which, if I'm being really honest, look like amazing values. In terms of price, I think getting the S22 is the best option, especially the 256 model for $699.
Pros and Cons of the Samsung Galaxy S22
Pros
cheapest Galaxy S22 variant
Bright, vibrant presentation
Enhanced zoom and photos in low light and strong performance.
Cons
Battery life that is below average.
Pros and Cons of the Samsung Galaxy A53
Pros
A good display with a refresh rate of 120Hz.
Up to 1TB of expandable storage
Excellent design and build quality
Excellent software assistance.
Cons
Average performance
Macro and depth cameras are useless.
Summary
In short, both the Samsung Galaxy S22 and Samsung Galaxy A53 are excellent phones, and any phone would be a good choice. However, buying any of these phones depends on two things: your personal preference and how much you have to spend on either phone.
Comparative Overview
In many ways, the S22 and A53 are very similar phones, and in some ways, they are very different. They both share similar AMOLED displays, but the S22 has a panel with a variable refresh rate.
While the camera system on the S22 is by far the better setup, the A53 can hold its own with a much improved primary camera over the previous year's model.
Also, while the S22 may pip the A53 with internal storage models that surpass its 256GB model, the A53 can take an additional SD card, which helps bridge the gap in terms of storage.
The A53 also gets a leg up on the S22 by coming with a 5000 mAh battery, while the S22 only has a 3700 mAh battery, which is very disappointing to see. Finally, I think that aside from the camera system, the only place the S22 beats the A53 outright would be in their processors.
While the S22 can boast about containing the latest Snapdragon 8 Gen 1 processor, which is by far the most impressive processor on the Android market, the A53 houses the solid but arguably outclassed Exynos 1280 processor, which is a sufficient processor but one that doesn't hold a candle to the Snapdragon 8 Gen 1 chip.
Recommendations
Both phones deliver a great experience in their respective areas. I still think the Samsung Galaxy A53 5G represents outstanding value in the mid-range market, even though it may not perform better than the Galaxy S22 in every way. You get a chic phone with an IP67 rating and Gorilla Glass 5 on the front.
It also has a great display, a huge 5,000 mAh battery, good internals for reliable performance, and a reasonably priced set of flexible cameras. Although the Galaxy A53 5G doesn't have many flaws, it doesn't have the same dexterity as the Galaxy S22 and fails in a few critical areas.
I think the A53 is a solid competitor to the S22 but still loses out to it because of some key deficiencies in its camera system, processor, and design choices. However, if you're willing to look beyond its limited battery power capabilities, the S22 is by far the better choice.
However, if you can't look past the battery power issues, then you can go for the S22+, which has a 4200 mAh battery, which is good but still not better than the A53. In the end, I can't make a decision for you, but if you don't really care for taking pictures and you are not totally into multitasking on your phone, then maybe you should be looking at the A53.
Conclusion
In their respective markets, both phones provide an excellent experience. Even though the Samsung Galaxy A53 5G may not outperform the Galaxy S22 in every respect, I still believe it represents exceptional value in the mid-range market. You receive a stylish phone with Gorilla Glass 5 on the front and an IP67 rating.
Additionally, it offers an excellent display, a sizable 5,000 mAh battery, respectable internals for dependable performance, and an affordable pair of adaptable cameras. The Galaxy A53 5G doesn't have many faults, but it lacks the dexterity of the Galaxy S22 and falls short in a few crucial areas.
So the only factors left are the cost and availability of these phones. In the US and many other countries, you may easily get the Galaxy A53 5G and the Galaxy S22. But because it is the flagship model, the Galaxy S22 is definitely more expensive. I believe the Galaxy S22 is a great choice if you don't mind spending $800 on a smartphone right now.
Remember that it has a smaller form factor; therefore, you should be at least willing to get used to all the difficulties that come with using one. If not, you might want to look into the Galaxy S22 Plus.
However, if you want to get more for your money and don't mind giving up some features for a lower price, the Galaxy A53 5G won't let you down. In areas outside of the US, you might have some alternative mid-range options to consider instead of the Galaxy A53 5G.
However, if you're looking to buy a phone in the United States, the Galaxy A53 5G offers excellent value. Once again, I just want to say thank you so much for reading this article. I hope you enjoyed reading it as much as I enjoyed writing it. If you have any questions, then please feel free to drop them in the comment section below.
FAQs – Samsung Galaxy A53 5G vs Galaxy S22
Q: Is upgrading to S22 worthwhile?
A: However, it makes sense to stick with an S20 if you have one in your hands and don't see any issues with it. Although the S22 has a nicer design, a more advanced camera system, extended software support, and a marginally brighter screen, none of these improvements screams, "Oh, I've had to have this phone!"
Q: Is the Samsung A53 a worthwhile option?
A: For many years to come, the Galaxy A53 is expected to be a mid-range workhorse. It's a terrific device for folks who don't want to spend a fortune but still need a phone that can do it all because long-lasting software updates are promised, a screen that looks the part and a battery that can last the distance.
Q: What's different about the Galaxy S22?
A: With a 3,700mAh battery and 25W fast charging, the Galaxy S22 has the lowest battery in the lineup. The Galaxy S22 Ultra boasts a sizable 5,000mAh cell, while the Galaxy S22+ comes with a 4,500mAh battery. Additionally, both phones have quicker 45W wired charging rates.
Q: How come the S22 battery drains so quickly?
A: There are instances when you are in low light and do not require high brightness, yet your phone's settings do not adjust accordingly. The Samsung S22 Ultra battery may be draining more quickly for the same reason.
Q: What makes the Samsung A53 unique?
A: The Galaxy A53 5G has a 120Hz refresh rate, 2400 x 1080 resolution, and 800 nits of maximum brightness Infinity-O Super AMOLED display, which Samsung refers to as its punch-hole design panels. It is 6.5 inches in size, the same as the A52 5G. The A53 5G's 120Hz mode is excellent, just as you would expect.
Q: Why does my Samsung S22 become so hot so quickly?
A: It goes without saying that if you constantly have 5–6 applications running in the background, your phone will eventually get too hot from the processor and RAM utilization. Because of this, a large number of consumers have recently complained about the Samsung S21 Ultra heating.
Image Gallery – Samsung Galaxy A53 5G vs Galaxy S22: The Ultimate Comparison
References: