Samsung is a strong competitor in the mid-range market thanks to their most recent additions to the Galaxy A-series, the Samsung Galaxy A53 5G and Galaxy A33 5G. The better of the two devices is the Samsung Galaxy A53 5G, which costs $350 for what seems to be a really terrific overall package. 
The Samsung Galaxy A53 5G competes with Apple's 2022 iPhone SE model as a fantastic mid-range option in the US. On the other hand, the Galaxy A33 5G is a little scaled-back version that still looks great on paper, especially considering the price.
If you're looking to purchase one of these phones in the United States, your options are restricted to the Samsung Galaxy A53 5G, as the Galaxy A33 5G will arrive elsewhere, but region-unlocked versions are also available on Amazon. 
So, here is a quick comparison to see how the two phones compare for those of you who are shopping from outside the US or who are just wondering about the differences between the two phones. So, I'm going to compare the Samsung Galaxy A53 5G and Samsung Galaxy A33 5G in this article to discover which is superior.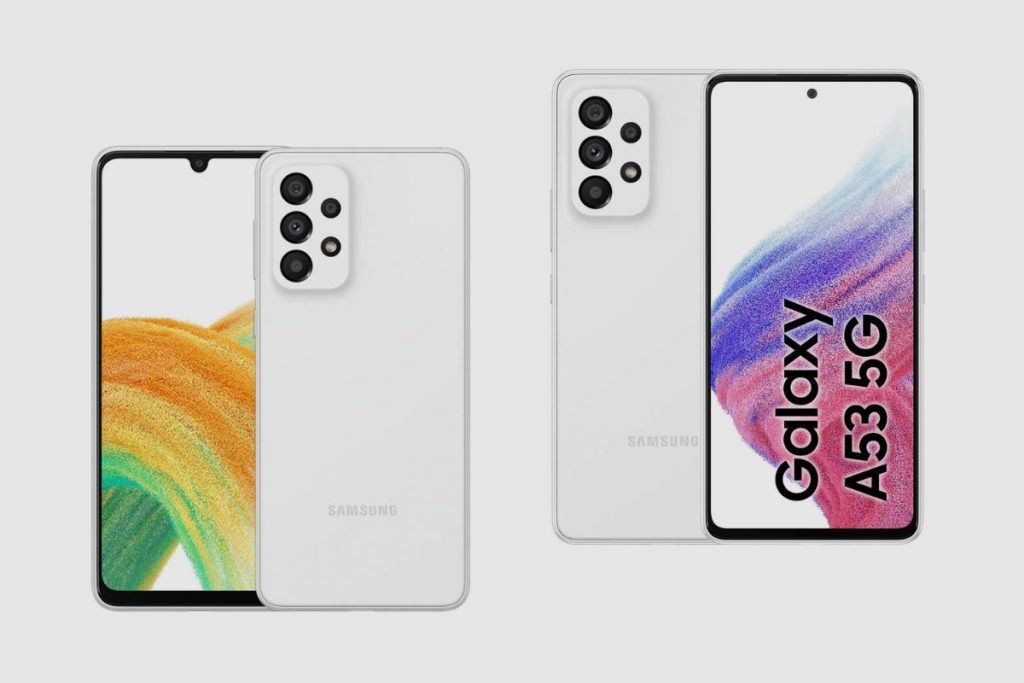 An In-Depth Comparison Between The Samsung Galaxy A53 5G And The A33
The best place to start when comparing two phones is with a summary of the specs that are side-by-side displayed to give you a fast idea of how both phones compare and to give us a quick overview of the phones.
Phone Specifications
Category
Samsung A33
Samsung A53
Display
6.4-inch AMOLED (2400 x 1080)
6.5-inch AMOLED (2400 x 1080)
Rear Camera:
48MP main (f/1.8), 8MP ultrawide (f/2.2), 5MP macro (f/2.4), 2MP depth (f/2.4)
64MP main (f/1.8), 12MP ultrawide (f/2.2), 5MP macro (f/2.4), 5MP depth (f/2.4)
Front camera:
13MP (f/2.2)
32MP (f/2.2)
Battery
5000mAh
5000mAh
Processor
Exynos 1280
CPU Speed: 2.4GHz, 2GHz.
CPU Type: Octa-Core.
Exynos 1280
CPU Speed: 2.4GHz, 2GHz.
CPU Type: Octa-Core.
RAM/Storage;
6GB,
128GB, 256GB
6GB,
128GB, 256GB
MicroSD card
Yes, up to 1TB 
Yes, up to 1TB
It's clear from the specifications that they both offer a pretty comparable overall package. The display and camera departments are the only areas where there is a difference, which we'll go over in greater detail in the parts that follow.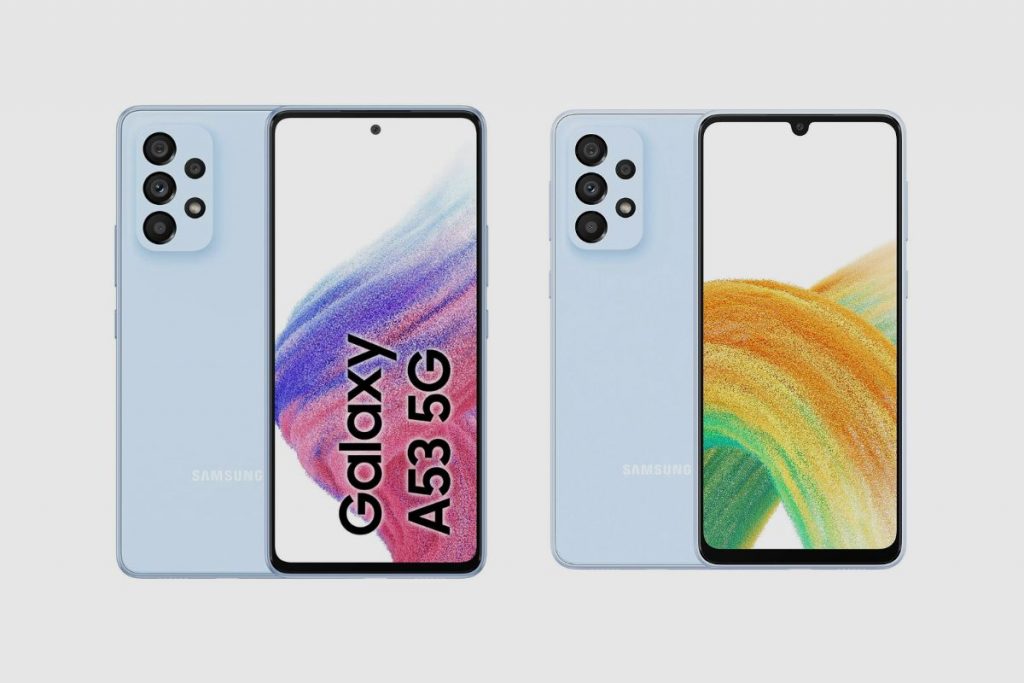 Display
The display is one of two significant areas where the Samsung Galaxy A53 5G excels over the Galaxy A33 5G. To begin with, the Galaxy A53 5G's display is 6.5 inches, making it slightly bigger. The display on the Galaxy A33 5G is 6.4 inches. Although there isn't much of a difference, it is nevertheless important to note.
Since they both have Super AMOLED displays, you may anticipate that their general quality would be comparable. Additionally, both phones have the same resolution (2400 x 1080 pixels). As a result of its slightly smaller size, the Galaxy A33 5G has more pixels per inch, but their sharpness is otherwise nearly comparable.
With compatibility for up to 120 Hz, the Samsung Galaxy A53 5G has a display with a faster refresh rate. In contrast, the A33 5G's maximum frequency is 90 Hz. Is this a notable difference? Actually, no. If and when you compare them side-by-side, you'll see a difference, but not otherwise. Except for that, the difference between 90 Hz and 120 Hz won't be as obvious as it would be between 60 Hz and 120 Hz.
Both phones have Gorilla Glass 5 covering their displays, making them equally durable. The A53 5G seems more contemporary in comparison, with very slender bezels and a punch-hole cutout, whereas the A33 5G has slightly bigger bezels and a teardrop notch.
Cameras
The camera system on the Samsung Galaxy A53 is good but not spectacular, and this is where you notice that this is a mid-range phone. However, there have been no significant upgrades or changes to the specifications, skills, or features themselves. You get a 64MP primary lens, a 12MP ultrawide, two 5MP macro and depth lenses, and a 32MP selfie camera.
Even though the camera software hasn't been changed or improved in any way, Samsung continues to offer a slew of features and capabilities that set this phone apart from the competition.
There are some additional differences to highlight between the Galaxy A53 5G and the Galaxy A33 5G due to their distinct optics. On the A53 5G, there are four cameras: a 64-megapixel primary camera, a 12-megapixel ultra-wide camera, and two 5-megapixel sensors for depth and macro. A 48MP main camera, an 8MP ultra-wide camera, a 5MP depth sensor, and finally, a 2MP macro lens are all included in the A33 5G.
The cameras on both phones appear to be similarly versatile. The spec sheet for the A53 5G just so happens to show marginally better optics. The Samsung Galaxy A53 5G has a 32-megapixel front camera, whereas the Galaxy A33 5G has a 13-megapixel selfie camera.
Batteries
A 5,000 mAh battery within each phone supports up to 25 W of fast charging. As a result, we anticipate some variation in the battery category, where the Galaxy A33 5G may have a slight advantage thanks to its 90 Hz panel. Compared to the 120Hz display of the A53 5G, the battery will undoubtedly be slightly less stressed. In conclusion, the Galaxy A33 5G's 5,000 mAh battery should last longer. Your daily usage will have a greater impact on battery life than the refresh rate. Both phones lack a charger within the box, and neither one enables wireless charging.
Internal Storage
Both the Samsung Galaxy A53 5G and the Galaxy A33 5G's base models come with 6GB of RAM and 128GB of internal storage. Of course, you can get both phones in the 8 GB + 256 GB configuration for a little more money. We also want to note that the A33 5G supports MicroSD card storage expansion. If you ever run out of internal capacity on either phone, you can add up to 1TB of storage.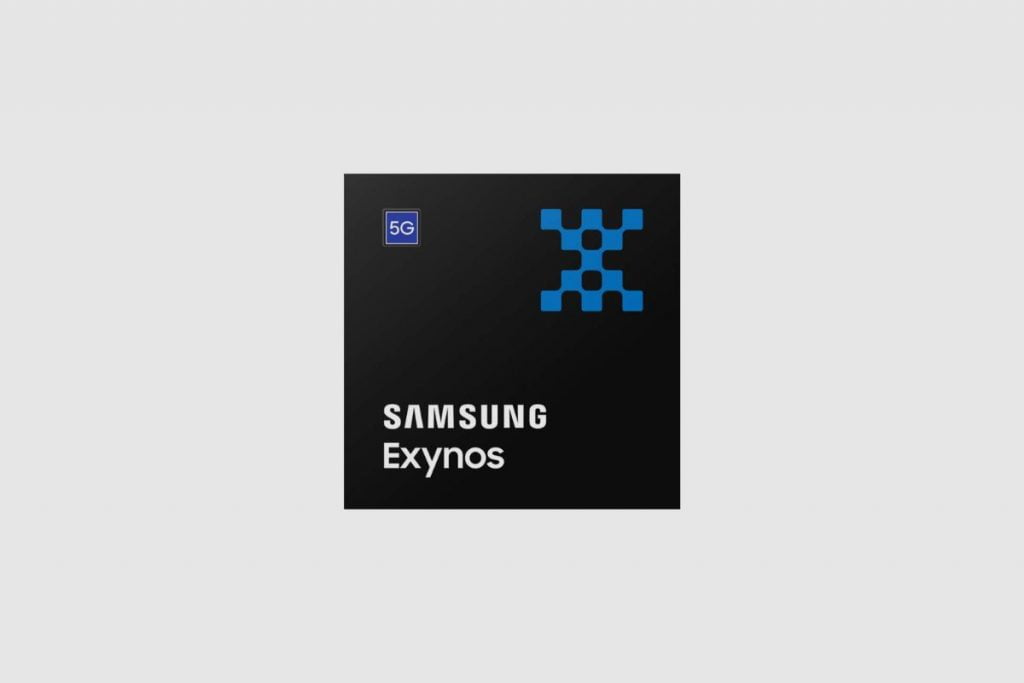 Processors
The Exynos 1280 CPU from Samsung is found inside both the Galaxy A53 and Galaxy A33 5G smartphones. It is a mid-range, 5nm-produced octa-core chipset. Two Cortex-A78 cores with a focus on performance and two Cortex-A55 cores with a focus on power efficiency make up the Exynos 1280. Additionally, a Mali-G68 GPU is linked with it to handle the graphical load. Even though this is a definite step down from the Snapdragon 778G found within the Galaxy A52s 5G, the battery life will greatly benefit from it.
The 5nm technology node makes the Exynos 1280 a chip that consumes little power. However, you shouldn't really anticipate any performance difference because the processor in this comparison is in charge of everything going on in the background for both phones.
According to Samsung's Galaxy A launch event, the cameras on the phones can use a variety of AI-powered functions, such as changing frame rates when recording video in low light and removing unwanted people from background shots. You can use those features regardless of whether you choose the Galaxy A53 or the Galaxy A33 because both phones share the same chipset.
Design
Regarding design and build quality, the Samsung Galaxy A53 5G and the Galaxy A33 5G share a lot in common. Both devices have a polycarbonate body with Gorilla Glass 5 covering the front to safeguard the screen. Both have the same textured back panel and extremely comparable back designs. With very little variation, the general form factor is the same.
When viewed from the front, there is a tiny distinction between the two. The front bezels of the Galaxy A33 5G are slightly larger, while the chin at the bottom of the display is noticeably larger. Instead of a punch-hole cutout like the A53 5G, the selfie camera on the A33 5G has a tear-drop notch. This isn't necessarily a deal-breaker because you'll end up rapidly adapting to the front design. But if I had to choose just one, I'd choose the Galaxy A53 5G, largely because the front of it is cleaner and more contemporary.
Both the Samsung Galaxy A53 5G and the Galaxy A33 5G are similarly resistant to sporadic showers of water and dust, thanks to their IP67 ratings for dust and water resistance. Sadly, neither phone has a headphone jack, but they both have a USB Type-C port on the bottom. Even though it may not be a deal-breaker for flagship devices, many customers in this market nevertheless miss having a headphone jack. Both of these smartphones, in comparison, represent a step backwards in my eyes because their forerunners included a 3.5mm headphone connector.
Weight
Both smartphones have an 8.1mm thickness, but the Galaxy A53 5G weighs a few ounces less—189 grams as opposed to 186 grams for the Galaxy A33 5G.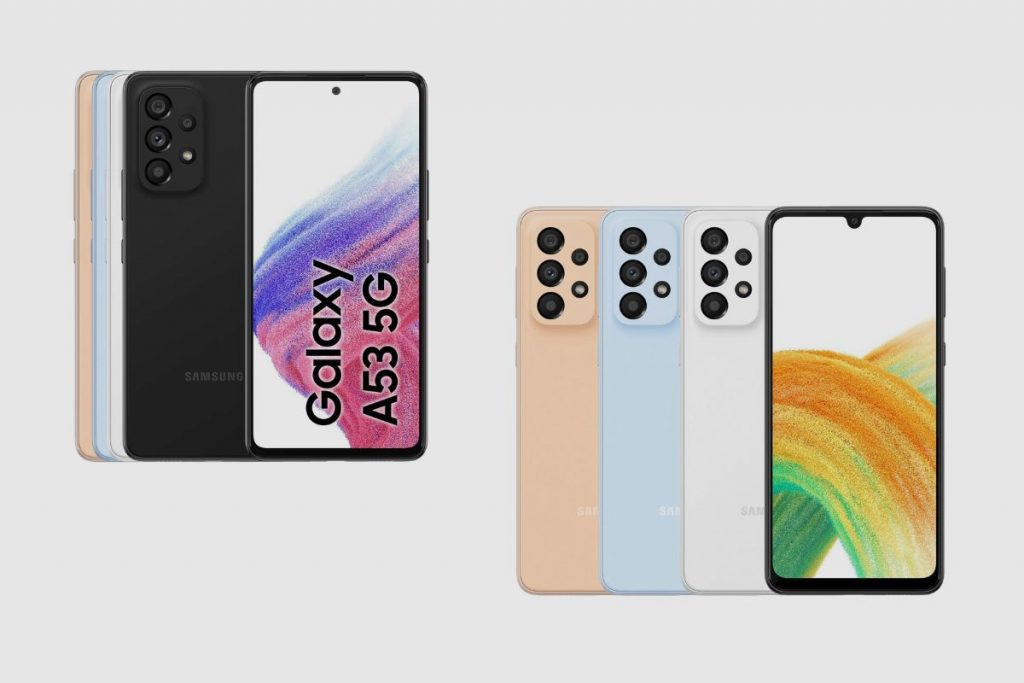 Colours
The same black, white, pastel blue and peach colour options are also available for the phones, which have Gorilla Glass 5 protecting the front. The Galaxy A53 is a little bit broader to make room for a bigger display, but otherwise, these phones are about the same size.
Connectivity
In terms of connectivity, both phones share the same 5G, LTE, Wi-Fi 802.11 a/b/g/n/ac (2.4G+5GHz), and Bluetooth 5.1connectivity nodes
Pricing and Availability
The Samsung Galaxy A53 5G mobile phone is widely available at a wide range of retail outlets and shops. It costs around $349 on Amazon, which is a reasonable price, in my opinion. Furthermore, it costs around $340 on eBay. Samsung also offers direct sales through its retail locations, where the A53 costs around $330.
If you want the best prices, you should consider purchasing the A53 from a network provider.  If you don't mind being limited to a single network provider, they sell a locked version for incredibly low prices. To be honest, a Verizon sale for around $259 is a fantastic example and a fantastic value.
The Galaxy A33 was available on April 22, and for the time being, it is only available in the U.K. and Europe. The Galaxy A33 will cost €369 in Europe and £329 in the UK (about £70 cheaper than the A53).
That's not to say the Galaxy A33 won't ever come to the United States, but as of right now, Samsung has not provided any information regarding its plans for that market. However, you can buy a region-unlocked model on Amazon or AliExpress. Since the Galaxy A53 isn't currently available in the United States, there isn't much of a choice as to which phone to buy. At this point, your options are either the Galaxy A53 in the United States or something else.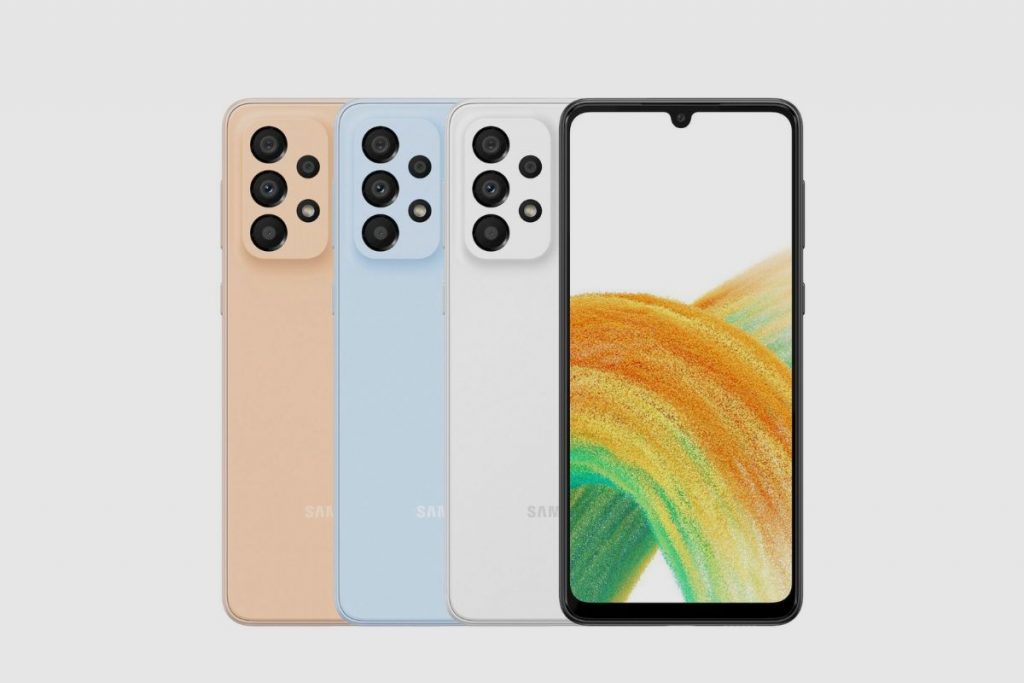 Pros and Cons of the Samsung Galaxy A33
Pros
A good display with a refresh rate of 90 Hz.
Up to 1TB of expandable storage
Excellent design and build quality
Excellent software assistance
Cons
Average performance
Macro and depth cameras are useless.
Pros and Cons of the Samsung Galaxy A53
Pros
A good display with a refresh rate of 120Hz.
Up to 1TB of expandable storage
Excellent design and build quality
Up to 4 years of software updates.
Cons
Average performance
Macro and depth cameras are useless.
Summary
Which new midrange Galaxy A phone you can purchase will depend mostly on availability. But given everything else being equal, the Galaxy A33 delivers a less-priced handset with a slower-refreshing screen and lower-resolution cameras. The Galaxy A53 and Galaxy A33 seem quite similar, except for those variations and a few subtle design accents.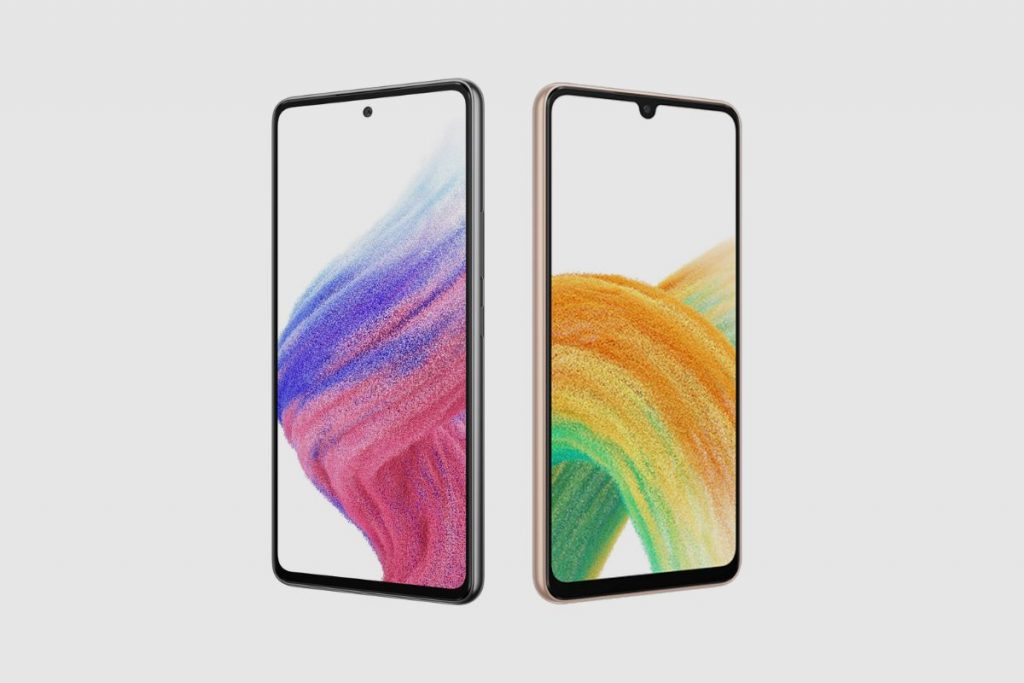 Comparative Overview
I think the A53 and A33 are very similar phones, and it is very difficult to tell them apart, but they do have some slight differences. The 6.5-inch display of the A53 may be configured to refresh at 120 Hz, which is a quicker refresh rate.
This translates into web browsing that scrolls more fluidly and more engaging gaming on apps that support higher refresh rates. The Galaxy A33 can adjust to a 90Hz refresh rate, which is faster than many other phones in this price category, including the iPhone SE 2022, but not as quick as the Galaxy A53.
Another minor distinction is that the Galaxy A33's screen is slightly smaller than the A53's screen at 6.4 inches. Samsung has opted for OLED for the Galaxy A33, although its predecessor had an LCD panel.
The two phones' respective cameras account for the other significant difference. The quantity and variety of rear lenses offered by the Galaxy A53 and Galaxy A33 are identical. The main camera is present, along with an ultrawide-angle lens, a macro lens, and depth and macro sensors. The megapixel rating for the two cameras accounts for the disparity.
Compared to the Galaxy A33's 48MP main camera, the Galaxy A53's 64MP camera offers more resolution. Theoretically, that ought to result in better-detailed pictures from the A53, particularly if you use the function to shoot pictures at full resolution.
The Galaxy A53's ultrawide-angle lens also has a better resolution (12MP vs. 8MP), and it boasts a 5MP depth sensor as opposed to the A33's 2MP sensor. Both phones have the same macro lens. Owners of the Galaxy A53 will be able to capture selfies with a 32MP camera up front as part of the ongoing improvements. The Galaxy A33's front camera has a 13MP sensor.
Another note about the selfie camera: It's housed in a teardrop-style notch that dips down into the display on the Galaxy A33. In contrast, the Galaxy A53 has a punch-hole cutout in the display for the front camera. Aside from that—and some thicker bezels on the Galaxy A33 — the two phones are essentially identical, right down to the sloping camera bump that houses the rear lens.
Each phone has a 5,000 mAh battery, which is great news because the A52 and A32 predecessors already lasted a long time on a charge. Add in a larger battery (in the case of the A53), and the power efficiency of the 5nm Exynos 1280, and you have a winner.
Also, when you include their similar storage structures, it is actually very hard to tell them apart. I think the reason the A33 is not available in the US is that Samsung would like to maximise its sales of the two phones outside of the US. knowing fully well that US buyers wouldn't go for such similar phones and would only stick to one in particular.
Recommendations
If you've read the entire comparison, you're probably aware that this is a very close matchup. In this comparison, there isn't much of a difference between the two phones. This demonstrates that Samsung has a plethora of mid-range options, and they're all pretty good and offer a very similar package overall to compete with whatever devices they're up against in their respective regions.
Samsung also promises the Samsung Galaxy A53 5G and Galaxy A33 5G will have the same level of software support. Both devices will receive five years of security upgrades in addition to up to four major Android updates. Additionally, the fact that both devices come pre-installed with Samsung's One UI 4.1 puts them on an equal footing in terms of software. Therefore, availability and price are what ultimately determine the outcome of this comparison.
The A33 costs about $286 on Amazon, and the A53 costs about $350, and they are both good options to have. I'm torn between each phone, but if I had to pick one, it would be the Samsung A53.
Conclusion
In the end, Samsung has greatly enhanced the less expensive A33 model, making it a far more usable phone than before with a lot fewer compromises. And certainly, there is now a considerably smaller gap between the A33 and the A53. With the less elegant design, larger bezels, and even the teardrop camera as opposed to the punch hole, it is evident in the appearance.
However, the cheaper model appears to have made a significant speed improvement, and the evolution happening in that market sector appears to be more significant than the A53 5G model's more moderate increase. The Galaxy A33 5G ends up being the strongest Samsung budget model in years, and that's saying a lot.
You get a better camera and a little bit better performance on the Samsung Galaxy A53 5G, as you should, but that's about it. I'd like to thank you for taking the time to read this article. I hope you enjoyed it as much as I did writing it. If you have any questions, please leave them in the comments section below.
FAQs – Samsung Galaxy A53 5G vs Galaxy A33
Q: Is the Samsung Galaxy A53 5G a worthwhile option?
A: For many years to come, the Samsung Galaxy A53 5G smartphone is expected to be a mid-range workhorse. It's a terrific device for folks who don't want to spend a fortune but still need a phone that can do it all because long-lasting software updates are promised, a screen that looks the part and a battery that can last the distance.
Q: What makes the Samsung Galaxy A53 5G unique?
A: The Samsung Galaxy A53 5G has a 120Hz refresh rate, 2400 x 1080 resolution, and 800 nits of maximum brightness Infinity-O Super AMOLED display, which Samsung refers to as its punch-hole design panels. It is 6.5 inches in size, the same as the A52 5G. The A53 5G's 120Hz mode is excellent, just as you would expect.
Q: Is the Samsung Galaxy A53 5G superior to the A33 5G?
A: The Samsung Galaxy A53 5G outperforms the Galaxy A33 5G in two critical areas, one of which is the display. To begin, the display on the Galaxy A53 5G is slightly larger, measuring 6.5 inches. The Galaxy A33 5G has a 6.4-inch display. It's not a huge difference, but it's worth noting.
Q: Is the Samsung A33 a good smartphone?
A: Overall, the Samsung Galaxy A33 5G provides adequate performance, but there are better performance-oriented phones in this price range available. The Samsung Galaxy A33 runs the One UI 4.1 skin on Android 12.
Q: Is the A33 superior to the A32?
A: In terms of resolution, the Samsung Galaxy A32's 64 MP Quad Rear Camera outperforms the Samsung Galaxy A33 5G's 48 MP Quad Rear Camera. If you want to take a lot of selfies, the Samsung Galaxy A32 will be a better choice because it has a better 20 MP front camera than the Samsung Galaxy A33 5G's 13 MP front camera.
Image Gallery – Samsung Galaxy A53 5G vs Galaxy A33: Which Is Better?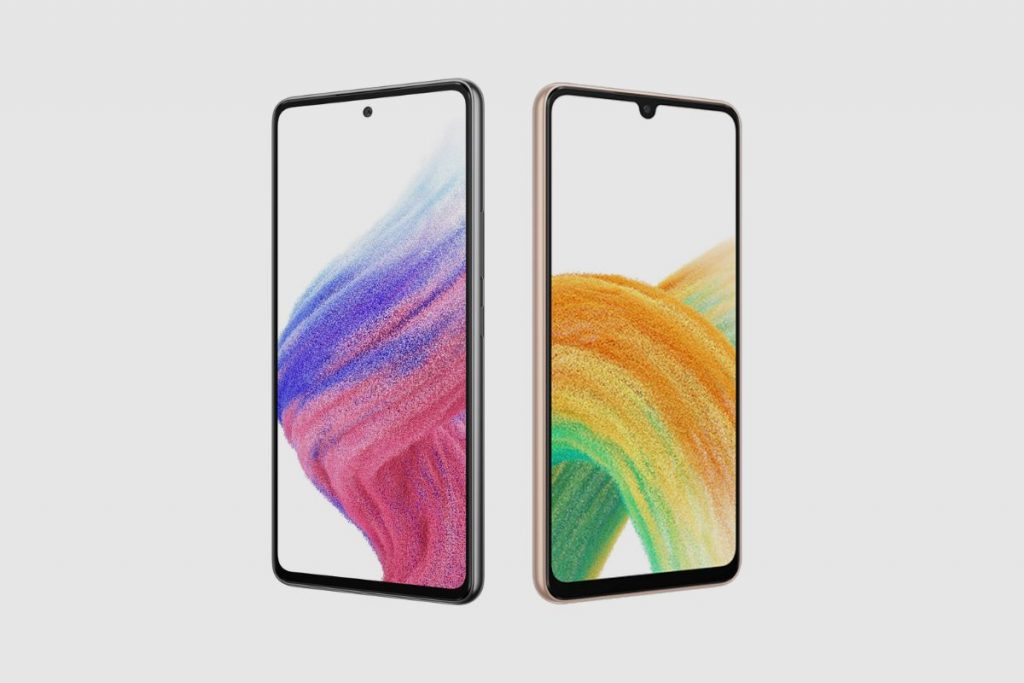 References: