Released in 2021, the Apple iPhone 13 is one of the latest phones in the Apple series. Although the iPhone 14 was released recently, the iPhone 13 remains one of the most appealing and coveted Apple phones in the market today.
Other phones in the iPhone 13 series are the iPhone 13 mini, iPhone 13, iPhone 13 Pro, and iPhone 13 Pro max. Choosing any of your preferred iPhone 13 series ultimately depends on your budget and desired features. This is because, despite having similar features, each phone in the series has some distinct features.
The iPhone 13 is a great choice for most iPhone lovers because it offers excellent performance with no dally. It comes with the latest operating system of iOS 15, alongside an Apple A15 Bionic (5 nm) and 5G connectivity. It also has a bright display, powerful CPU, up-to-date software, impressive battery life, and superb camera quality. The combination of all these features is a major reason why the iPhone 13 stands out amongst other iPhones.
Related Post: Is the Apple iPhone 11 Still Worth Buying?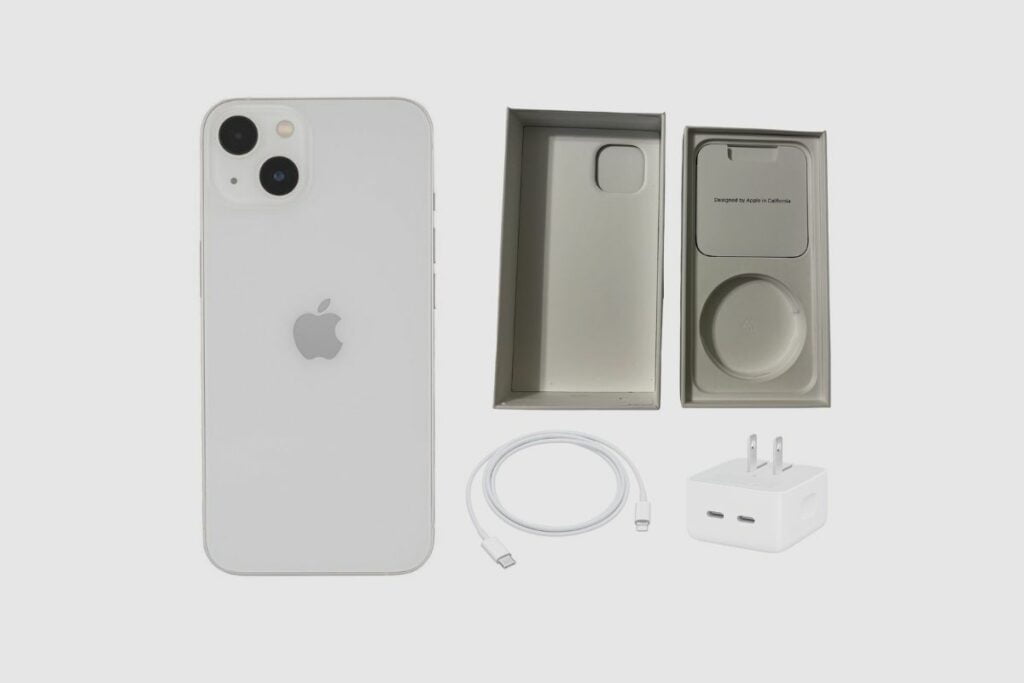 The Unboxing
The packaging of this phone is quite light as there is not a lot to find in the box. The contents of the box are the iPhone 13, a USB-C to lightning cable (which supports fast charging and is compatible with USB-C power adapters and computer ports), the SIM-ejection pin, and an Apple sticker.
Design
This phone has two sizes which are 5.4 and 6.1 inches. It is also available in starlight, midnight blue, pink, product (red) and a new green colour. The Apple iPhone 13 is similar to that of its predecessor but with few significant changes. It presents a sleek and elegant design as it comes with an aluminium frame with a matte finish sprayed with, while the back is covered by a flat tempered glass made by Corning with the Apple logo in a mirrored look.
This phone's camera square is thicker than its predecessor but still bulges out. The iPhone 13 has its two 12MP rear cameras diagonally aligned instead of vertically like the iPhone 12. While still on the square glass, you will see the dual-LED flash and one of the microphones. The screen notch size is shorter and thicker, which is one of the obvious changes while having the speaker grille separate from its own frame.
With a weight of 174 grams (6.14 ounces), the iPhone 13 is 10 grams heavier and 0.3 mm thicker than the iPhone 12, thanks to its larger battery and multiple components.
The left side of the iPhone 13 houses the silencer, the two volume keys and then the nanoSIM tray, while the right side features the long side key that has many functions, lock/unlock, Siri activation and Apple Pay. Finally, at the bottom of the phone, you will find the mouthpiece, the lightning port, and the second stereo speaker.
The iPhone 13 is IP68 rated for dust and water resistance, therefore making it fully waterproof; this means that it can survive for about 30 minutes in 6-metres deep water.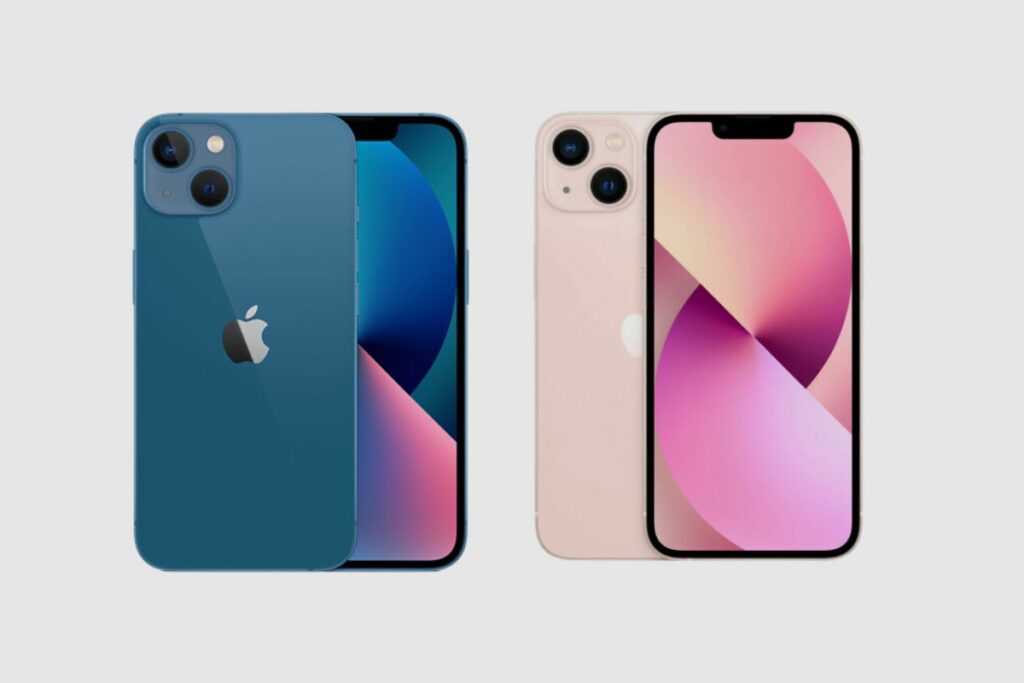 Display
The display of this phone is undoubtedly one of its best features. The OLED panel features 1170 x 2532 pixels or 460 PPI pixel density, which is protected with ceramic glass by Corning.
This phone supports HDR10 and Dolby Vision and comes with minor upgrades such as a reduced notch and brighter panel. As the panel supports HDR10 and Dolby Vision, it is expected to offer 800 nits of typical maximum brightness and 1,200 nits of peak brightness when watching HDR content. After a display measurement was carried out, 802 nits of maximum brightness were obtained. The minimum brightness is low at 1.7 nits, which is impressive.
Its display supports the quality 60Hz rate with the touch sensors running with 120Hz sampling. Also, the iPhone 13 supports true tone adjustments and wide colour, and it comes with the Haptic touch feature offered by a powerful Taptic engine. However, it lacks an Auto brightness boost.
The panel measures outstanding colour accuracy on an average deltaE of 1.6 against sRGB Targets. The iPhone 13 fully works with the DCI-P3 and switches to the gamma automatically when DCI-P3 content is sent to the screen. The iPhone 13 maintains its same colour accuracy across all the brightness levels while even at the lowest point of 1.9nits.
The shorter notch and higher brightness are the major screen upgrades of the Apple iPhone 13.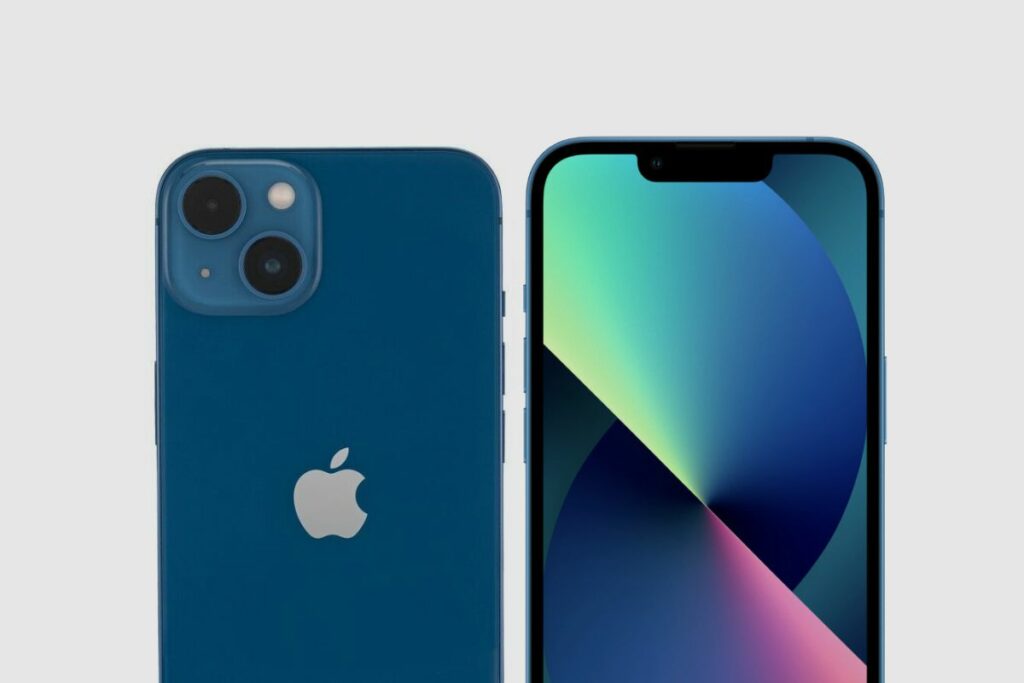 Camera quality
The Apple iPhone 13 presents two 12MP cameras on the back and one 12MP selfie shooter at the front. The first 12MP camera has a sensor with larger pixels and high-end sensor-shift stabilisation. It makes use of a larger Sony sensor with 1.7um pixels alongside the lens that is 26 mm f/1.6, which uses sensor-shift stabilisation.
The second camera uses a 10 m pixels and 14 mm f/2.4 lens for ultrawide photos, having a fixed focus; there is no stabilisation.
The 12MP sensor selfie camera has 1.0um pixels and a 23 mm f/2.2 lens. Here, the focus is also fixed. By using a portrait mode on this camera, depth details are captured with the structured-light 3D scanner.
Apple's iPhone 13 has three cameras and supports up to 4k at 60fps video capturing with cinematic stabilisation and expanded dynamic range. The Dolby Vision HDR capturing works in all modes.
The iPhone 13 camera comes with features like smart HDR, Night mode and deep fusion. The two 12MP rear cameras, as well as the selfie camera, provide great quality photos and videos with sharp details.
Battery life
The Apple iPhone 13 presents a 3240mAh battery. It offers three additional hours of web browsing and close to 4 hours of video with an endurance rating of 89 hours.
The iPhone 13 fast charging reaches a maximum of 23W using USB-D powered adapters. This device also supports fast wireless charging. If you want to achieve a maximum of 15W, you will need to make use of Apple's Magsafe charger or any Qi-compatible for Slow 5W-7W charging.
Speaker quality
The Apple iPhone 13 speaker supports spatial audio and Dolby Atmos, offering a less directional and more spatial sound. The first speaker is found inside the notch and serves as an earpiece when needed, while having the second one at the bottom next to the lightning port.
The audio quality is amazing as it presents a great bass, smooth mid-tones and incredible highs. The powerful stereo speaker on the iPhone 13 is considered to be one of the best speakers any smartphone could come with.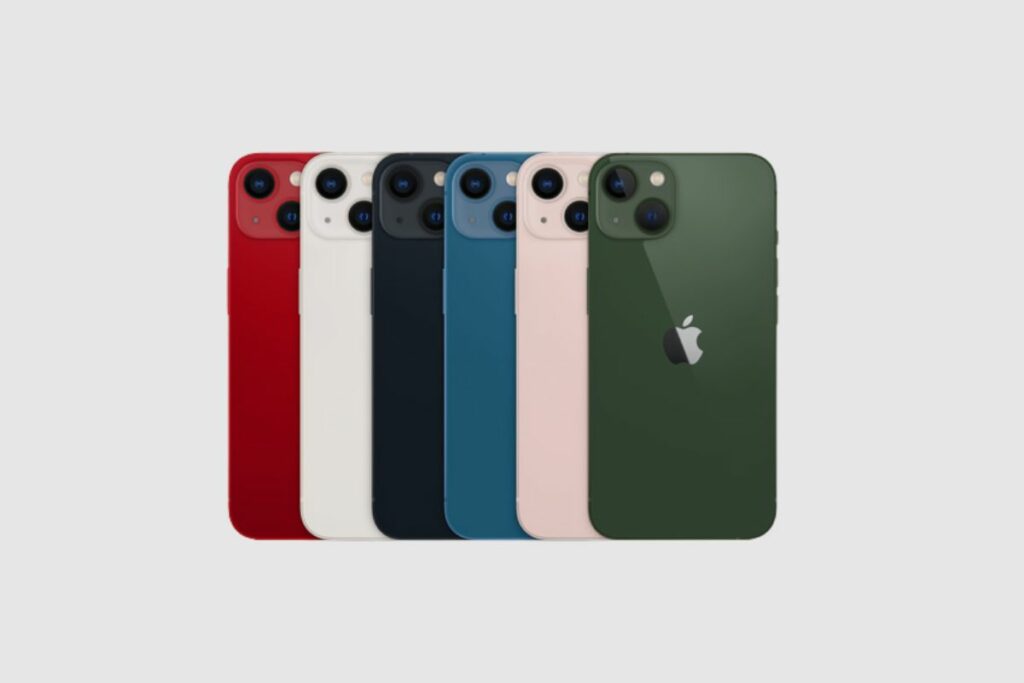 Pros
Long battery life
Top-notch performance
Bright and radiant OLED screen with HDR 10 and Dolby vision
Quality photos and videos with the standard cameras
Booming stereo speakers produce great sounds
Sleek, sturdy and durable design
Water-proofed (IP68 rated)
Cons
Lacks 120Hz refresh rate
It is not lightweight
It is pricey
Cost
The cost of the Apple iPhone 13 is determined by its storage capacity and your store of purchase. The iPhone 13 with:
128 GB, 4 GB RAM costs $799
256 GB, 4 GB RAM costs $899
512 GB, 4 GB RAM costs $1099.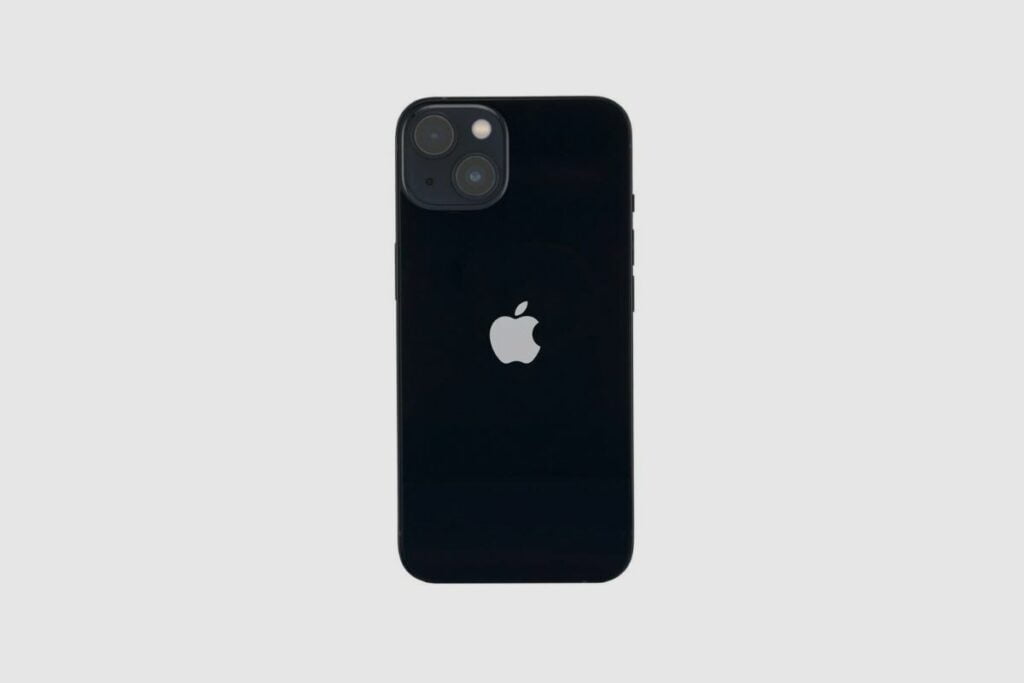 Specifications
Dimensions: 5.78 x 2.81 x 0.30 inches (146.7 x 71.5 x 7.65 mm)
The weight is 6.14oz (174 grams)
Materials: The frame is aluminium, while the back is glass
The biometrics is a 3D face unlock
The available screen sizes are 5.4 and 6.1 inches
Resolution: 2532 x 1170 pixels
The ratio is 19:5:9 with 457 PPI
Display Technology is OLED
The refresh rate is 60Hz
Up to 87.24% screen-to-body ratio
Up to 1200 CD/cm2 (nit) peak brightness
Display features:
Ambient light sensor
Oleophobic coating
HDR support
Scratch-resistant glass ( ceramic shield)
Proximity sensor
Dual rear camera
Main camera 12MP (OIS, PDAF), second camera 12MP ( Ultra wide)
Camera spec: Aperture size F2.4, Focal length 13 mm
Front camera: 12M Time-of-Flight (TOF), EIS, HDR, slow-motion videos
Video capture: 3840 x 2160 (4k UHD) 60fps
Features:
Picture-taking during video recording
Video light
Continuous auto-focus
OIS
HDR
Time-lapse video
Up to 4GB RAM
Up to 128GB of Internal storage
Battery capacity: 3,227 MAH
Charging:
USB power delivery
Qi wireless charging
Mag safe wireless charging
Connectivity:
Bluetooth 5.0
WiFi 6
Speakers: Earpiece, Loudspeaker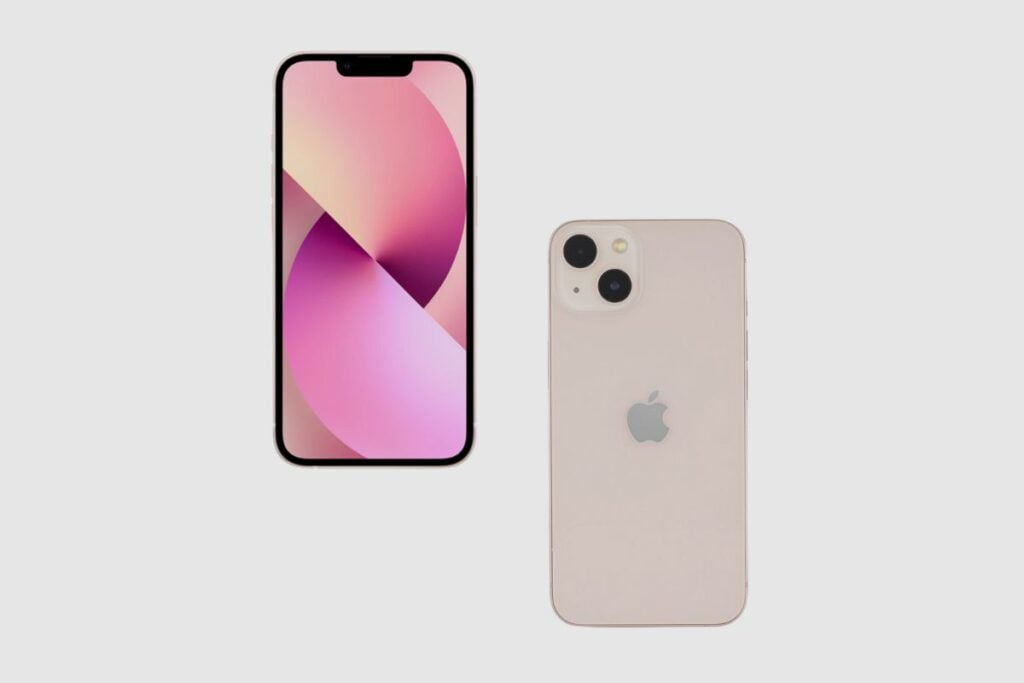 Software
The Apple iPhone 13 runs on the iOS 15. This operating system allows effortless multitasking with the Spatial Audio and SharePlay in Facetime calls that lets you share movies and music during calls.
This new version interface is still focused on home screens dense with widgets and apps, an App library for not-so-important apps, notifications and control centres.
There is a great enhancement on face-time and messages, Notification management, safari browser (with an extension), wallet and apps. The camera app enables you to read and copy the text in real time while making the spotlight and photos more brilliant.
With the iOS 15 update, you can listen to music or watch movies or TV shows with friends and family through shareplay. The messaging app sends a new shared with you section for info, photos, and write-ups and to keep records of different links sent by friends.
The new focus feature is superb, as it allows you to filter notifications based on your current activity. There is the upgraded safari, a complete featured weather app, an improved map app, and an app privacy report.
The widget helps you save space by placing its same size on top of another. Using the OS, you can automatically choose the most relevant widget to surface to the top of the heap or flip through the heap manually by swiping up or down until you find the widget of your choice.
The App library is where apps are kept automatically once installed. The app library presents three settings: Add new apps to the home screen and app library, Add to the app library only and show Notification badges in the app library.
Performance
The Apple iPhone 13 offers speedy performance with its fast A15 Bionic chip. The upgraded A15 comes with a 16-core neural engine with powerful features that include on-device voice, image recognition and other enhanced machine-learning tasks. A new ISP is present, double the amount of cache, alongside a new display engine and new video encoder and decoder.
The iPhone 13 has up to 4 GB of RAM and a 4-core apple GPU for great visual quality gaming and zero stutters. The A15 depends on the Hexa-core processor with 2 big Avalanche cores clocked at 3.23GHz alongside 4 Blizzard cores working at 1.82GHz.
The Apple A15 Bionic is equipped with Qualcomm's X60 5G modem. This chip offers speedy and smooth performance.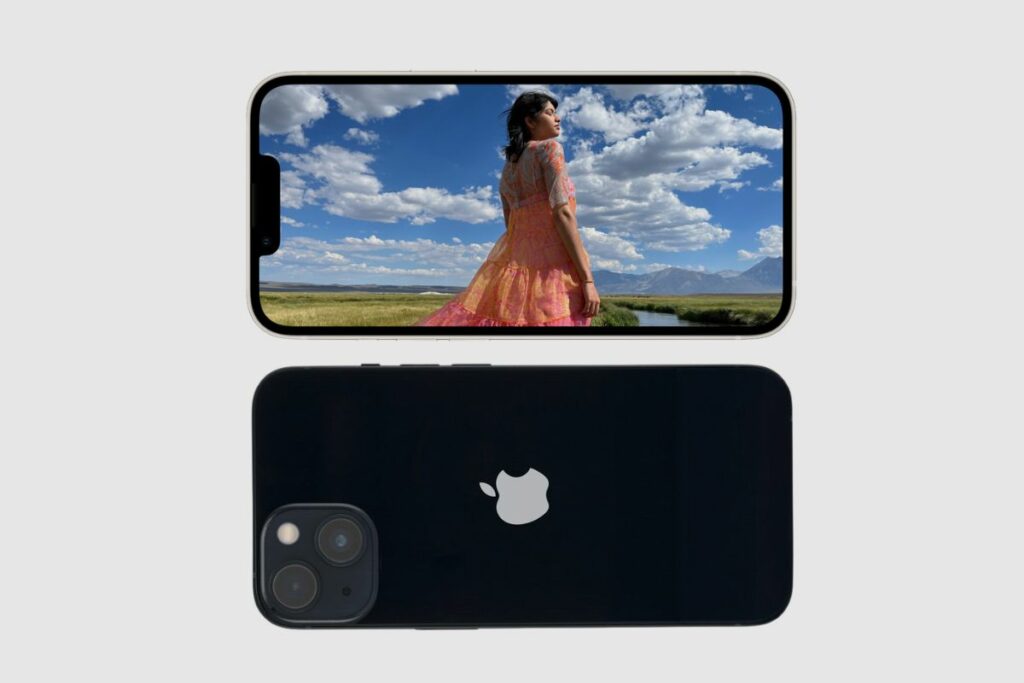 Buying guide
Having discussed the camera quality, pros and cons, and specifications of the Apple iPhone 13 smartphone in detail, there are certain factors to put into consideration before buying this phone. Some of these include:
Camera: The Apple iPhone 13 offers two 12mp rear cameras, with the primary using a 1.7um pixel and 2.6 mm f/1.6 lens; the secondary uses a 10um pixel and 14 mm f/2.4 lens for ultra-wide photos. The 12mp selfie camera uses 1.0um pixels and a 23 mm f/2.2 lens.
Storage: This device has a base storage of 4 GB RAM and 128 GB. However, other available storage is 256 GB with 4 GB RAM and 512 GB with 4 GB RAM. The price of this phone is determined by its storage capacity.
The iPhone 13 is available in two screen sizes which are 5.4 and 6.1 inches.
Shorter notch: Unlike the iPhone 12, the iPhone 13 comes with a slimmer and shorter notch.
The Apple iPhone 13 supports a 60Hz refresh rate display
The iPhone 13 is IP66 rated, which makes it dust and water-resistant. It can survive 30 minutes in 6 meters deep water, but it should not be submerged in seawater as it can cause damage to the phone.
If some of these features do not meet your preferred requirements, you can opt for other phones in the iPhone 13 series, like the iPhone 13 Pro or iPhone 13 Pro Max. You can even consider buying the Apple iPhone 14.
Note: Although the Apple iPhone 13 has a sturdy look, it is not advised to leave it on a glass table or stacked up with another phone or table, as the glass can easily get scratched easily through the lens cover.
Conclusion
In conclusion, the Apple iPhone 13 is a compact, sleek and sturdy-looking device with top-notch performance. It is equipped with a powerful camera, brighter display, and long-lasting battery, among several other impressive features.
iPhone lovers will definitely love this phone, as it comes with exciting upgrades from its predecessor and provides excellent value for its cost.
FAQs – Apple iPhone 13 Review
Q: Does the Apple iPhone 13 come with a fingerprint sensor?
A: The iPhone 13 lacks a fingerprint sensor but instead uses a Face ID biometrics security system.
Q: Is the Apple iPhone 13 water-resistant?
A: This device is IP68 rated, which makes it dust and water-resistant.
Q: What is the internal storage of the Apple iPhone 13?
A: The Apple iPhone 13 has a base storage of up to 128 GB of storage capacity and 4 GB RAM. Other available storage options are 256 GB and 512 GB.
References: Apple.