The Samsung Galaxy A13 is the latest in a long line of "A" series budget phones that Samsung has released to also cater to a market that may not be able to afford the flagship phones or provide the younger generations with an entry-level phone that they can use. It will also give parents a way to gauge whether their kids are ready for a phone.
However, the budget phone market can be confusing, with several different phones all jumping to get your attention. However, Samsung has sought to dominate the budget phone market with its "A" series of phones. The A12 made a good show of it, and now it is time for the A13 to show its merits.
This year, Samsung released two versions of the A13 model in all markets and major retailers to be sold together and provide users with a cheaper 4G choice and a slightly more expensive choice to getting 5G if they are in areas where 5G is widely available to them.
So, join me as I review the Samsung Galaxy A13 to see if it is worth looking at or if it should be passed on.
Related Post: Samsung Galaxy A53 Review.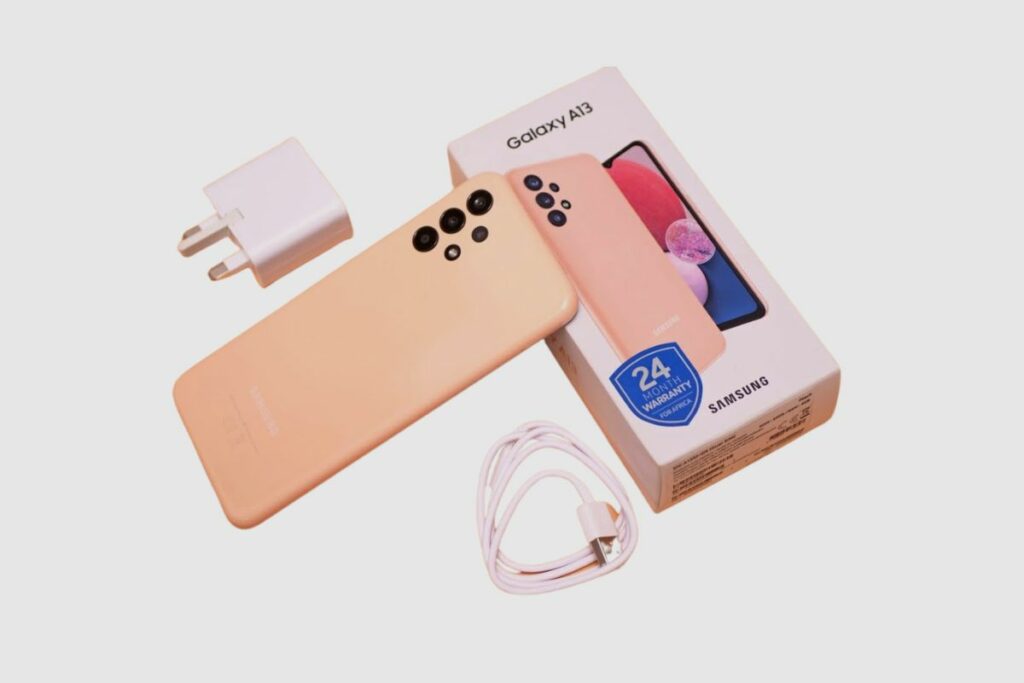 Unboxing
Samsung has all of their "A" series phones come in very similar white boxes, with the only major difference being the picture and name of the phone on the box, but aside from that, there is not much of a difference between the boxes the phones come in.
Once you open the Samsung A13 box, you will see the phone right there in front of you, but don't throw the cover away because that is where your user manual is kept. But if you're like me, then you aren't going to read the manual, so you might just throw it away.
Once you're done with the manual, you can proceed to take the plastic wrapping off of the phone, and then you can turn on the phone. You will also get a 15W charger and your sim removal tool, and you will also get a USB-C cable and some paperwork inside the box.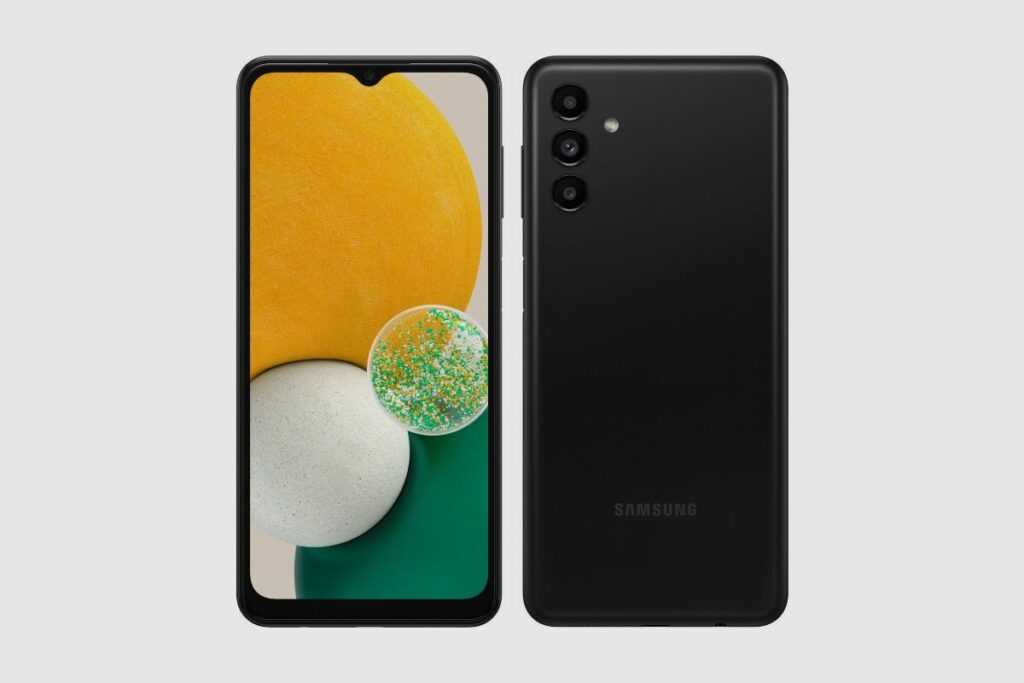 Specs
| | |
| --- | --- |
| Screen size and display type | 6.6 inches, 104.9 cm2 (~83.2% screen-to-body ratio), PLS LCD |
| Rear cameras: | 50 MP, f/1.8, (wide), PDAF5 MP, f/2.2, 123˚ (ultrawide), 1/5″, 1.12µm2 MP, f/2.4, (macro)2 MP, f/2.4, (depth) |
| Front camera: | 8 MP, f/2.2, (wide) |
| OS | Android 12, One UI 4.1 |
| Storage/RAM | 32GB 3GB RAM, 32GB 4GB RAM, 64GB 4GB RAM, 128GB 4GB RAM, 128GB 6GB RAM |
| Battery size: | 5000mAh |
| Weight: | 195 g (6.88 oz) |
| Chipset: | Exynos 850 (8nm) |
| Battery life | 12hrs |
| Dimensions | 165.1 x 76.4 x 8.8 mm (6.5 x 3.01 x 0.35 in) |
| Colours: | Black, White, Peach, Blue |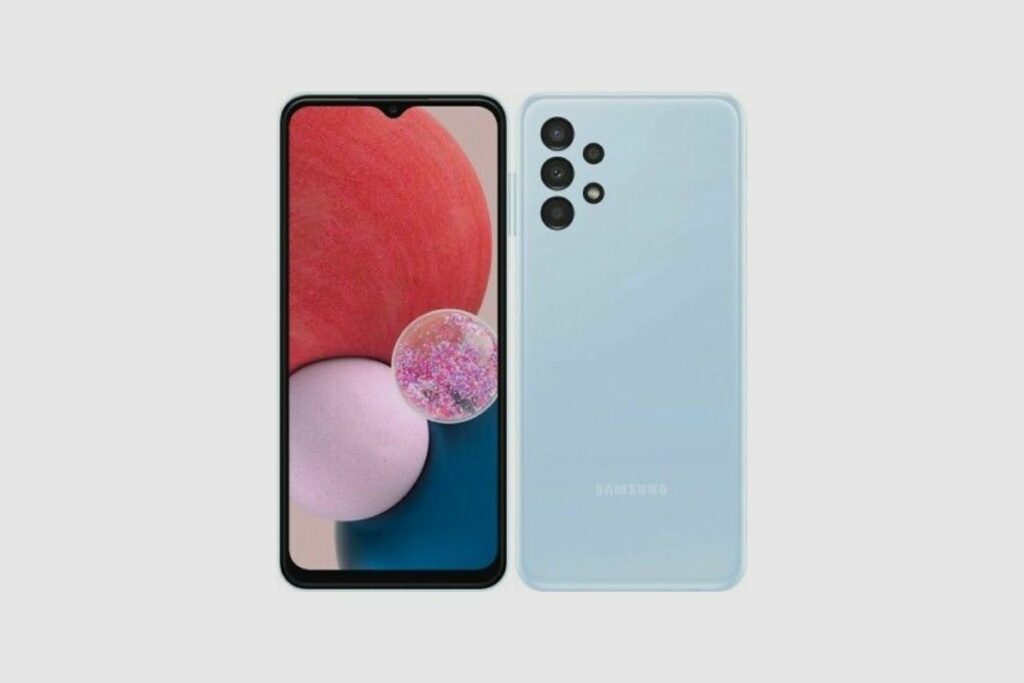 Design and Build Quality
You might initially believe that this phone is more expensive than it actually is, and when that is the case, you can tell that the design and engineering teams did a good job. Depending on where you are in the world, you can purchase the Samsung Galaxy A13 in black, white, peach, or blue; the model I'm reviewing is the white version. At this price point, you would expect the design to be very simple and made of plastic, but it is also nicely curved and extremely well-made.
The phone's 6.6-inch screen, which measures 165.1 x 76.4 x 8.8mm, or 6.5 inches by 3 inches by 0.35 inches, determines the size of the device. By modern standards, the phone weighs 195 grams, or 0.43 pounds, and is a comparatively small handset that is comfortable to hold and simple to grip.
As you look at the phone, the volume controls are on the right, and the power button has an integrated fingerprint sensor. While we prefer these sensors to be built into the screen, it's not a deal-breaker. Samsung has added a 3.5mm headphone jack right next to the USB-C port that is located at the bottom. Overall, I like the look of the phone, and it has a very lovely and premium build to it, which is very impressive, but it is also not waterproof, so be careful around the sink.
Display
The 6.6-inch, 2408 x 1080 LCD screen on the Samsung Galaxy A13 does a respectable job with websites, photos, videos, and games. Although HDR and refresh rates above 60Hz aren't supported, the display is sufficiently bright, vivid, and crisp, and we didn't have any major issues with it. It also has an 83.2% screen-to-body ratio.
The centre of the display has a teardrop notch, and while the bezels aren't the thinnest you're likely to see, they aren't ugly either. The screen's rounded corners do seem a little bit excessive, but again, this is not a major issue that would prevent you from purchasing the Galaxy A13.
This display panel is one of the best features of the Galaxy A13, even though its standards aren't as high as those of the OLEDs that Samsung uses on the front of some of its more expensive phones. However, since it's not an OLED, there aren't any options for modifying colour vibrancy and temperature.
I'm not sure if the 6.5-inch HD+ panel that Samsung added to its 5G model with a 90Hz refresh rate was a necessary improvement for the phone. The panel itself isn't very sharp, nor is it the brightest, which makes the smoother animations feel like an unnecessary boost when there are more crucial issues to address. Unfortunately, for a $200+ device in 2022, the top and bottom bezels are also quite large, but it does have a smaller screen-to-body ratio of 81%.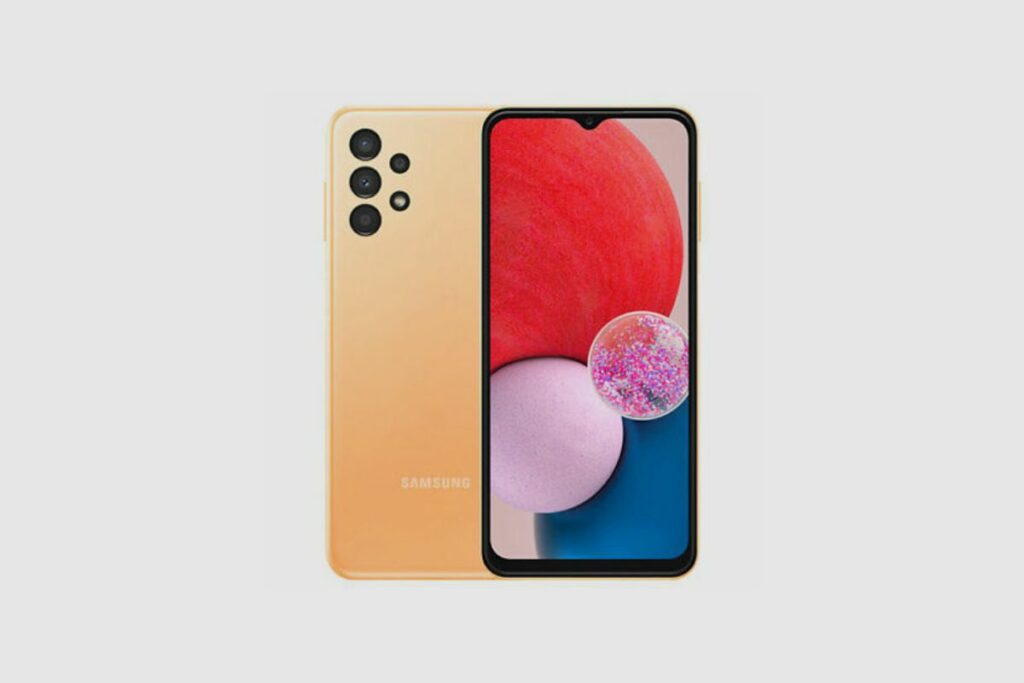 Performance
The Samsung Galaxy A13 comes with either an Exynos 850 processor for the rest of the world or a slightly faster MediaTek Dimensity 700 processor, with up to 4GB of RAM and up to 64GB of storage, which can be expanded with a microSD card if need be.
On the performance side of things, the Samsung Galaxy A13 is a slightly below-average performing laptop with an occasional level of stutter and lag as you use the phone on a day-to-day basis. You might even notice a slow lag buildup when you are moving through apps and menus.
This can all be backed up by its Geekbench scores, which are limited at best and slow at worst. It had a single core-score of 155, a multi-core of 586, and a score of 678 on OpenCL. These scores are the lowest I've seen on almost any phone this year.
However, this is something you are going to have to put up with as you will only experience slower speeds and even more lag, but then again, you get what you pay for and I guess this is what you are paying for. The MediaTek Dimensity 700 processor is only slightly faster than the Exynos 850, and that is on a very marginal scale. However, the difference is noticeable and should make you swing the other way if you want something with a little bit more power.
Another boost the MediaTek Dimensity has over the Exynos is its ability to take on 5G networks, which is quite impressive. However, 5G is only available to US buyers as the rest of the world can only have 4G Samsungs. I'm going to be honest with you here. The sluggishness of the Samsung A13 is not entirely terrible, but after a year or two after you buy it, the phone may only get slower. So, keep that in mind before you make a purchasing decision.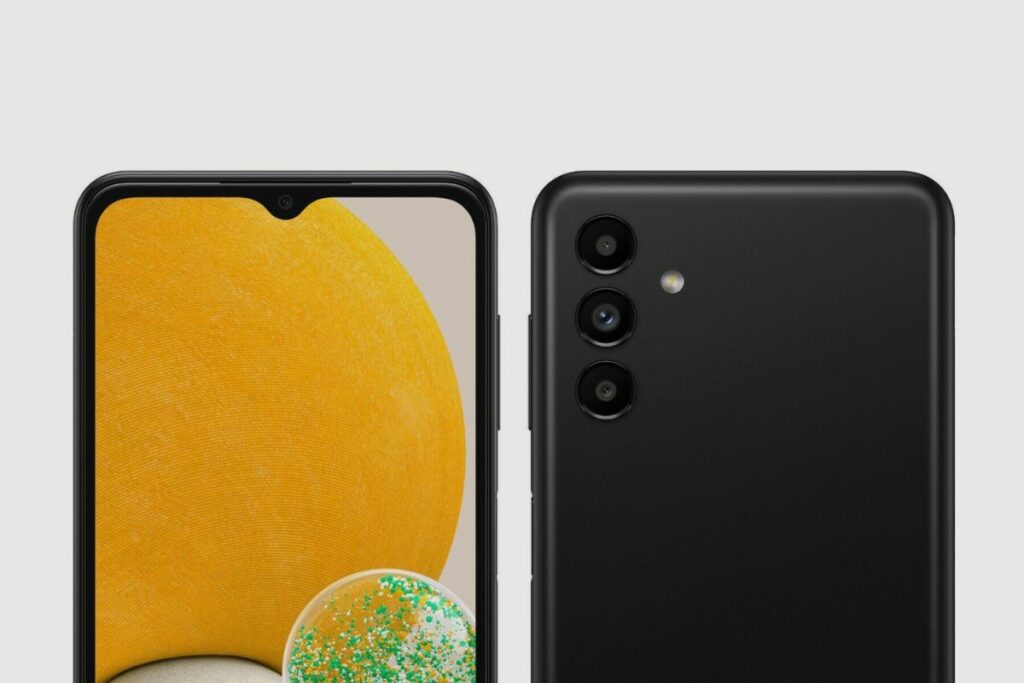 The Cameras
The Samsung Galaxy A13 has more lenses than you might anticipate, as with many other less expensive phones, but those extra ones aren't particularly useful. A 50MP wide, a 5MP ultrawide, a 2MP macro, and a 2MP depth camera are the four that are available. The Samsung Galaxy A13 5G that is sold in the US does not have an ultrawide camera, so you give up a camera to get 5G. The device can capture video at 30 frames per second in up to 1080p resolution.
The 50MP main camera is the star of the show, and with good lighting and enough time to keep the phone steady, you can take some seriously gorgeous pictures with it. Despite the lack of optical zoom, digital zoom does a respectable job of picking out details, and HDR processing does a good job of keeping the details in both darker and lighter areas visible.
In ultrawide mode, I noticed some blurring and warping, and the camera does start to struggle in low light. The images you'll get in the dark aren't great, but they are sometimes usable. The front of the device has an 8MP wide selfie camera, which is adequate for the basics but not much else. Without a doubt, spending a little more money will get you a phone camera that takes noticeably better pictures, but the Samsung Galaxy A13 won't usually let you down. The camera performance is probably better than you would expect from such a cheap phone.
The Galaxy A13 5G's primary camera performs admirably, but the complement of accessories could be better. First, Samsung kept the 2MP macro lens but got rid of the 5MP ultrawide lens from the previous model year. You can get that 5MP ultrawide shooter back, but it will cost you 5G. Choosing a low-resolution macro shooter over the ability to fit more in an image seems like a strange choice for most people, but that's what you get. The selfie lens also decreased in resolution from 8MP to 5MP, but it still takes excellent pictures and has a wider aperture for better portrait shots.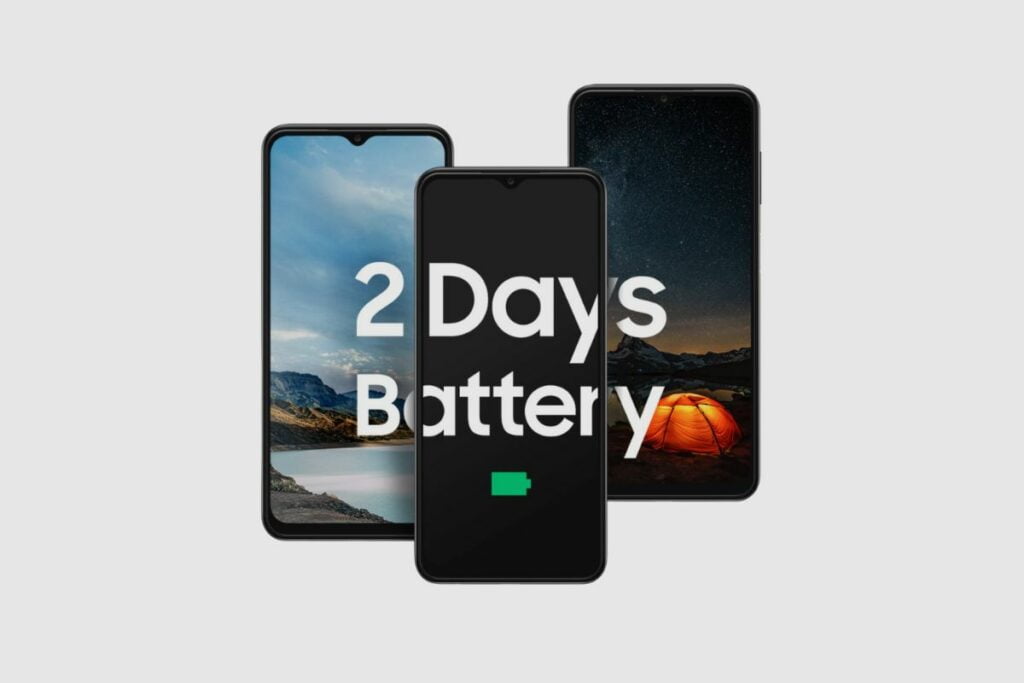 Battery Life – Samsung Galaxy A13 Review
The one ray of sunshine that comes with this phone is the 5000mAh battery, which is a very big battery, and the one thing it can assure you of is a very impressive all-day or two days of use. In my testing phase, I was able to get through the day, which I started at 6 am, and still had well over 30% of power on the battery when I went to bed at around 1 am, which is a very impressive battery life. If I had been careful with it, I could have used it for two days in a row.
I tested the phone out by watching some YouTube videos at a low volume with the screen set to max brightness for about an hour, and it drained the battery by about 10%, which suggests about 10 hours of video playback power. However, if I dimmed the screen a little bit, I could stretch it out for much longer than the usual 10 hours of video playback. This just means if you happen to be on a long-distance trip, you should be all good.
The Samsung Galaxy A13 comes with a standard wired charging rate, and there is no wireless charging option. However, it is a bit disappointing to see that it is only about 15w. This is something most of us should expect with budget smartphones. However, I do think that not having a wireless charging option is a good call by Samsung.
You can only imagine what you would get from it if you tried to use it with a wireless charger if it can get about 15w from wired charging. All in all, the Samsung Galaxy A13 has a solid battery which can last for at least two days if managed properly, but it will take almost an eternity to get fully charged. It feels like there's a lot of give and takes when it comes to using this phone.
Portability
At 6.5 and 6.6 inches, respectively, the Samsung Galaxy A13 5G and 4G are not very portable phones. They've got some large bezels, and the phones have an awkward in-the-hand feel to them. I think it is safe to say that the phones feel very large in my hands. They also have a 5000 mAh battery, which adds a bit of weight to the phone.
However, they have a very slender build and design configuration, making the phones very sleek. Like I said before, it seems like there is always a level of give and takes with these phones. So, Samsung will give you a very large phone, but it will also be very sleek, which just seems a bit confusing to me.
What Are Some of the Pros and Cons that Come with the Samsung Galaxy A13?
Pros
Impressive all-day battery life
Good build quality
Fairly inexpensive.
Cons
No 5G for phones outside of the US
Slow performance
No waterproofing.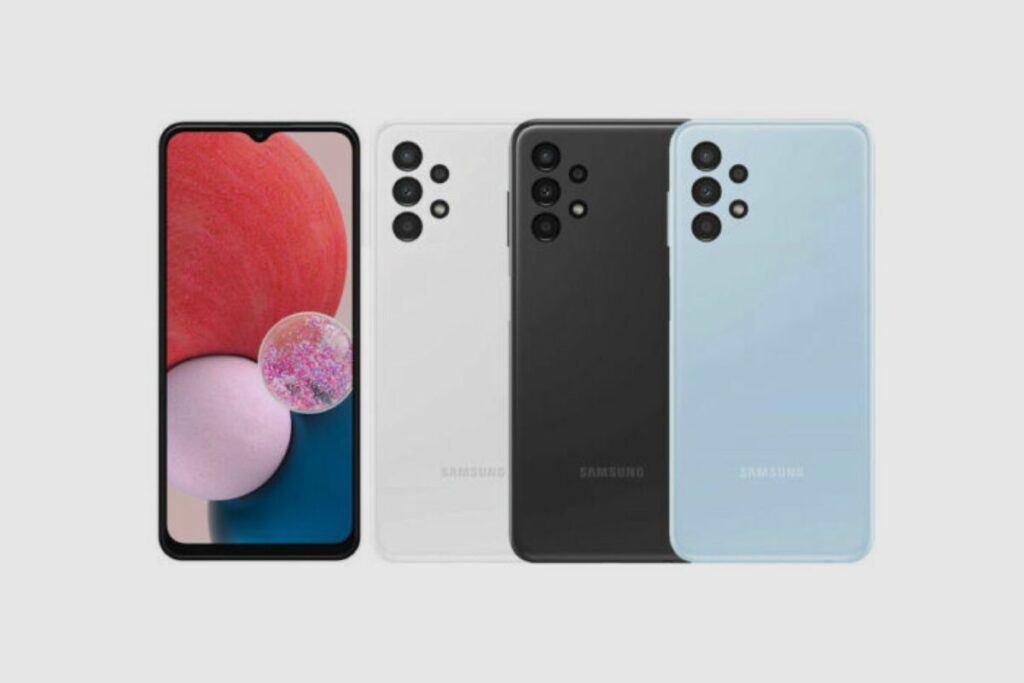 Buyer's Guide – Samsung Galaxy A13 Review
The Samsung Galaxy A13 is a very budget-friendly phone and it is also very widely available. You can get the 4G model for about $181 on Amazon, while the 5G model costs $214 on Amazon. You can also get a good deal on the 4G model on eBay for about $170 or $190 for the 5G model.
Some stores also have the 4G model on sale for about $155. I found it for that price at Walmart. You can also get a good discount if you buy it from a network provider's retail store, but it will be locked to that network provider.
However, if you are cool with being stuck with a single network provider, then maybe you could get the 4G model from Version for about $150 and the 5G model for about $170. Even T-Mobile has its own sales for similar prices.
If I were to give you some phone advice, I would recommend getting the 4G model because it has an ultrawide camera and 5G networks are still unreliable in some parts of the world. Although the 5G model is more powerful, the performance difference between the two phones is not significant.
I think this is a solid phone for some people who are looking for very specific things in their phones, like a very powerful battery with a solid display but not an amazing camera and performance.
I think it's okay for gaming, but it doesn't do anything spectacular with its 60hz and 90hz panels on the 4G and 5G, but it will play most games with stable frame rates and minimal lag and chopping.
Conclusion – Samsung Galaxy A13 Review
I think the Samsung Galaxy A13 is an okay phone with some good and some bad things about it. Like I have said previously, I think there is too much give and take with this phone, and it shows.
You are given a very budget-friendly phone with a decent camera and exceptional battery life that will allow you to enjoy the phone for a really long time, but you will also have to contend with things like lower performance and no extra features built into the phone, like no wireless charging or waterproofing. I am a bit disappointed with the phone overall, but I think it has some merit.
I just feel that this phone should be better than it is. I can appreciate the effort Samsung has put into the phone, but I felt very underwhelmed by the phone, even the 5G model. Anyways, thank you so much for reading this article, and if you have any questions, just leave them down in the comments section, and I'll get to them as soon as possible.
FAQs – Samsung Galaxy A13 Review
Q: Is the Samsung Galaxy A13 Worth Buying?
A: The Galaxy A13 brings more power to the budget line of Samsung phones, but it comes at a cost, which some may find a bit unnecessary. I feel there are better budget smartphones out there and even some that will provide more value for you at similar prices.
Q: Is the Samsung A12 better than the A13?
A: From a technical standpoint, the A13 is clearly the better phone, with improved performance, a better camera system, and the provision of 5G at possibly the lowest price you can find.
Q: Is the Samsung A13 waterproof?
A: The Samsung A13 is not waterproof, but it is water-resistant and can resist water penetration from water jets, but it cannot be submerged under water.
Q: How long does the battery last on the Samsung A13
A: The battery on the Samsung A13 can last a full day of use or even up to a day plus if the battery is maintained properly.
References: Samsung, Samsung Galaxy, Samsung Galaxy A13.